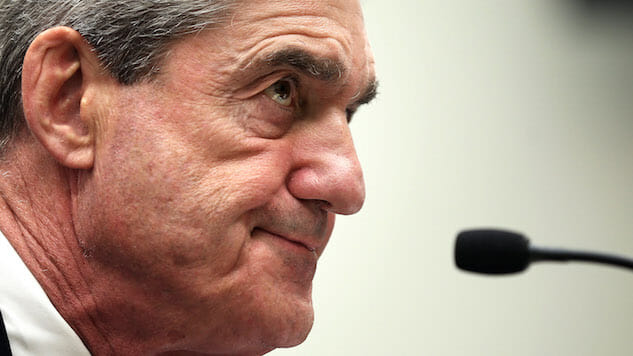 FBI director Robert Mueller III is a lifelong Republican and former Marine appointed to the position by George W. Bush, you would think his credibility, in the eyes of other Republicans, would be unimpeachable. You would be wrong.
See, what that train of thought fails to account for is that Mueller is currently working to provide evidence of collusion between a Republican presidential administration and a foreign power (Russia). And Republicans are far less interested in sticking to their principles and abiding by whatever justice Mueller doles out than they are in saving face and discrediting those that might embarrass them.
This past week, Republicans have become somewhat divided on Mueller. Initially, since he was a man they trusted, they all seemed willing to let him do his work unhindered. But now that the Russia investigation has been going on for a while, some House Republicans have started to grow restless, and have pointed out both "conflicts of interest" in Mueller's team and the fact that investigation seems to be taking a while. Case in point:
Rep. Matt Gaetz, who was with Trump on Air Force One last week, says on CNN that it's time for the special counsel to "put up or shut up." "I call on my Republican colleagues to join me in the firing of Bob Mueller."

— Kaitlan Collins (@kaitlancollins) December 15, 2017
Rep. Gaetz is clearly enjoying the attention, because he had already been howling for Mueller to be replaced. But unlike the early days of the investigation, Gaetz is now far from the only Republican to express dissatisfaction with Mueller's work. The Washington Post reports that Rep. Mark Meadows pointed to "politically charged" texts between two former members of the team (Peter Strzok and Lisa Page, both of whom have since left the investigation) that seemed to favor Hillary Clinton over Trump, and asked, "If Mueller was doing such a great job on investigating the Russian collusion, why could he have not found the conflict of interest within their own agency?''
Donald Trump, of course, has for months been tweeting out his anger that anyone would dare to investigate him. He claims that the FBI's reputation is "in tatters" over this. Most of the House GOP seems to agree with Trump, and they too seized on the texts between Strzok and Page: Rep. Jim Jordan said "public trust in this whole thing is gone," according to NBC.
But many Senate Republicans disagree. According to another article from WaPo, Senate Judiciary Committee Chairman Charles Grassley said "I've got confidence in Mueller, as far as what he's doing in the Trump-Russia investigation, and I don't have any reason to believe otherwise." Other senators, such as Roy Blunt, have expressed the opinion that nothing would be gained from starting the Russia investigation over again.
Despite the fact that Strzok was removed from the team immediately upon Mueller learning of the incriminating texts (Page left earlier for other reasons), even some Senate Republicans like Idaho Senator James Risch say the investigation has somehow been "tainted." With some powerful senators still supporting Mueller (such as Lindsey Graham, who said he was satisfied with Mueller's removal of Strzok), the Russia investigation will likely continue unhindered. But if support for Mueller's firing continues to grow, Trump will have no problem removing a threat he's wanted to get rid of since day one.