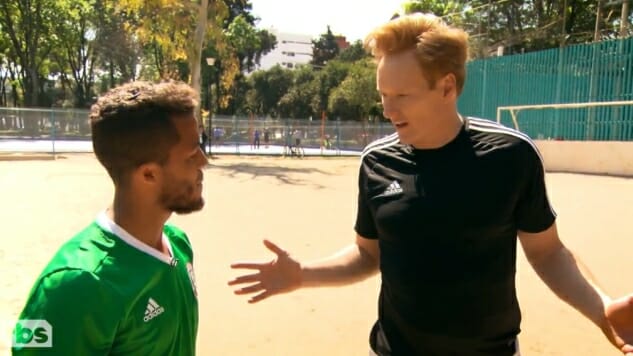 Conan O'Brien is filming his late-night talk show in Mexico this week. During one segment, Conan visited a park to join in on a pickup game of soccer with some locals. It went about as well as you'd expect.
Once you get past his pink-stripe short shorts— which I kinda dig, to be honest with you— you're, uh, treated to an exhibition of skills Conan hasn't showed off since the mid-70s. Which is where they probably should've stayed.
Desperate to turn things around, Conan brought in a new teammate to give him and his team in the Five-A-Side game a boost— Mexico international and LA Galaxy trequartista Giovani dos Santos. The surprise is greeted warmly by the locals, who are then thoroughly schooled by the El Tri star while Conan attempts to take all the credit.