Every season during Haute Couture Week, the fine jewellers of Paris flock to their dazzling salons surrounding the iconic Place Vendôme, in order to present their latest offerings of what the French call "haute joaillerie," or high jewelry. Though typically calmer than its July counterparts, the presentations this past January certainly didn't hold back when it came to revealing the season's newest novelties—some of them pricing well into the multi-millions and, as you'll see, intended only for the most serious of collectors.
From Chopard, Chaumet and Chanel, to Boucheron and Dior, each of these houses introduced spring collections filled with the highest creations of haute joaillerie craftsmanship, layered in bright gemstones from white diamonds and pink sapphires to psychedelic opals. Here are five masterpieces from High Jewelry Spring 2017.
1. Chaumet: Refined Insolence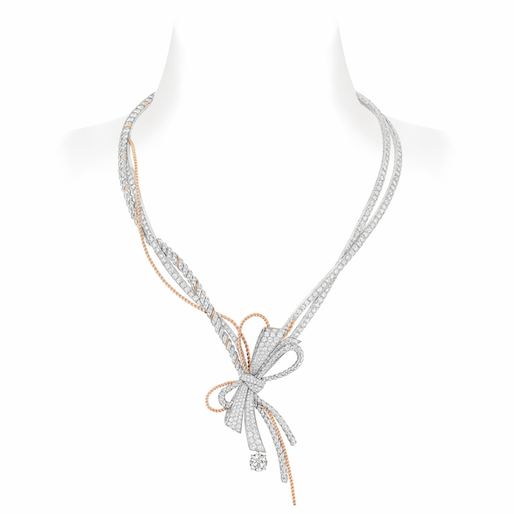 Photo courtesy of Chaumet
Minimalism reigned supreme throughout Chaumet's latest high jewelry collection, "Insolence," with the house's signature ribbon motif returning to commemorate its symbolic bond of love. However, across their complete series of necklaces, rings, bracelets and earrings, Chaumet's classic shapes and soft loops were far less insolent, and much more like an impression of refined simplicity. Inspired by an archival piece dating back to the 1890s, this season offered a modern take on a timeless beauty, in addition to a slew of sophisticated masterpieces, like this delicate, low-scooping necklace in white and pink gold layered with bright, brilliant-cut diamonds.
2. Chopard: The Gardens of Kalahari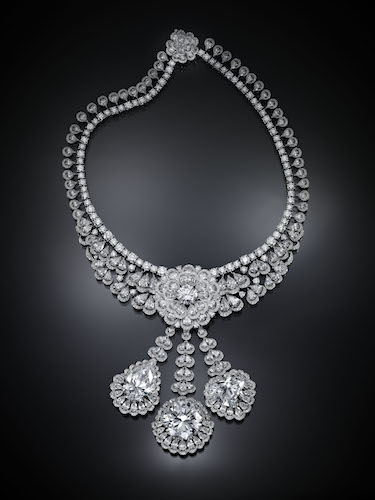 Photo courtesy of Chopard
Never has there been a collection more breathtakingly beautiful than Chopard's latest haute joaillerie outing, "The Gardens of Kalahari." Starting with a massive 342-carat rough diamond dubbed "The Queen of Kalahari," cutters were able to carve away and polish 23 unique stones of a perfect clarity and color—otherwise known as "D-Flawless." Once cut, these exceptionally rare beauties went on to build a six-piece collection of rings, earrings, a bracelet with a secret timepiece and one particularly majestic showpiece: a transformable necklace featuring three suspended pendants—a brilliant-cut diamond, a heart-shaped and a pear-shaped—with the combined weight of 101 carats. Now, that is masterpiece!
3. Chanel: Coco Before Chanel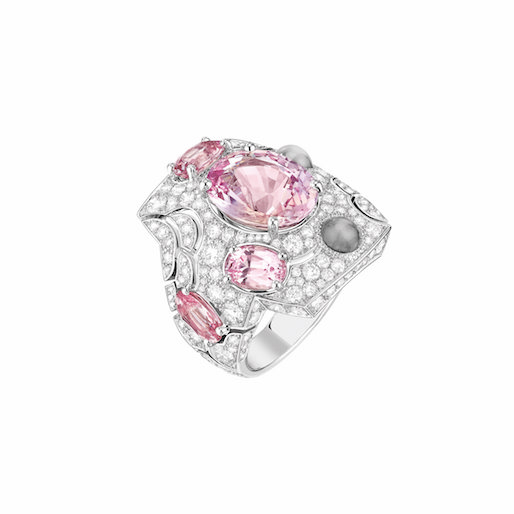 Photo courtesy of Chanel
Chanel's latest collection, "Coco Avant Chanel," paid tribute to the network of influential women in young Gabrielle Chanel's life before 1920, around the time she started her humble ascent to building the most recognizable name in fashion. Craftsmen reimagined each of these women as a unique set of jewels (including a necklace, earrings and rings) and accumulated them into a grand collection of 11 sets—one set for every woman being honoured, plus one for Coco herself. There was Emilienne, Jeanne, Lucienne and, of course, Suzanne, whose set we fell absolutely head-over-heels in love with as this collection's masterpiece potential.
Of the necklace, the bracelet and the earrings, the masterpiece here was Suzanne's ring, with its 18K white gold set featuring an oval-cut Padparadscha sapphire of 6.09 carats, four oval-cut Padparadscha sapphires with a total weight of 3.31 carats, 2 cabochon-cut moonstones and 192 brilliant-cut diamonds for a total weight of 3.02 carats. In a craft like high jewelry, it's not easy to appear effortless and simple, yet what they did with the placement of these stones was astonishing and incredibly nonchalant; and we especially wanted to celebrate that, more than any other piece in this monumental collection.
4. Boucheron: Ivy of Paris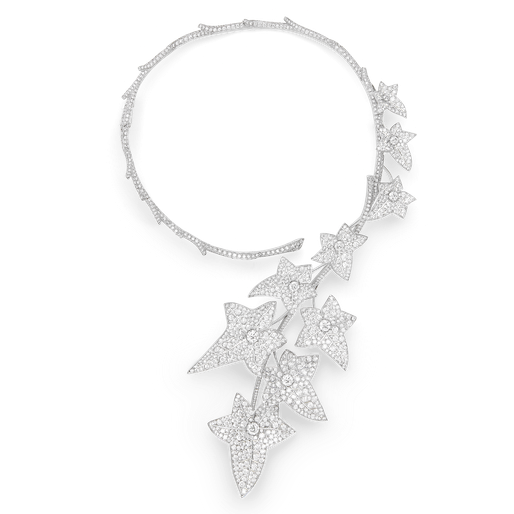 Photo courtesy of Boucheron
Like Chaumet, Boucheron's "Lierre de Paris" (or "Ivy of Paris") collection was inspired by several archival finds from the 1800s (including one rather modern-looking bejeweled velvet chocker), each of which sported the house's wild ivy motifs. Taking lead with their long-standing sense of heritage, this season the artisans of Boucheron concocted an impeccable showcase of ivy motifs, which they carried out across a range of rings, double rings, earrings, bracelets and secret timepieces. But it was the iconic question mark necklace that won our hearts: They had recreated this house signature as nine leaves of cascading wild ivy—set "en tremblant" for an enchanting trembling effect made with every step or nudge.
5. Dior: Dior et d'Opales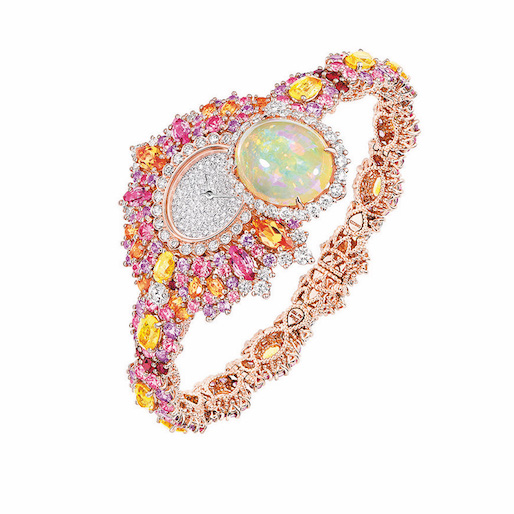 Photo courtesy of Dior
Opals aren't usually the first gemstones to come to mind when thinking of fine jewelry, but these were exactly what inspired artistic director Victoire de Castellane to create her latest collection for Dior. As Castellane's favorite gem, the opal paved the way for a season-long study on the many variations of this motley stone, resulting in a collection of kaleidoscopic jewelry built around this unsuspected treasure. Although the name, "Dior et d'Opales," may be straightforward, this collection and its masterpiece, the Exquise Opal High Jewelry Bracelet, are anything but simple. With a secret watch hiding behind its pale opal centerpiece, this bracelet flaunts layers of pink and yellow sapphires, spessartine garnets, purple sapphires and rubies, all set in pink and white gold; sure, it's borderline gaudy, but this undeniably extravagant and one-of-a-kind bracelet is one of our hands-down favorite masterpieces of Haute Joaillerie Spring 2017.
Brent Taalur Ramsey is an American writer living in Paris.