Many of us have to present information to our bosses, potential investors, or colleagues at some point in one's working life. While your trusty iOS device can't help you in terms of building your confidence beforehand, it can help you present that information in a more appealing and attractive manner that's guaranteed to grab people's attention.
Here are ten of the best apps to use to do precisely that, and give you the edge when making that all important presentation at work. We suggest trying them and seeing which ones work best for you:
1. Google Slides (Free)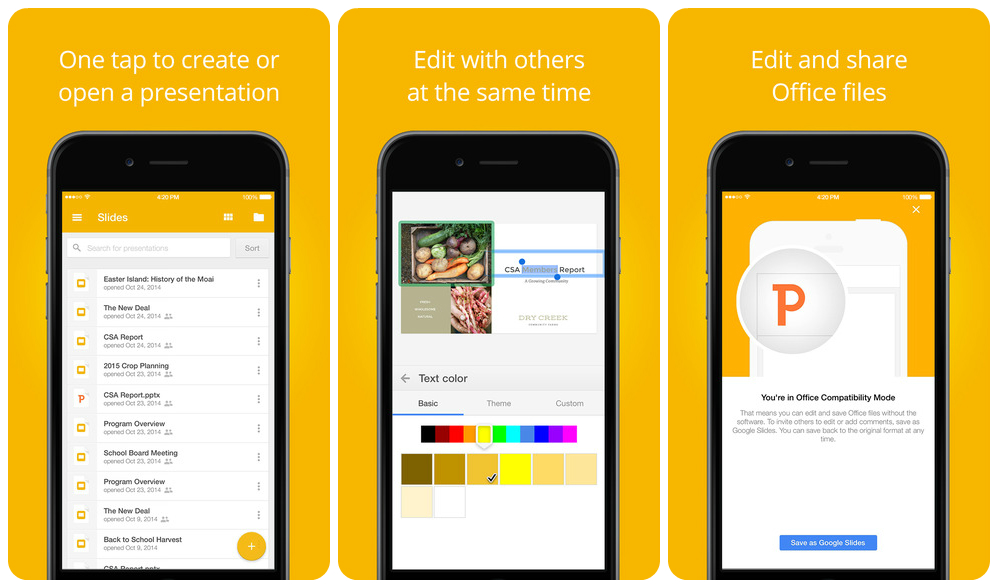 Where there's a need, Google has usually created a way. That's the case with Google Slides, a free solution that ties into Google Docs and allows you to easily create, edit, and share presentations. As well as that, you can easily open and edit Microsoft PowerPoint files, even if you haven't got an active internet connection.
2. LinkedIn SlideShare (Free)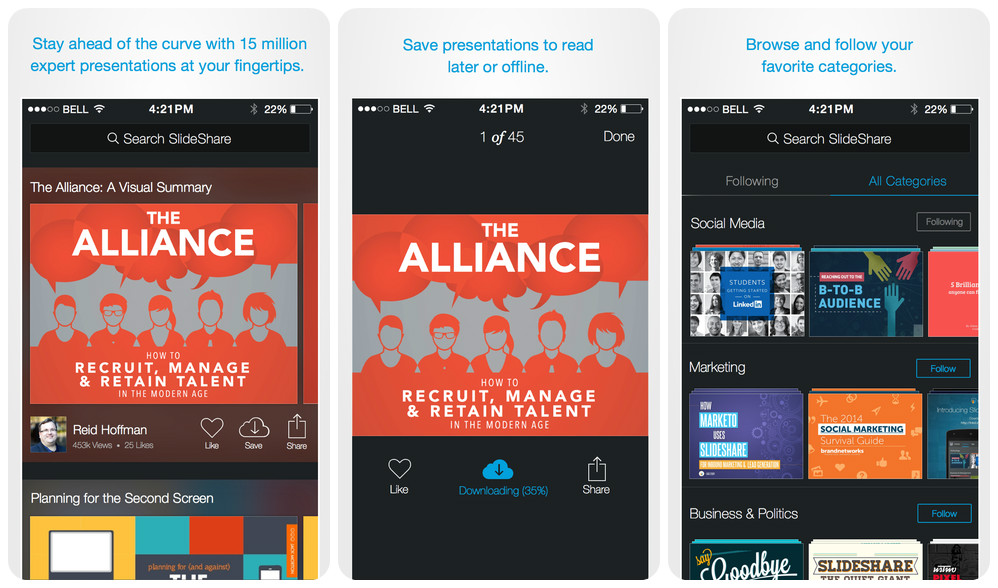 SlideShare is a huge community for sharing presentations and professional content. You can explore over 15 million professional presentations, viewing them by topic and genre, gaining inspiration for your own presentations. You can even explore keynotes from major conferences and industry experts, providing some great insight.
3. FlowVella (Free)

Offering over 25 templates to get you started, FlowVella makes it easy for you to create presentations or pitches while on the move. You can access files from various cloud sources such as Adobe Creative Cloud, Dropbox, Google Drive, and many others. Made for the iPad, it's an intuitive system that's ideal for the touch screen interface with transitions and links easily added to the visual experience.
4. Keynote ($9.99)

Apple has its own solution for presentation creation. Besides being stylish and intuitive to use, it offers built-in iCloud support, as well as video mirroring support, making it easy to use. 30 different themes are also available for those in need of a quick solution and you can always send your presentation via AirDrop for added convenience. Apple Watch support means you can control the presentation from your wrist too.
5. Microsoft PowerPoint (Free)

Anything Apple can do, Microsoft can do slightly differently. PowerPoint is a familiar name to many and this app remains pretty useful. For free, you can easily view, create and edit presentations with an Office 365 subscription gives you the full service. Simple to use, PowerPoint backs things up through its AirPrint functionality, Cloud service support, and its built-in laser pointer feature.
6. Haiku Deck (Free)

A well known name on the App Store, Haiku Deck is ideal for those that want a more stylish presentation. Particularly ideal for a casual market, Haiku Deck encourages simplified text, high-impact imagery, and consistent formatting. You can easily use it to browse for Creative Commons licensed photos as well as premium stock photography from Getty Images, before quickly placing it within your creation.
7. SlideShark

Ideal for sales presentations, SlideShark is there for you to share your presentations online in real-time, meaning attendees can view it, wherever they are. You can connect it to a projector or TV using the relevant adaptors and even gain insight into how long viewers watched your presentation. It's a little pricey at $94.99 for the year but ideal for professionals who work globally.
8. SlideIdea (Free)

Offering an express slide creation tool that simply requires you to enter the content, SlideIdea is a handy way of creating presentations quickly. A digital whiteboard tool makes it easy to share ideas with others while you can also record, publish, and browse featured presentations for inspiration. It's ideal for the novice presentation giver.
9. Showpad (Free)

Pitched at sales marketing, Showpad will give you a way to present slides, documents, photos, and videos. It'll also offer a way for you to gain insight into content usage, optimize your marketing budget, and coordinate meetings with your sales team. You can also view a report of recorded meeting activity from inside Salesforce.
10. Prezi (Free)

Ideal for both casual and more professional presentations, Prezi lets you easily present live to your colleagues, no matter where you are. You can present via your iPad or you can hook it up via Apple TV's Airplay for a bigger experience. A built-in YouTube search features makes things even more straightforward.