The Consumer Electronics Show is a crazy, exciting, slightly insane, and even disturbing place to spend a few days—especially if you consider yourself even slightly a Luddite. But inside its Vegas walls you'll find some of the most important pieces of technology and product announcements from the biggest electronics companies in the world—some that will even illustrate what the future could be.
However, you'll also find some of the weirdest gadgets imaginable, some that will never make it into production and some that, unfortunately, will. Here are seven gadgets that may cause some head-scratching, but are nonetheless awesome:
1. June by Netatmo
This smart bracelet serves as protection against the sun. A kind of technological sunscreen, June measures sun intensity in real time and daily sun exposure to help protect the user from harmful UV rays. It doubles as the perfect gift for your favorite introvert, hermits everywhere no longer need to make excuses, they can simply say "Sorry, but my bracelet says I need to go inside."
2. Sen.se Mother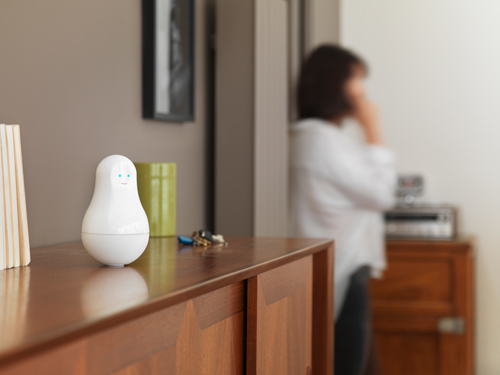 Sen.se, the Russian gadget maker behind the device, claims to have "reinvented" the mom by creating the first "programmable" mother. The device is connected to a number of sensors, called "Motion Cookies," that are placed throughout the owner's home. The Motion Cookies detect things like temperature and motion, transmitting whatever they find to the Mother and then to the user through various apps. The idea is to have something around when an actual mother can't be, that learns over time what the home and people living in it needs. That might sound a little creepy, but for households with lots of young children, the Mother looks pretty useful.
3. Yellow Jacket iPhone Stun Gun Case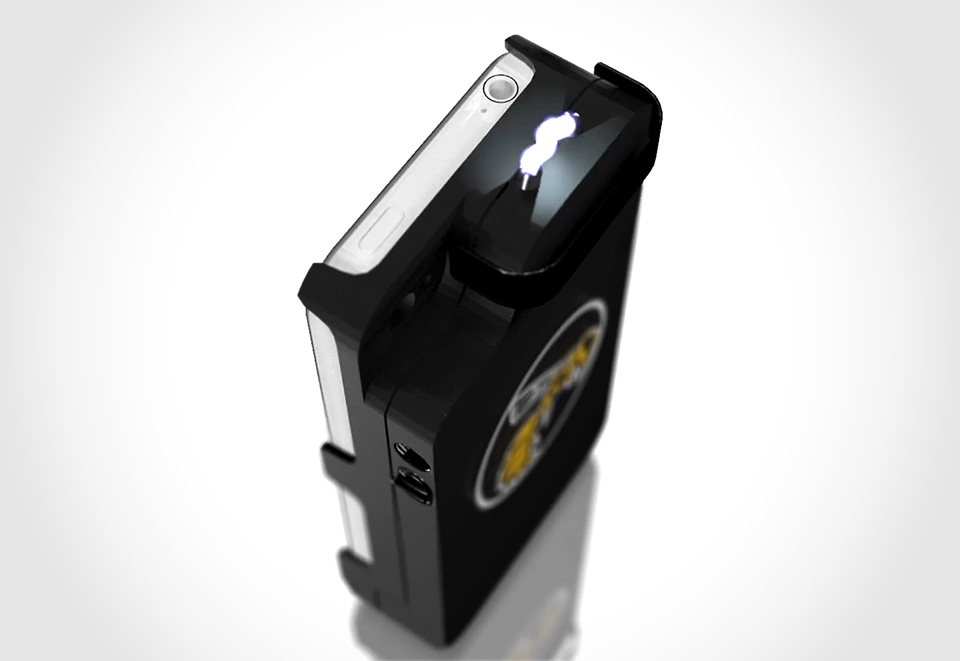 The original Yellow Jacket stun gun case arrived on the scene early last year, but it returned to Vegas in a new and improved form for CES 2014. This case is essentially the love child of an Otterbox and a miniature stun gun. Slide the case on your iPhone 5/5s and you're immediately equipped with a self-defense instrument capable of producing an 18,000 volt shock to a wannabe attacker. New features for the 2014 model include ambidextrous triggers and dual safety mechanisms to prevent accidental discharge.
4. Obama Plush Pal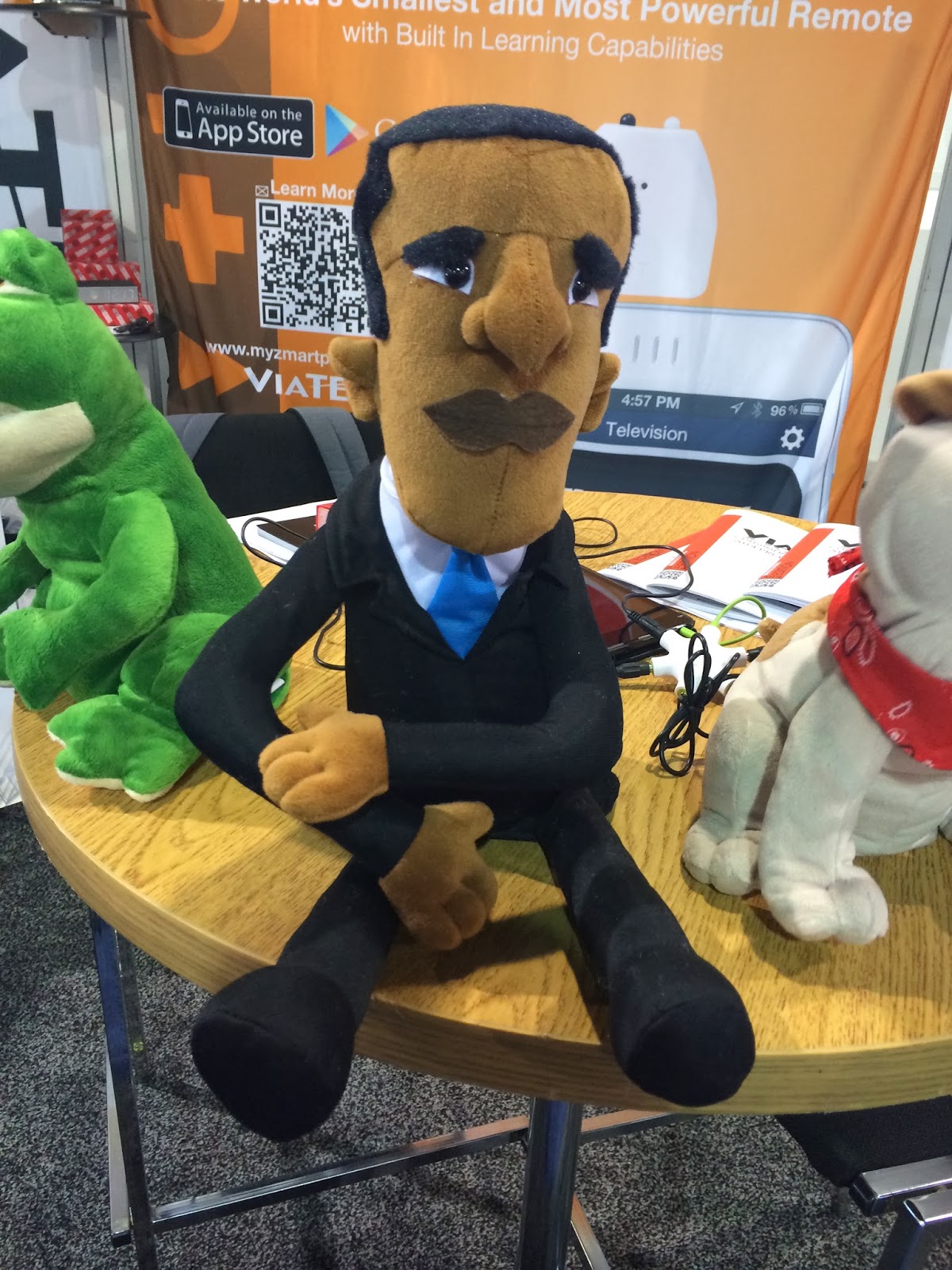 Calling this plushie a gadget might be a bit of a stretch, but Plush Pals are not your average stuffed animal. These cuddly buddies sing and dance to any music they hear, work as an MP3 speaker and will even speak in time to another person if you connect them with your phone. Viatek, the company behind Plush Pals, added a new member to the ranks this year. Joining Freddy the Frog, Manny the Monkey, and Patch the Dog is Barack Obama—the President himself! No word yet as to when you'll be able to own the world's most cuddly president, but you better start reserving space in your Oval Office now. The POTUS expects nothing but the best.
5. PhoneSoap
Surprise! Your phone is disgusting. This really shouldn't come as a shock to anyone. Phones are constantly being manhandled by germ-riddled hands and then stored in warm, damp spaces like pockets. This means that your favorite gadget, the thing you couldn't live without, is a breeding ground for potentially threatening bacteria. Enter PhoneSoap. It's not an actual bar of soap but instead a charging box that looks like a tanning bed for your phone. The device simultaneously charges your gadget while using UV-C light to rid it of any unwanted bacteria. It's made to work with nearly any smartphone, large or small, Apple or Android, and because it doesn't use any liquid, only UV light, it's 100% safe for electronics.
6. Foreo ISSA Toothbrush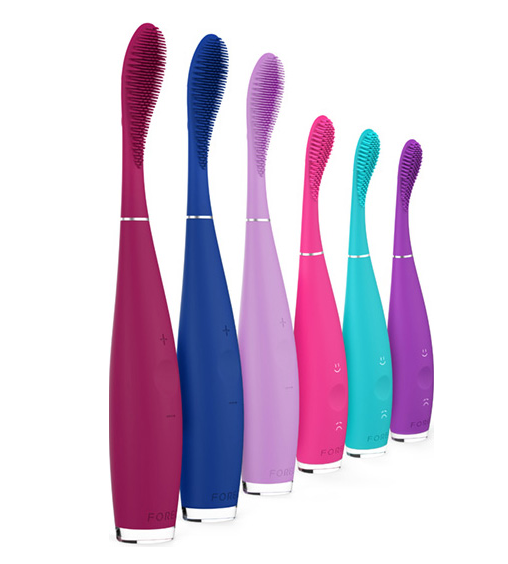 It may not look like one, but I promise you: This is a toothbrush. Despite it's eyebrow-raising design, the Foreo ISSA is actually pretty interesting. It's like any other electric toothbrush in it's basic function, but it's design is wholly innovative. The ISSA is the first electric toothbrush with silicone bristles, which are nonporous and ultra-hygienic, helping reduce bacteria build up. It also touts incredible battery life, about which Foreo says it can be used 365 times on a single charge. It also boasts about its ergonomic and travel-friendly design, although you just might have some explaining to do when your bag gets X-Rayed at the airport.
7. AfterShokz Bone Conduction Headphones
AfterShokz has done something unthinkable: They've removed the ear from hearing. Powered by some patented bone conduction technology, these headphones don't need to occupy your ears in order to give privacy and allow you to listen to music or take phone calls without disrupting those around you. Instead, the AfterShokz headphones use vibrations to conduct sound off your cheekbones and deliver it directly to your inner ear. We've seen some similar technology being used in Google Glass, but it's really cool to see it being used in a more accessible consumer product.