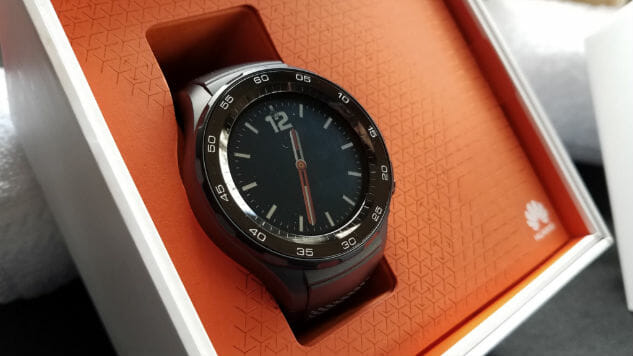 Huawei's foray into the wearable market with the first generation Huawei Watch was met with extremely positive reception. The steel casing and sapphire crystal glass made for a sophisticated design, and consumers argued that it's one of the most attractive piece of wrist technology. Now, more than a year later, Huawei is back with a second generation watch—this time bearing a sportier design. Originally introduced at Mobile World Congress earlier this year, Huawei finally released details for the US release of the Huawei Watch 2.
At the US launch event in San Francisco, California, Huawei executives confirmed that the Huawei Watch 2 will land on US shores in three different configurations. Initially, Watch 2 will be available with a plastic case and rubber straps in either Carbon Black or Concrete Grey colorways. These watches will come with Bluetooth and WiFi for connectivity and will retail for $299.99. A third option, called the Huawei Watch 2 Classic, will come with a metal casing and more premium build, will arrive approximately a month later for $369.99.
When pressed about the availability of a Watch 2 with built-in 4G LTE connectivity for a truly tetherless wearable experience, Huawei executives on hand would not provide me with any details, and it's unclear if such a model will be available to US buyers. Such a model would allow Huawei to compete against LG's $349.99 Watch Sport, which comes in a similar sporty design as the the Huawei Watch 2 Carbon Black model that I examined.
Design
Compared to the original Huawei Watch, the most immediate thing you'll notice when picking up the Watch 2 is how light the digital timepiece feels. While the original Watch was targeted at a more formal demographic with Huawei's timeless design philosophy, the company is clearly aiming for fitness enthusiasts who would otherwise wear lighter fitness trackers, like those made from Fitbit, with its second generation smartwatch.
The change in demographic is noticeable with the selection of materials for the Watch 2. Whereas Huawei wanted the original Watch to replicate the experience of wearing a classic analog timepiece, the fitness geared focus required a change in design and materials. Here, Huawei opted to swap out the heavier steel construction of the Watch for a plastic casing on the Watch 2. The underside of the watch, where the heart rate sensor is located, is still made up of metal. Meanwhile the face of the watch is now covered in Gorilla Glass instead of sapphire crystal. And even though the new bezel adds to the watch's sporty vibe, it doesn't rotate to work with Android Wear 2.0's interface like how the bezel on Samsung's Gear S3 complements that smartwatch's software. In fact, the addition of the chunky bezel aesthetically makes the Watch 2's 1.2 mm diameter watch face feel small than it is.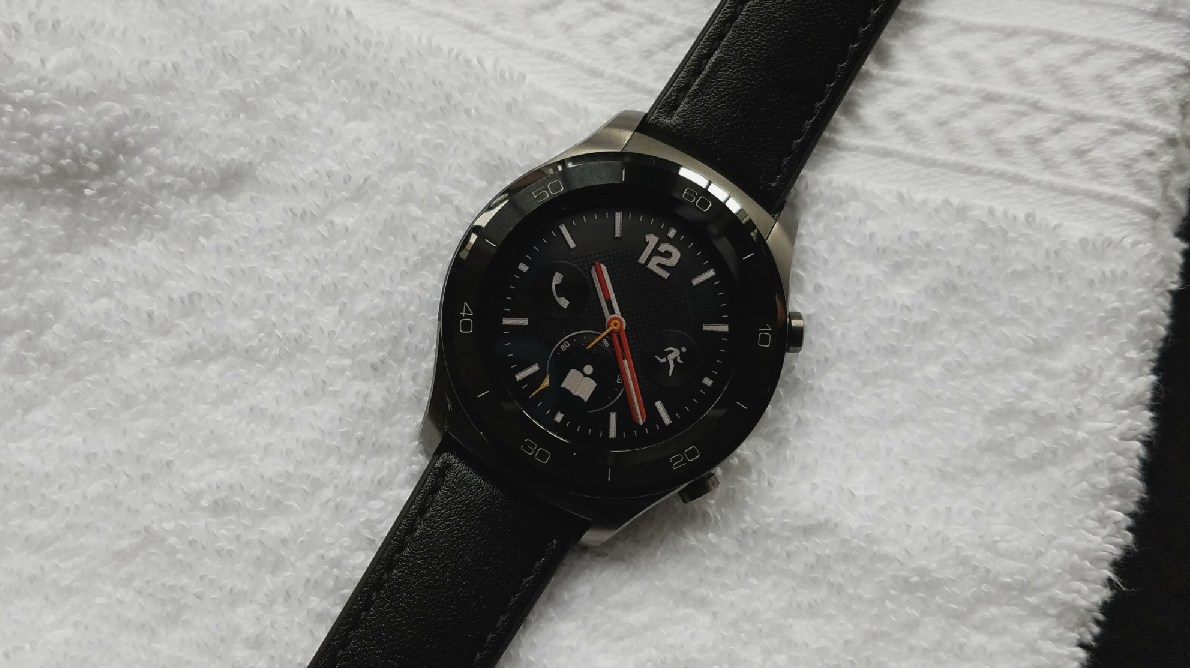 That's not to say the bezel doesn't serve its purpose. The antennas for the wireless radios are cleverly hidden behind the bezel. Unlike the LG Watch Urbane 2nd Edition, building the wireless radio into the watch rather than the strap means you can swap out the strap for any 20mm band for even greater personalization. Huawei recommends you use its bands—which comes with a quick release mechanism to make it easier to swap straps when on the go—however, as they are designed to meet up with the watch body for a truly seamless design without any gaps.
Because of the stiff curve where the straps meet the Watch 2's body, the bands don't quite fold flat when you're not wearing it. It's a nitpick, but when I do the dishes or sit at my computer, I sometimes like to remove my watch, fold the straps onto each other and stow it in my pocket without having the watch take up too much space.
The bezel is made out of ceramic, which according to Huawei Senior Director Clay Wang, is a more durable material than most metals. "When you're bumping into equipment at the gym, the bezel will likely not scratch," Wang noted of the material choice. Additionally, Huawei claims that ceramic is a better material for wireless signal penetration, which is why the wireless antennas are hidden beneath the bezel.
Despite a small screen, the good news with the Watch 2 is that it measures favorably in thinness against its competition. The Watch 2's 12.6mm thick body is thinner than both the LG Watch Sport's 15.5mm case and Samsung's 12.9mm Gear S3 Frontier, for comparison. Of the three watches, however, the Watch 2 has the smallest watch face.
The continuous curve formed between the Watch 2's case and the straps makes this smartwatch feel very comfortable, and despite its large size, this smartwatch doesn't feel out of place on my smaller wrist. True to Huawei's claims, the watch feels very light, and I really did forget that I was wearing it when I was out running arounds.
The rubber strap is comfortable, but feels more like a softer, slick hard plastic than a rubbery material. On the wrist, I doubt users will care about the difference, but the more slippery material of the strap may make it harder to put on or take off the watch without accidentally dropping it.
There are two digital buttons on the right side of the watch. The top button takes you to a vertical, scrollable list of applications. Unlike LG's recent watches, there is no digital crown, so you'll have to flick on the Watch 2's display to get to the app that you want. This is a conscious design decision, Wang assured me, because you wouldn't want to accidentally activate a digital crown—if one was present—when you're working out.
The latest version of Android Wear 2.0 brings a wearable app store directly to the watch. This means you can download apps directly to the watch without having to go through your phone. Another benefit, Wang said, is that iOS users will now have access to Android Wear apps. This brings the experience to parity between wearers of the Watch 2 who use an iPhone with their Android counterparts.
Pressing and holding the top button activates Google Assistant, which works with the Watch 2's built-in microphone.
The bottom button on the watch is user configurable, but out of the box it is programmed to launch Huawei's Wear app. The presence of Huawei Wear, Google Fit and Fit Coach may be confusing to the uninitiated, but fortunately all your fitness data can be integrated and monitored through Google Fit.
Experience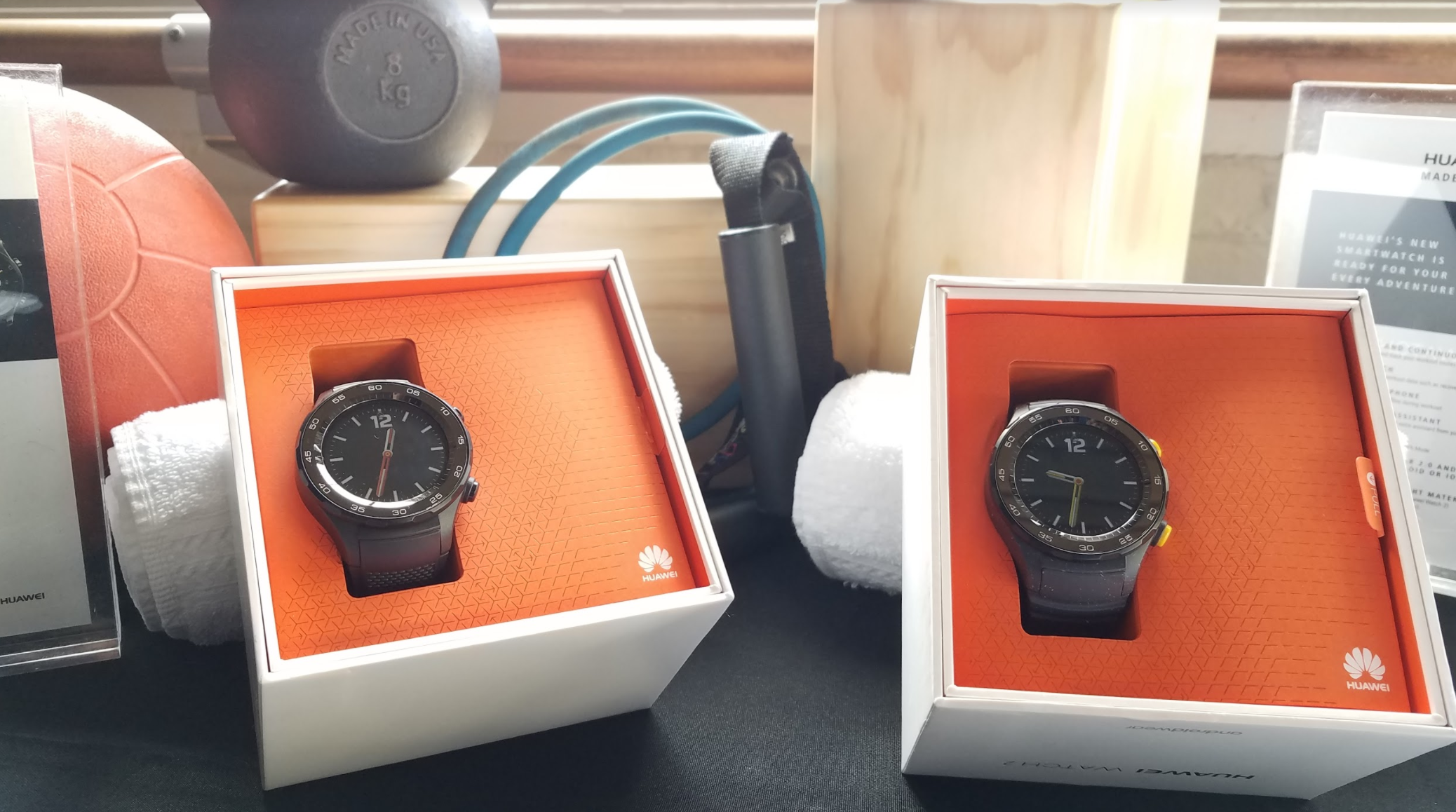 At a local fitness club in sunny San Francisco, Huawei demonstrated some of the capabilities of the Watch 2 for active users who need to track their fitness. Rather than building out its own suite of fitness apps to track individual exercises, Wang said that it is instead opting to rely on Google's more open Google Fit platform, which can integrate data from a number of third-party apps and services. "We are focused on Android Wear as a platform," Wang said, "giving an open door to all the functionality you can choose."
There is even a Fit Coach, which will help with training, or you can rely on the wearable app store to find your favorite fitness and health tracking apps. Watch 2 can monitor your distance, steps, speed, heart rate, heart rate range, calories, stride frequency, route and more. The Watch also has continuous heart rate monitoring. Huawei's bundled scientific training scheme is like having a digital coach on your wrist to help you reach your training goals. Using heart rate data, the scientific training coach can remind you to stand up, take steps, speed up or slow down.
At its core, the Watch 2 comes with a gyroscope, accelerometer, GPS, barometer, digital compass and heart rate sensor, all of which could be used to track your runs, steps and exercises like squats, situps and pushups. In the gym, Huawei demonstrated that Bluetooth LE is used to maintain the watch's direct connection with your phone, but Bluetooth Classic is relied upon for higher fidelity audio streams. You can store music on the 4GB of built-in storage (approximately 2.2GB is available to the user after Android Wear 2.0 is loaded) or stream from Google Play Music—Huawei includes a 10-week trial to Google's streaming service.
When Huawei reps blasted music from Adele and John Legend out of the Watch's speakers, I was surprised at how loud the tunes got. The Watch 2 was able to fill a spacious workout room with ease, and Adele's raspy lyrics sounded decent even at higher volume settings.
The watch is IP68-rated for water resistance, which means it could survive in a meter of water for a foot at a time. This means that you should be able to take the watch with you for short laps around the pool, and it should have no difficulties in the shower.
New to the Watch 2 is an ambient light sensor, which is discreetly concealed in the bezel area, Wang said. The sensor allows the watch to adjust its brightness automatically, making it easier to see your screen whether you're inside or outside under bright sunlight. The built-in skin sensor on the underside of the watch allows the watch face to turn off, preserving battery life, when the device detects that it is not being worn. Wang said that notifications will also silence when the watch is sitting idly on your nightstand.
Walking around San Francisco, I had no problems seeing the screen under the sun. The 390 × 390-pixel resolution on the Watch 2's fully circular AMOLED display seems just as sharp as the original Huawei Watch's 400 × 400 display. The original watch appears to have a slightly higher pixel count, but those pixels are spread out on a slightly larger 1.4-inch round display. It's not until you begin comparing the Watch 2's screen against higher resolution wearable panels that you'll notice a difference—in my case, the 480 × 480 screen on my aging LG Watch Urbane 2nd Edition looks instantly sharper next to the Watch 2. In reality, unless you have something to compare against, the Watch 2's display seems plenty sharp, and the slightly lower pixel count may help contribute to longer battery life.
Navigating Android Wear 2.0 feels snappy on the Watch 2. The device is powered by Qualcomm's wearable Snapdragon 2100 chipset, and the Watch 2 comes with 768MB of RAM. The specs make the Watch 2 comparable newly announced devices, including Montblanc's luxury Summit, and LG's recent crop of watches. We'll have to see how the Snapdragon CPU performs over time when it's saddled with a bunch of downloaded apps.
After having gotten used to the Samsung Gear S3's weight with a stainless steel bracelet on, I was apprehensive about the lighter weight and plastic construction of the Watch 2, but I was pleasantly surprised by how much it grew on me. It feels less chunky and wrapped better around my wrist than Garmin's Fenix 3 HR, and at times. To be a true competitor to dedicated sportswatch, like Garmin's and TomTom's offerings, I wish Huawei had included apps that tracked more types of fitness activities—like rowing, skiing, swimming, for example —out of the box on the Watch 2. As it stands, the Watch 2 feels more like a device for fitness enthusiasts, rather than a tool for more serious athletes. With the right software from Google's wearable Play Store, you'll likely be able to replicate many of the functionality of dedicated, clunkier fitness trackers and sportswatches. Given the watch's focus on fitness, I wish Huawei had included ANT+ sensors into the watch, which communicates with select gym equipment.
The NFC radio supports Android Pay, so you can leave your phone and wallet behind when shopping at merchants that support the technology. Even in tech-heavy Silicon Valley, NFC payment terminals are still not the norm, so ditching your phone and/or wallet is still not a reliable bet when it comes to payments.
Battery Life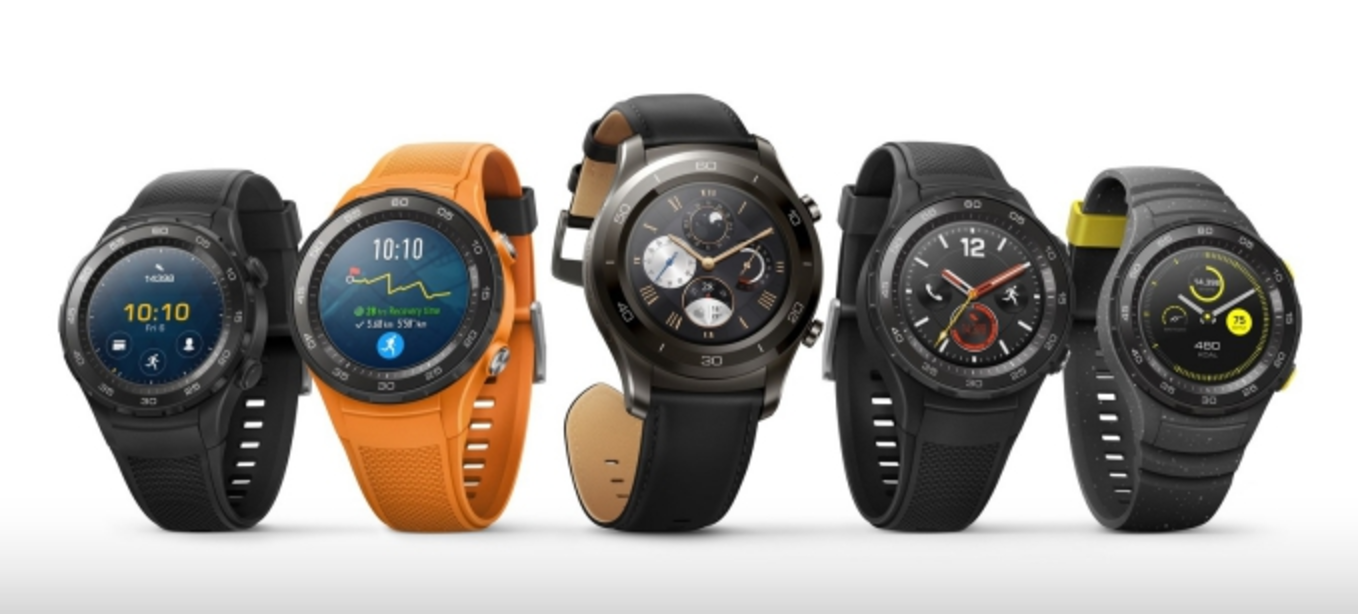 What makes the Huawei Watch 2 stand out from its competitor is the device's battery stamina. Under normal use, Huawei's claims of two to three days of battery life matches the industry standard and falls in line with Samsung's claims for its Gear S3. However, when you enable the Watch Mode—accessible once you go to the Battery app on the watch's app list—the Watch 2 can keep ticking for up to three weeks with the 420 mAh battery life.
Watch Mode works in a similar way to Ultra Power Saving mode on many smartphones, and it turns off all the unnecessary radios and background processes on Watch 2 to conserve power. You won't get notifications, but you'll still get access to the time. GPS will be off, but the pedometer functionality remains, so you can still track your steps. Essentially, it's like wearing a dumb watch that you will need to charge every few weeks, but you'll also get a pedometer feature built-in.
Huawei includes a charging puck in the box. There are POGO charging pins on the back of the watch that connects to the charging puck, and the two attach magnetically. However, since the POGO pin must interface with the puck, it's not wireless charging. When you're in training mode with the heart rate sensor and GPS on, the device can last for up to ten hours, Huawei said in a statement.
Huawei states that the Watch 2 will is available starting today through Best Buy, Amazon, Newegg, B&H Photo Video, Jet, Kohls, Target and Walmart.