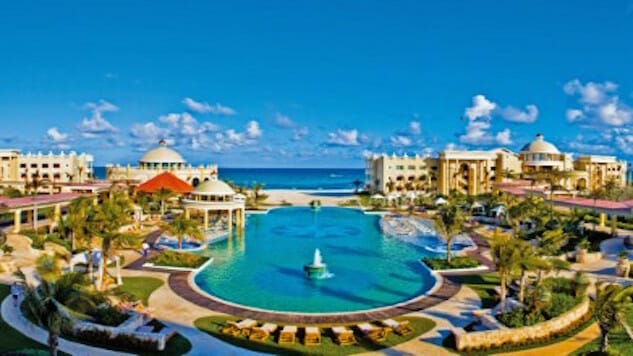 You know those massive, all-marble, make-you-feel-like-a-VIP luxury resorts in Las Vegas? If you could apply a yellow coat of Spanish paint, make it an all-inclusive, and transport it to an aqua-green beach near beautiful Cancun, the Iberostar Grand Paraiso would likely exceed your imagination.
A thirty-minute drive south from Cancun International Airport, the peaceful property is situated on one of the most idyllic stretches of private beaches you'll find in all of the Caribbean. Thatched umbrellas, padded chairs, soft white sand, infinite horizons and inviting blue surf that is remarkably clear, fun to frolic in, and relaxing.
Having stayed here for three nights, I finally understand why this (and Mexico in general) is one of the top two all-inclusive destinations. In the Grand Paraiso's case, the sprawling but manageable amenities have won numerous awards (both critical and reader's choice) since the resort first opened a decade ago.
I can see why. For one thing, the exclusive property is adults-only. Guests are on the older side, between 30-60. But this keeps the environment quieter than you'll get further north. In other words, Playa del Carmen is to Cancun what Fort Lauderdale is to Miami.
In addition to its calming ambiance, the Grand Paraiso is staffed by some of the nicest attendants you'll encounter. One Iberostar official that represents all of their Latin American properties even admitted to me that the Mexican staff "offers more hospitable service than our other Caribbean locations, which are still good, but not as endearing as the Mexicans." After being waited on, befriended, and exposed to my broken Spanish, this doesn't surprise me.
As for the rooms, the marble floors, elegant natural decor, and ocean-facing patios are compelling enough to make you want to stay indoors, even as the beach, infinity pool, and soothing grounds constantly beckon to get you out.
If permanent beach-bumming isn't your thing, adventure is nearby. One of those excursions is Rio Secreto, an elaborate underground cave system or "cenote" flooded by crystal clear rainwater. Discovered 10 years ago by a farmer, this 27-mile swimmable "river" could be one of the most incredible caves you'll ever explore. Even National Geographic endorses it.
Another is the Great Maya Reef, to which Dressel Divers offers both snorkeling and scuba tours. Although not as "great" as its name implies, the reef showcases an impressive array of colorful fish, modest coral and a few hyper-green sea turtles that should impress both beginner and intermediate divers.
As for the Grand's all-included food, half of my meals were worth writing home about. The rest were just okay. Overall I'd say the food was very good for an all-inclusive, even though the service was a little slow. Furthermore, the spa was worth the extra cost, but the included on-site entertainment ultimately underwhelmed (at least while sober).
My only true disappointment with the experience was the limited exposure to local and Mexican culture in this overwhelmingly touristy location. My interactions with local staff and off-site adventures helped a little. But if you're seeking exotic regional culture, you probably won't find it among the 85% of guests that come from either the U.S. or Canada.
Still, Grand Paraiso offers the most relaxing beach setting I've ever visited. That alone is worth coming for, not to mention its proximity to mainland America. And unlike other Mexican resorts, there's a lot more to do here during those rare moments when idleness loses its appeal.
Off the Grid columnist Blake Snow writes epic stories for fancy publications and Fortune 500 companies. Follow him @blakesnow