As a once-vital port for the Austrians, Rijeka became a breeding ground for ideas and innovation, including the invention of the torpedo in 1860. Its strategic location deep within the Adriatic's Kvarner Bay has long placed Croatia's third largest city at the cross currents of Mediterranean and European culture.
Today, Rijeka is undergoing a renaissance, polishing away the port city grit while smartly preserving its distinctive edge. New music and dance events are springing up in former industrial spaces turned funky art venues, galleries showcasing contemporary art light up centuries-old streets, and a strong rock and punk scene set the tone for nightlife.
1. Korzo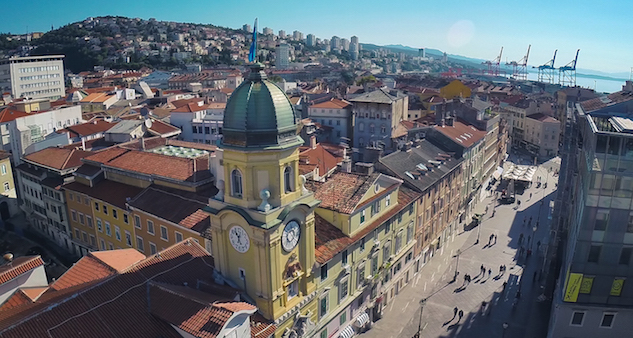 Photo courtesy of Rijeka Tourism Board
Follow the locals by taking an early evening stroll along pedestrian-friendly Korzo, where the city's pulse is felt most strongly. Graceful architecture showcasing Austrian, French, and Venetian influences line the wide avenue housing international clothing boutiques, coffee shops, pop-up music performances, and a bounty of food stalls.
For the best people watching, grab a seat on the terrace of venerable Fiorello Pub, named after former building resident and mayor of New York, Fiorello La Guardia.
2. Boonker
The former WWII bunker, renamed and re-envisioned as Boonker, has become a hot spot for chilling in cushy bean bag chairs on the terrace while soaking up a port-side view or hunkering down in the bunker's surprisingly appealing interior. Enjoy the atmosphere with a cool cocktail in hand and a pizza loaded with local catch like mussels, shrimp, and octopus.
3. Hartera Paper Factory (Old Paper Mill)
Once Europe's No. 2 supplier of cigarette paper, the defunct mill sprawling along the Rje?ina River is finding second life as an atmospheric venue for cutting-edge art and music events including one of Croatia's most famous musical celebrations. Held in September, Hartera Music Festival welcomes artists from around the world to this former industrial spot turned cultural-hub.
And, the reinvention continues with future plans brewing to open a hotel, restaurants, and additional performance space.
4. Kantrida Swim Complex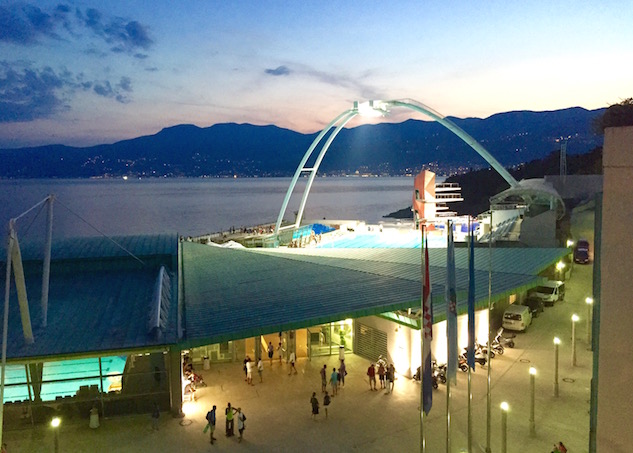 Photo courtesy of Matt Simpson
Swimming mecca with a sea view, the Kantrida complex is revered as architectural eye-candy that happens to offer some leisure activities. Wet offerings include an Olympic pool with retractable roof, children's pool, and diving zone. To dry out, enjoy a hot stone massage in the spa then melt into a sea-view seat in one of Kantrida's cafes or relax VIP-style with a lounger on the sandy beach tucked between the pool and sea.
From the city center, catch one of the frequent buses. For an alert when to hop off, tell the driver your destination.
5. King's Caffe
Calling itself "a British pub in Mediterranean fashion," this go-to spot near the port and city center attracts an eclectic and lively mix. Serving as a hub for locals with lapdogs and leashed beasts in tow, the patio is packed year-round. Visitors nestle into cozy booths inside for tasty burgers, a solid craft beer selection, and free and fast Wi-Fi.
Vegetarians are welcome, as well; for a delicious and ample dish ask for tacos sans meat.
6. Trsat Castle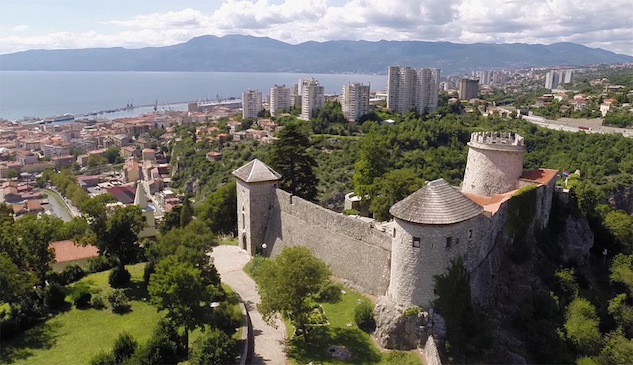 Photo courtesy of Rijeka Tourism Board
Climb 500+ steps to the top of Trsat for a panoramic view with a heavy dose of history. The impressive 13th century fortress—once a chain link in Roman defense—isn't the only attraction. While there, visit one of Croatia's important pilgrimage sites, a shrine to the Virgin Mary.
Time your visit to enjoy a glass of local wine at sunset at the castle's cafe, then take the No. 2 bus back to the center.
In true Rijeka spirit, Trsat doubles as a performance venue. Keep your eyes open for posters promoting events, such as the fantastical Malik Fest.
7. Rakhia Bar
An Instagram-worthy bar artfully displaying over 80 different types of Croatia's famous brandy, the tiny art-filled space and courtyard is packed with the young and beautiful. Pull up a mismatched chair, and alight on a flight including honey, plum, and grape elixirs.
When you stand, do so slowly. These concoctions pack a punch.
8. Ri Gastro Days
Brainchild of the Rijeka Tourist Board, this series of seven annual minifestivals showcases the diversity of culinary offerings from Kvarner and the northern Mediterranean. Flanked by "Asparagus Week," in April and a double-dose of themes in December with "Codfish Week" and "Chocolate Week," visitors can experience celebrations of the cherry, sardine, squid, and fig, in between.
With a goal to promote eating locally and sustainably, restaurants and caterers line Korzo and host events, workshops, and cooking classes around the city.
9. Sailing
Thanks to predictable early morning winds, known as Tramontane, and a mild Mediterranean climate, windsurfing and sailing are popular sports all along the bay.
Each June, the white sails go up as hopefuls from around the world gather for one of the Adriatic's most popular events, Fiumanka International Sailing Regatta.
A series of small community-oriented races, including a Rotary Regatta benefiting local charities, lead up to the main competition, the Great Fiumanka.
10. Live Music
With every arriving ship, new musical styles influence Rijeka's already creative scene in which punk, rock, jazz, and electronica have flourished.
Local favorite Tunel, obviously housed in an actual tunnel, is the place to be for fusion and jam sessions, plus a plethora of performance and visual arts.
Serious lovers of rock shouldn't miss a show at legendary Palach, Rijeka's oldest rock club, holding strong since 1968.
11. Maritime and History Museum
Rijeka's seafaring history is displayed in grand fashion within the former Governor's Palace. Historic charts and model ships are not the only exhibits of interest. From period décor and furnishings to war history, fine art, weapons, and stamps, even toys and games—there is an exhibit dedicated to all interests.
The most popular display is still a source of cultural pride. The first ship to the rescue of the RMS Titanic was en route to Rijeka with over 70 Croatian sailors on board. Today, one of only five recovered life jackets in the world resides within this small, yet fascinating museum.
Jess is a writer chasing a dream of slow travel through a fast world. Her work has appeared in Paste, Mental Floss, Bustle, aGypsyGene, and Birmingham magazine.