Palmaia Is a New Kind Of Wellness Hotel Focused on Music
Photos courtesy of Palmaia
Travel
Features
mexico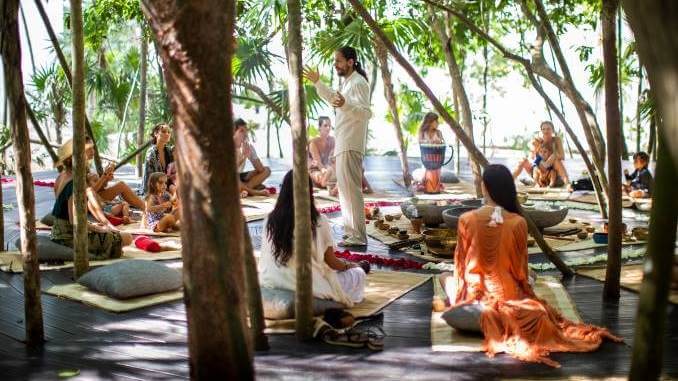 Like plenty of other hotels with fated pre-pandemic debuts, the grand opening of Palmaia, House Of AïA in January 2020 was eclipsed by the onset of Covid-19 a few months later. But since the initial downtick of travel during the pandemic has thoroughly rebounded over the last year or so, this wellness retreat in Playa Del Carmen is now finally getting its due. During a recent trip the property's plant-based menus, spiritual programming (think Tibetan bowls and gong baths), and integration into the natural jungle landscape makes it wholly unlike any other retreats in the area.
Owner Alex Ferri grew up in the hotel business. His family are the owners of the fairly traditional Sandos Hotels & Resorts chain, so his dream for a new kind of resort is based on personal experience—and sometimes frustration—with the status quo. His answer to mediocre all-inclusive buffets and wasteful, Americanized resorts of the '90s and early 2000s comes in the form of a spiritually-influenced luxury hotel that took years of planning, research, and construction. And one of the coolest, most unique aspects of Palmaia is the emphasis this property places on music and sound as part of the travel experience. After all, it's not every hotel that has their own Soundcloud channel—or, honestly, even knows what Soundcloud is.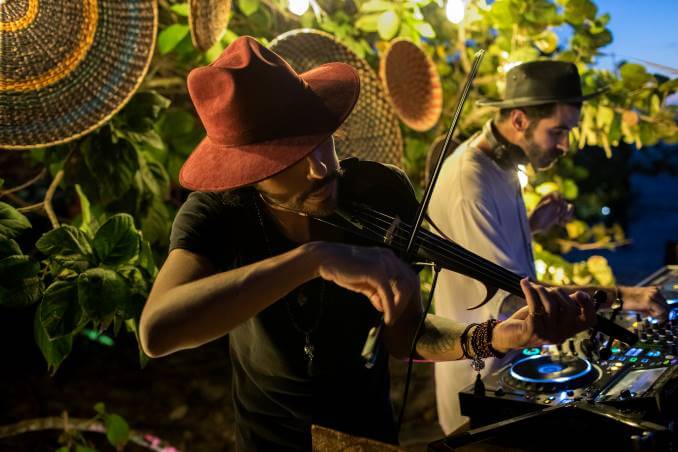 Along with four distinct restaurants, a health cafe and a food truck—all of which serve primarily plant-based food, with occasional options to add meat or dairy—the hotel provides each guest with their own personal "nomadic guide," who is available 24/7 on WhatsApp for any questions and concerns. All this, plus the spiritual programming, and a daily DJ set called Rituals of Sound are available to guests on a complimentary basis once they're onsite, with a nifty wristband to indicate to the staff that the "gifting lifestyle" is in full effect. Aside from very high-end bottles of wine or other alcohol, and the additional cost of any spa treatments, everything at the hotel, from food and alcohol to the entertainment programming, is offered for no additional cost.
For music lovers, access to a daily DJ set from 5 p.m. onward is a chance to sit and sip tequila and listen, dance in the sand, or a little bit of both, as the music ranges from a low hum of popular house music to more mystical and geographic focused sets depending on the day. Standouts like an Afro House set that emphasizes Brazilian and African music, or the Art Of Tone, which is more akin to a sound bath than a DJ set, showcase just how much care goes into these nightly offerings. And the property's proximity to the jungle means the sounds of the ecosystem itself are often incorporated into your overall experience.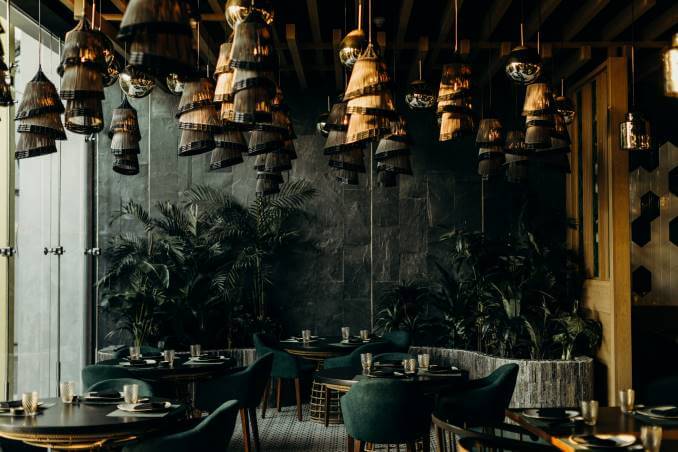 The first thing you'll likely hear at Palmaia are the crickets, a circuitous buzzing that reaches a pitch in the early evening and sighs on and off after dark settles in. Arguably, this too is part of the ritual of sound, a reconnection to not just man-made music, but what we hear when not ensconced in the din of a city. Another way to experience the soundtrack of Palmia is at the property's interconnected pool system, where the (mostly) wordless, beat and synth-heavy soundtracks make swimming through the tree-laden water feel a world away from a typical hotel pool. None of this mysticism comes without concerted effort, obviously, but the result is never try-hard. It's a surprising change from the familiar tropes of a Mexican beach resort geared toward international visitors.
The wellness programming is where the musical offerings stand out the most. A lengthy sound bath features a local, self-taught musician who plays every bowl, gong and chime himself, along with guitars and countless other stringed instruments, recorded and looped throughout the session. He plays along with himself as the hour drifts by, with multiple members of our group even falling asleep during the ceremony. The benefits of sound healing have been demonstrated again and again, and even if this is the only element of the wellness offerings that feels accessible to newcomers, it's well worth experiencing.
In some ways, the evening DJ sets and the daytime sound baths are yin and yang offerings that dovetail together nicely, or can be experienced in whatever modality is more suitable for each guest. There's no right or wrong way to get in touch with the musical or music-loving side of yourself, and staying at a hotel that includes multiple pathways is a rare enough thing, for now, that Palmaia really stands out.