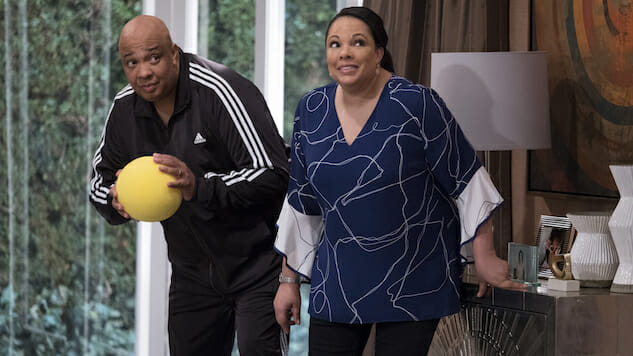 A career-centric father retires to let the mom take the spotlight. You wouldn't think the insecurity subplot of The Incredibles 2 would make for a compelling sitcom about a rapper (not a superhero) named Speed—and you'd be right. It's a dull premise for an inoffensive but utterly joyless show.
Netflix's All About the Washingtons (originally developed, and passed over, by ABC) follows the real husband and wife duo of Joey (Joseph Simmons) and Justine (Justine Simmons) as Joey initiates and embraces the shift in household power. Joseph, a.k.a. Rev Run, is a co-founder of Run-DMC and ex-star of six seasons on MTV's Run's House. The new series fictionalizes his life—during which he became hip-hop and reality TV royalty—culminating in the retired musician entering his golden years via the Netflix sitcom, of which there is no royalty. It's more like an Athenian sortition of random candidates, selected only by answering in the affirmative, "Do they take up space next to our stand-up specials?"
There certainly are a lot of Washingtons to fill the time: Wes (Nathan Anderson), Veronica (Kiana Ledé, the charming and sharp series standout), Skyler (Leah Rose Randall), and Deavon (Maceo Smedley). Are all pretty decent actors and thus deliver their lines without taking big breaths beforehand or looking like they're trying to remember the right words. Joseph and Justine aren't so lucky. And that would be fine—if the series had anything new, insightful, or, hell, funny to say.
But the plots are paper-thin ruminations on things like modern rap music (old folks don't get it!) and relationships (trust is important!), though they never feel like they're in service of the tired jokes. They feel like separate entities that only tenuously co-exist, hoping to stumble upon popularity through formula and luck. That approach makes All About the Washingtons feel like a throwback. As a series starring a rapper whose relevance peaked three decades ago, what else would you expect?
The liberally applied laughtrack, the theme song that states the title of the show (a huge plus in my eyes), the multi-camera format, and the lackluster leads drag its otherwise pleasant and harmless antics far, far behind any modern sitcom's tempo. (As an aside, "pleasant" and "harmless" are two qualities that, when applied to TV shows, hold the same backhanded nature as when applied to a first date.) Not to mention the over-the-top set decoration. How many photos of yourself in your heyday should you be allowed to have in your home? Two, max, right? Otherwise it starts getting a little Sunset Blvd.-y.
That said, the series makes some serious attempts at testing, or stretching, tradition—if not in style or format, then at least in content. Skyler is a child prodigy, which, OK, isn't that innovative in comedies. But Veronica is a black college grad with two nose rings, a degree in computer programming and systems analysis, and a complex love life. You don't see that on The Big Bang Theory. And that's on top of the show's premise: that Speed's retirement opens the door for his wife to succeed at entrepreneurship, something she's truly good at.
But good intentions can't help a show that fails its basic premises. All About the Washingtons is simply too facile to be funny and too invested in testing the Simmons with scripted material to be charming. The leads are dull and the lines they shout are either monotonous dad jokes, simple plot points, or loving reconciliations (after no major drama has occurred). All About the Washingtons is based on people who're adept at being themselves, so squeezing them into fictionalized roles siphons all the alluring nuance from their natural charisma, resulting in picture-perfect—and really boring—characters.
There's a full 10-episode season of All About the Washingtons waiting on Netflix, and I've watched the four made available to critics. You may accidentally stumble into a few minutes of the pilot thanks to Netflix's autoplay, and it won't be the worst thing in the world. But as soon as you realize what's going on, there's nothing in showrunner Andrew Reich's take on the rap retiree life that warrants anything but a quick and hasty retreat to the menu—so that you can roll the dice again on one of Netflix's strange and disparate originals.
All About the Washingtons is now streaming on Netflix.
---
Jacob Oller is a writer and film critic whose writing has appeared in
The Guardian, Playboy, Roger Ebert, Film School Rejects, Chicagoist, Vague Visages,
and other publications. He lives in Chicago, plays Dungeons and Dragons, and struggles not to kill his two cats daily. You can follow him on Twitter here: @jacoboller.