Apple Music Moves Forward Into TV with Carpool Karaoke Standalone Series
Image via Apple/YouTube
TV
News
Apple Music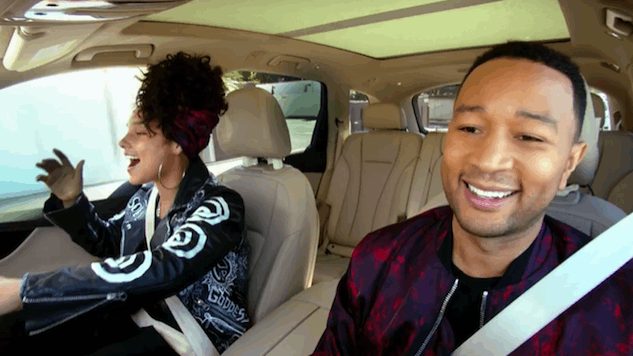 Apple Music has released an extended trailer for Carpool Karaoke, which features a gaggle of celebrity pairings, from Alicia Keys and John Legend singing R&B to Will Smith and James Corden rapping the Fresh Prince of Bel-Air theme song. The series will consist of 16 half-hour episodes, and be available for streaming on Apple Music. The jump to television is a major move for Apple Music, as they attempt to stand out from other music streaming services, such as their main competitor, Spotify.
Carpool Karaoke started as a popular segment on Corden's late-night show on CBS. It is what is sounds like—celebrities singing karaoke in cars and just generally yukking it up. Judging from the television trailer, the show will extend outside the car and follow the singing celebrities into laundromats, supermarkets, bars and even helicopters. Corden, Ben Winston and showrunner Eric Pankowski will serve as executive producers. The show's release date is yet to be announced.
Apple Music launched on June 30, 2015, and in the past two years, has gained around 20 million subscribers. While that is about about half the number of Spotify subscribers, Apple Music gained that amount of paying visitors at a much faster rate than Spotify did, making the new music streaming service a formidable business competitor. In an effort to continue this massive growth, Apple Music has decided to dip into subscription-video-on-demand (SVOD) services. They hired the former head of Amazon's Fire TV Unit, Timothy Twerdhal, as vice president of Apple TV product marketing. In addition to Carpool Karaoke, Apple Music will also be streaming Planet of the Apps, and there are rumors that the company is also planning a miniseries starring Dr. Dre.
Of course, if there's one industry more competitive than music streaming, it's possibly the SVOD industry. Netflix, Hulu, Amazon Prime and more are constantly grasping at new ways to stand apart from the crowd. According to a report from Business Insider, SVOD growth in the U.S. is actually slowing, though it is growing quickly in the Asia-Pacific region. The report also noted that content creators could benefit from creating more short-form videos easily streamable from devices such as smartphones. Apple Music's forthcoming programs seem to have both of these advantages.
Watch the Carpool Karaoke trailer below, and find Paste's list of Corden's best Carpool Karaoke segments here.