Orphan Black: The Devastating "Guillotines Decide" Might Be the Series' High Point
(Episode 5.08)
Photo: Ken Woroner/BBC AMERICA
TV
Reviews
Orphan Black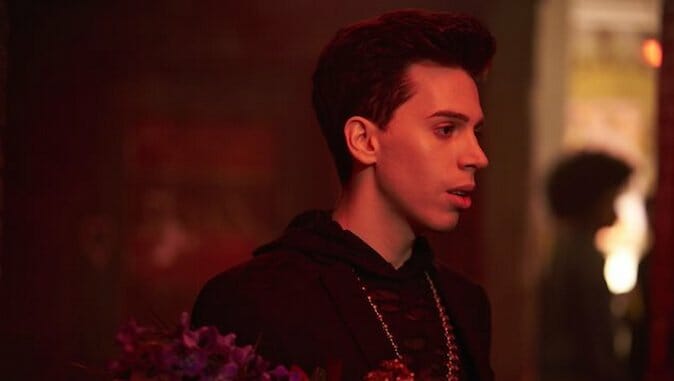 A grisly opening, as uncommon for Orphan Black as spending this long examining consequences, brings back a fan favorite: Ferdinand (James Frain). Similarly uncommon, "Guillotines Decide" eschews large dramatic strokes for a series of intimate reminders, and is all the more effective because of it. The psychosexual seesaw between Ferdinand and the recently re-cyclopsed Rachel (Tatiana Maslany) is one of the show's most indelicate yet novel pleasures, emphasizing the show's post-patriarchal philosophy in every submission and domination. Their continuous reversals of power build up to yet another climax here, though we visit almost every character in Clone Club at some point as the episode pushes its drama to a deliciously slow-burning backseat.
"Guillotines Decide" is defined more by postulation than by information, which can be a frustrating tactic for a series that's known for its dramatic saturation. When they don't tell us things, it's almost entirely transparent, even if it's still fun. Sarah's concern about the evil left unfaced never seems like the overreaction Orphan Black would like us to believe it is, so the unsurprising reveal that Delphine (Évelyne Brochu) and Mrs. S (Maria Doyle Kennedy) have been working with Ferdinand (gasp!) fails to shock. Who else could their shadowy contact have been, anyways? It was either the spindly little murderer or an entirely new character, so I suppose it's best that it was him as their inside man. The point remains that Rachel is now, circumstance dictating, against Neolution with the rest of the PT Westmorland truthers.
These truthers, meanwhile, are trying to remember normalcy. Cosima and Delphine's cute morning debate between playing a couple's guessing game or focusing on the more serious aspects of the news is entirely too relatable, and the closest the series has gotten to commenting on current events. It juxtaposes, in a small moment, the dread and weight of the outside world with the desire to protect oneself from it—the microcosm of love—and the inability to enjoy life while so much hate, fear and injustice threatens is scarily relevant when every proposed law attempts to kill our least empowered citizens and every vote requires our constant effort to stop it. The scene is the most realistic the couple's relationship has ever been, speaking to a larger world where balancing the good fight and the goodness for which we're fighting is an increasing and ever-present difficulty.
More basic goodness arrives through less discreet channels. Charlotte (Cynthia Galant) and Kira (Skyler Wexler) meet with a small, cute aside about the weirdness of the genetic relationship shared between these two kids. Family is strange, but family is family. When Helena and the complicated Gracie (Zoé de Grand'Maison) reunite under much happier circumstances than their previous Prolethean holding, the most violent sestra's stance towards relationships built on suffering comes through. She knows intimacy built almost exclusively through hardship, so Gracie's betrayal blindsides her as much as it confirms our suspicions. Nevertheless, the expected hurt of reality brushes on small moments of connection.
This comes again with the return of Felix (Jordan Gavaris). He's hosting an art opening with the help of his wild half-sister, Adele (Lauren Hammersley) and the Hendrixes. The goddess-worshipping art show allows Orphan Black to luxuriate in the simple pleasures of a long-running drama: We appreciate Alison's new-wave mom haircut; we appreciate the reappearance of Felix's ex-lover, Colin (Nicholas Rose); we appreciate that life still struggles to move on despite the nonsense happening outside the protective warehouse walls. Donnie (Kristian Brunn) and Alison are in immaculate suburban form in a very silly (and very perfect, narratively and technically) clone-swapping subplot at the gallery, which serves as the episode's perfect rotational fulcrum: Gavaris delivers an impassioned performance that will go down as his best of the series, while Maslany provides another multifaceted whirlwind.
Without straining to break free of the drama, the characters are threatened by its encompassing vortex. Without facing their problems, the characters threaten their families and themselves. Progress moves on, while final loose ends must be tied. Ferdinand's deteriorated masculinity of causes mayhem in the heroes' lives, while Helena and her special babies are arguably the most endearing members of the show's family—it makes sense that they are the final pieces to guarantee peace. Motherhood and manhood, the show's yin and yang, are apt forces for a finale, and the devastating conclusion of "Guillotines Decide" cements it as a series high point.
---
Jacob Oller is a writer and film critic whose writing has appeared in
The Guardian, Playboy, Roger Ebert, Film School Rejects, Chicagoist, Vague Visages,
and other publications. He lives in Chicago, plays Dungeons and Dragons, and struggles not to kill his two cats daily. You can follow him on Twitter here: @jacoboller.