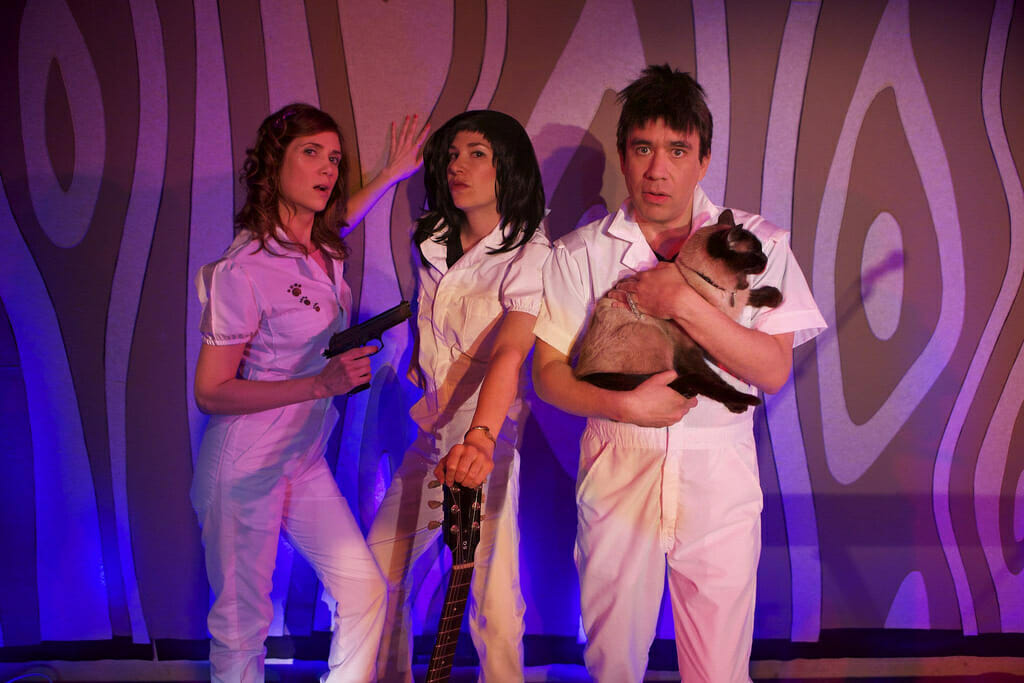 Quick…how many Internet memes and bourgeois trends can you spot in this week's episode of Portlandia? Cats. Check. Kickstarter. Check. Pitchfork and Polyphonic Spree mentions. Check and double check. (This would make a great drinking game, no?)
Writer-director-actress-artist Miranda July opens the episode "Cat Nap" as a co-owner of a boutique clothing shop, the kind that makes you wonder how they can stay afloat with as little inventory as possible. But July and Carrie Brownstein take the minimalist approach to retail to a whole other level. Their boutique's name, Two Girls, Two Shirts, describes the store's mission, staffing levels and inventory in one fell swoop.
They have no customers, and Brownstein's character wonders if they should be trying to get a few. July responds, "We don't care." (We think we were in this store last week!) The store eventually closes and the next brick-and-mortar in the queue is Fred Armisen's shop, "One Guy, One Vintage Tube Amp." Next.
Amber Tamblyn also guest stars as an intern for the Women & Women First bookstore. She throws the proprietors into a tizzy by suggesting shelving the books alphabetically, by author's last name. They have a system in place, thankyouverymuch, with categories such as "Queer Horror," "Softball 1980-1989," and "Political Cartoons/Lady Artists." (See how much fun it is to shop for books in places other than Amazon?)
One particularly funny sketch is a send-up of all those annoying Kickstarter campaign videos, complete with buffering problems, skipping to the end, and Dad chipping in $25 for his daughter's music video. So real and so true.
A less enjoyable skit features Portland movers who do everything by bicycle, to disastrous results. The premise is funny, but we don't like it much when Brownstein's and Armisen's characters' clueless-ness and carelessness screw up other people's lives, no matter how good their intentions are. Most of us get enough of that in real life.
The episode takes full advantage of Armisen's and Brownstein's indie music credentials—she with Sleater-Kinney and Wild Flag and Armisen's stint drumming for the punk band Trenchmouth. They're in a struggling band called The Nap, dejected because no one showed up to their last show. They need a gimmick, a hook, but reject ideas of having 80 people in the band (like the Polyphonic Spree) or singing in a made-up language (like Sigur Rós). Armisen suggests that they could pretend that they're brother and sister, to which an exasperated Brownstein says, "Please, we all know who did that."
The gimmick—Kevin the cat—literally leaps into the scene and into the band. (He plays a mic'd cat post.) They change their name to Catnap and become an indie hit with their song "Whisker Patrol." The whole sketch as built around Kevin the cat is sublimely ridiculous and funny. ("He's doing the merch.") What doesn't work quite as well as the cat meme is Kristen Wiig's appearance as a deranged fan, Gaffy. She doesn't want Catnap to get any more popular like other of her indie faves have done: "They've gone mainstream, and they left me here alone."
She pulls a gun and takes all three of them hostage. At her house, the conversation devolves into a bit of toilet humor. Though not quite as gross as Bridesmaids, we can't get the association of a head of cauliflower and the term "STDs" out of our minds, yet. They resolve the conflict by inviting Gaffy to play in the band—on gun.
The episode ends after a Pitchfork reviewer writes a piece on a Catnap show. When he submits his piece, he says to everyone in the adjoining cubicles, "Everything that can be said in music has now been said. I think we're done. We can shut the site down…." They turn off the lights and leave the building.
How meta is that?
Portlandia remains one of the most entertaining half-hours on television right now, capitalizing on the Zeitgeist (pardon the above hipsterisms) of a well-intentioned, but very self-involved culture.