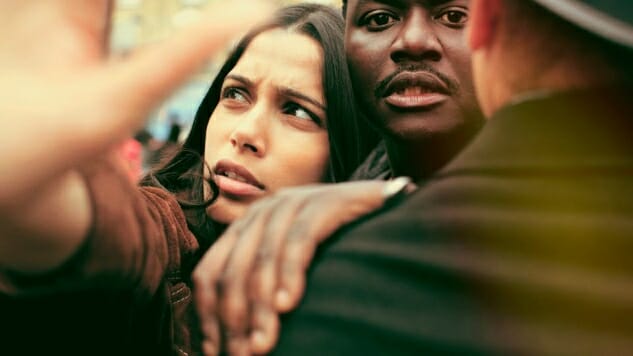 Apparently following in HBO's successful, limited series-airing footsteps, Showtime is headlining next month's slate with John Ridley's (American Crime) Guerrilla, premiering on April 16. The show tells "a love story set against the backdrop of one of the most politically explosive times in U.K. history," and stars Freida Pinto (Slumdog Millionaire), Babou Ceesay (Getting On) and Idris Elba.
But first, start catching up on Homeland and Billions, because the current seasons of the network's two biggest shows are both coming to an end on April 9. Next month also sees the return of the docu-series Dark Net, as well as the premiere of feature-length documentary Burn Motherfucker, Burn! The latter takes a provocative and in-depth look at the 1992 L.A. riots, exploring "the complicated relationship between the Los Angeles Police Department and the city's black and minority communities," just in time for the historic event's 25th anniversary.
Also hitting the platform are new themed streaming collections in the forms of the comedy-filled April-Fools collection, the oddly specific Love Triangles collection and actor-centric collections focusing on Julia Roberts, Bill Murray and Samuel L. Jackson.
Check out the full list below to see everything coming to Showtime next month.
NEW MOVIES STREAMING ON SHOWTIME IN APRIL:
Available 4/1:
Mother's Day
1408
Tyler Perry's The Family That Preys
Lincoln
America's Sweethearts
Shaun of the Dead
I Am Number Four
Available 4/8:
The Boy
Available 4/14:
The Man Who Knew Infinity
DOCUMENTARIES & COMEDY SPECIALS:
Available 4/7:
The Beach Boys: Making Pet Sounds
Steve Byrne: Tell the Damn Joke
Available 4/21:
Burn Motherf*cker, Burn!
STREAMING COLLECTIONS:
April Fool's Collection: Bernie, Fifty Shades of Black, The Ladies Man, School for Scoundrels, and more (Available 4/1-4/30)
Love Triangles Collection: America's Sweethearts, Sleeping With Other People, The Duff, Factory Girl, The Illusionist, and more (Available 4/12-5/9)
Samuel L. Jackson Collection: 1408, The Hateful Eight, Home of the Brave, The Spirit (Available 4/26-5/23)
Julia Roberts Collection: America's Sweethearts, Mother's Day, Secret in their Eyes (Available 4/1-5/1)
Bill Murray Collection: Coffee and Cigarettes, The Royal Tenenbaums, Scrooged (Available 4/1-4/27)
Man vs. Nature Collection: Backcountry, Congo, Open Water, The Ruins, Unnatural (Available 4/21-4/24)