Netflix Releases First Teaser for Marvel's The Defenders, Reveals Release Date
Images via Netflix
TV
Video
The Defenders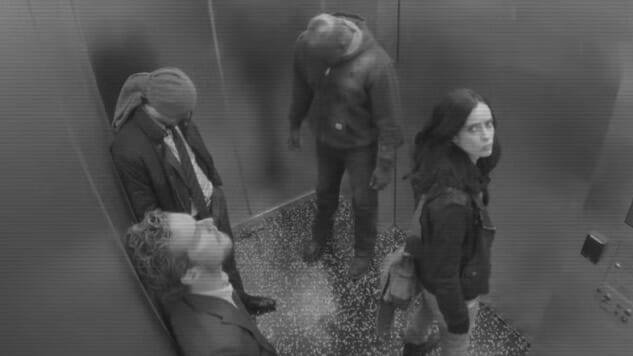 Netflix released (and took down) the first, short teaser for Marvel's The Defenders this morning, and it looks like the release date is roughly four months away.
The above video may only be about 16 seconds long, briefly showing a shared elevator ride between a curiously costume-less Daredevil (Charlie Cox), Jessica Jones (Krysten Ritter), Luke Cage (Mike Colter) and Iron Fist (Finn Jones), but there's still a surprising amount to unpack here.
The first two numbers in the time stamp in the video's top right corner are visibly set to "8:18" (before Jessica smashes the camera, that is). If that weren't enough to suggest an Aug. 18 release date, following the IP address found in the top-left corner of the video will redirect viewers to a website for the fictional New York Bulletin, a newspaper which fans might recognize from the shows' shared universe. You might not immediately notice the unassuming text at the bottom of that page: "Watch "Marvel's The Defenders" All Episodes Streaming Only on Netflix August 18."
Lastly, if that "Midland Circle" on the elevator wall rings any bells, it's the same name plastered on the construction site Daredevil and Elektra broke into during Daredevil season two. Remember, the one with the giant, mysterious hole? It's okay, our memories were a little fuzzy too after so many episodes.
This summer will see the above four heroes take on the Hand and their leader Madame Gao, as well as a new, mysterious villain played by Sigourney Weaver. Again, completionists still have about four months to catch up on Daredevil, Jessica Jones, Luke Cage and Iron Fist before The Defenders premieres this August. Next up will presumably be The Punisher, which is also set for this year, followed by either Jessica Jones' second or Daredevil's third season sometime next year.
Go ahead and check out the teaser above, and be sure to stay tuned to Paste for more substantial updates on Netflix's superhero team-up series.