Scrolling VRV: A Guide to the Voltron of Animation and Independent Streaming Services
From free anime classics to Premium subscriber exclusives, VRV is a one-stop mecha-shop for dubs, subs and everything in between.
Photo Courtesy of VRV
TV
Lists
VRV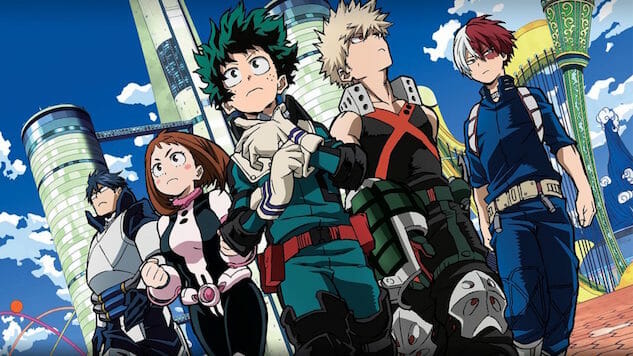 Of all the specialized platforms dotting the vast OTT streaming landscape here on the precipice of a new decade, Otter Media's animation-heavy VRV somehow manages, like a psychedelic rainbow bending so deep it becomes one endless, trippy ring, to be both the broadest and the most niche. That is, as a service created by the same people who created Crunchyroll (itself one of VRV's core channels) with anime and gaming fans front of mind, VRV caters to an extremely narrow audience. On the other hand, as a service whose content hails from a fluid number of geeky, independently run channels, which fans can choose to subscribe to either à la carte or as part of a discounted VRV Premium bundle (details below), VRV is, for a niche streamer, remarkably expansive.
Now, if you're thinking to yourself, "a monthly subscription fee for access to a small package of independently run channels? Isn't that just…cable?" Well, you aren't wrong. Start-up culture loved nothing more in the 2010s than finding new wheels to reinvent. As this writer's Harmonquest-loving brother sagely pointed out (Harmonquest: a VRV exclusive), though, VRV hasn't so much reinvented cable as it has innovated a kind of boutique subscription service that few genre-obsessive audiences—outside of sports, at least—have ever really had. The oddball channels and obscure animated content curated by VRV aren't going to be for everyone, but that's not really the point—the full 28-channel constellation of ESPN isn't for everyone, either. For everyone the streamer's geeky, anime-heavy channels are for, though, VRV is a veritable (if psychedelic) dream.
Cost: The good news is, a significant chunk of VRV's content is available to everyone, completely free. The not-as-good news is, while the bundled VRV Premium rate is cheaper than subscribing to any two of the platform's half dozen+ channels à la carte, to get access to everything VRV has to offer across the board, you'll still have to shell out $9.99 per month, plus taxes. More good news/sad news: The free trial period for VRV Premium lasts a cool 30 days. (Good!) As of publication, however, there was no discounted annual subscription available. (Sad.)
Note: As suggested in the intro, the majority of VRV's individual channels have single-stream subscription plans. When available, those rates (and associated free trial periods) are noted below.
Available on: iOS phones and iPads, Android devices versions 5.0 and above, as well as on Android TV, Fire TV, Apple TV, XBOX One, PS4, Chromecast, and newer Roku devices. It can also, obviously, be accessed online at vrv.co.
What Makes It Unique: It's tricky to pin down just what makes a VRV show a VRV show, but with Crunchyroll (anime) as one of the platform's core channels and Rooster Teeth (gaming) as one of its earliest content partners, VRV has a definite you'll know it when you see it aesthetic. Basically, if any Venn diagram combination of anime, fantasy, sci-fi, indie animation (think: Adult Swim), D&D re-enactments or Adam Savage anything is where you thrive, VRV's got you covered.
What You'll Find on This List: A broad overview of the 8 channels partnered with VRV as of December, 2019, with a few of the biggest series available highlighted for each.
[Note: Several of the channels included in the 2018 edition of this primer—Dramafever, Funimation and Shudder—are no longer a part of the VRV Premium family. Horror streamer Shudder, whose Top 5 series are ranked by Jim Vorel here, is now available through shudder.com as a standalone subscription starting at $4.75/month. Sony-owned anime streamer Funimation is also available as a standalone subscription through its own site, for $7.99/month. Dramafever, unfortunately, shuttered in October, 2018.]
---
Boomerang (Your favorite cartoon classics)
Single-stream subscription: $4.99/month (plus tax), with a 7-day free trial period
Best bets: Looney Tunes, Jetsons, Josie and the Pussycats, Scooby-Doo! and Guess Who?r
Okay, it's probably not intentional that the first part of this channel's name is Boomer, but with throwback content that includes classic Looney Tunes, 50s-era nuclear family fanfic faves Flintsones and Jetsons, and every iteration of Scooby-Doo! from Where Are You? to Guess Who?, this channel is pretty much custom-built for any Boomers you might run across lamenting the state of modern cartoons. That said, it's just as custom-built for Millennials who grew up inhaling syndicated runs of Top Cat and Smurfs and The Tom & Jerry Show, or who would leap at the chance to see the Care Bears back in action (Care Bears: Unlock the Magic, produced exclusively for Boomerang). Did you know the new Scooby-Doo! has featured Wanda Sykes, Chris Paul, and Penn & Teller? Us, either! But now we do, and we know where to look out for Guess Who? guests—and more—still to come.
---
Cartoon Hangover (Indie cartoons)
Single-stream subscription: $3.99/month (plus tax), with a 7-day free trial period
Best bets: Bee and Puppycat (Only on VRV), Bravest Warriors (Only on VRV)
We genuinely cannot articulate how weird and impossible-to-nail-down the content on Cartoon Hangover is, but it's not hard to see how the people who love it would be absolutely obsessed with it. The Ghibli-esque Bee and Puppycat (from Adventure Time's Natasha Allegri), in which truly nothing makes sense but you still feel warm and fluffy after watching, basically lives in the top 10 of Fandometrics' weekly TV Shows list. Bravest Warriors, meanwhile, manages to often make even less sense, and yet has episodes whose comment sections brim over with fans freaking out over the cartoon teen heroes' romantic entanglements. Like so much else on this channel, it is a WILD RIDE that you, a fan of pastels, kissing, and surrealism, shouldn't sleep on.
---
Crunchyroll (World's largest anime collection)
Single-stream subscription: $7.99/month (plus tax), with a 7-day free trial period
Best bets: Attack on Titan, My Hero Academia, Fruits Basket, Sailor Moon Crystal
Crunchyroll, subsidiary of the Ellation online video streaming service that created VRV, is likely the service that most people will be familiar with, if only by name. If you are an anime fan living outside of Japan, Crunchyroll is where you live. Many of the anime series that populate Fandometrics' Anime lists can be found here, in both dubbed and subtitled form, including Tumblr über-fave My Hero Academia, but the most interesting detail about the service is just around the corner: Ellation is expanding into original series productions, starting with Raye Rodriguez's High Guardian Spice, which counts Hellcat's Kate Leth among its writers. Not that you should wait until that series premieres to check Crunchyroll out; with the most extensive library of any of VRV's independent channels, it's got plenty of content to keep anime-lovers busy for as much time as they can carve out to watch.
---
HIDIVE (Stream anime and stuff)
Single-stream subscription: $4.99/month (plus tax), with a 7-day free trial period
Best bets: Haikyu!!, Land of the Lustrous, Made in Abyss
Filling in some of Crunchyroll's gaps is HIDIVE, another (smaller) anime-forward channel with a focus on simulcasts, dubcasts, exclusives, uncensored anime and live-action series. Its content also comes both dubbed and subbed, with a fair number of titles also available in Spanish (including Anonymous Noise, Between the Sky and Sea, Haikyu!! and Land of the Lustrous). For an Inception-like look at some of the best series HIDIVE has to offer, check out this list from the Crunchyroll blog.
---
Mondo (Extreme animation)
Single-stream subscription: $2.99/month (plus tax), with a 7-day free trial period
Best bets: Bigfoot (Only on VRV), Happy Tree Friends, The Alien Guide to Earth
Self-described as Bold. Subversive. Irreverent., Mondo is where you go if Adult Swim was your after-midnight homebase in high school and college. The series you will find here aren't as psychedelic as those on Cartoon Hangover, but they are leagues beyond the mainstream. Like, where else are you going to catch a lumpy, watercolor Bigfoot, a sexually explicit deep space adventure, and all the bloody viciousness native to Happy Tree Friends? Mondo is where.
---
Nicksplat (Your fave throwback Nick shows)
Single-stream subscription: $5.99/month (plus tax), with a 7-day free trial period
Best bets: Are You Afraid of the Dark?, Rocket Power, Kenan & Kel, Doug
The recent reboot of Nickelodeon's Are You Afraid of the Dark? was one of Paste's favorite surprises in 2019, so obviously we're excited to have an easy outlet through which to catch up on the original. Then again, we'd be lying if we said we weren't just as excited to know where to catch the original adventures of Kenan & Kel and Doug, or, given our favorable review of its own 2019 reboot, the cast of sketch-genius tweens and teens on the original All That. Not every Nickelodeon classic has made it to Nicksplat (Rugrats being the most obvious), but our fingers are crossed for the future.
---
Rooster Teeth (Original online hits)
Single-stream subscription: $5.99/month (plus tax), with a 7-day free trial period
Best bets: RWBY, Red vs. Blue, gen:LOCK
Red vs. Blue, gen:LOCK and a heap of live-action gaming and geek-centric talk shows are all good reasons to dive into VRV's Rooster Teeth channel, but we would be remiss if we didn't situate Paste editor Josh Jackson's fave, RWBY, as the number one reason to give Rooster Teeth a protracted chance. As he noted in a Power Rankings blurb when the web series' seventh season premiered, "The American anime-style show succeeds because the villains are as compelling as its heroes, its humor is as important as its action, and every frame is gorgeously illustrated." And as is proven by its status as a frequent flier at the top of Tumblr's own weekly Fandometrics lists, "the epic journey of Ruby Rose and her friends as they battle both the monstrous Grimm who threaten humanity and the political infighting that constantly complicates their goals" isn't just just a Paste house favorite, but one that hits audiences all over. Honestly, the RWBY fandom is so enormous, we're probably singing to the choir, but in case you aren't yet in it, consider this your official invite.
---
VRV Select (Discover VRV's next big thing)
Best bets (live-action): Harmonquest, Killjoys (Only on VRV), It Might Work!
Best bets (animated): Epithet Erased, Final Space (Only on VRV), ReBoot
Populated mostly by titles available only with a VRV Premium subscription, VRV Select represents the biggest grab bag across the platform. In addition to VRV Exclusives like Syfy's Killjoys, TBS's Final Space and SeeSo's Hidden America with Jonah Ray, VRV Select has some old-school titles that will make your inner weird kid perk up (hi, Elvira's Movie Macabre!), the original Australian version of Wilfred (and it's free! sure, why not!), and a bunch of Shout! Factory projects, including The Weird Al Show and the '90s CGI acid trip classic, ReBoot. It also has two popular video series projects adapted from devastatingly popular podcasts, Harmonquest and My Brother, My Brother and Me (both also exclusive to VRV), three different "Adam Savage builds stuff" titles, and JelloApocalypse's weird new magic girl animated series, Epithet Erased. Truly, something for everyone.
---
Alexis Gunderson is a TV critic and audiobibliophile. She can be found @AlexisKG AlexisKG.
For all the latest TV news, reviews, lists and features, follow @Paste_TV.