ICYMI: Apple TV+'s Platonic Hilariously Tackles Friendship and Rudderless Adulthood
Photo Courtesy of Apple TV+
TV
Features
What to Watch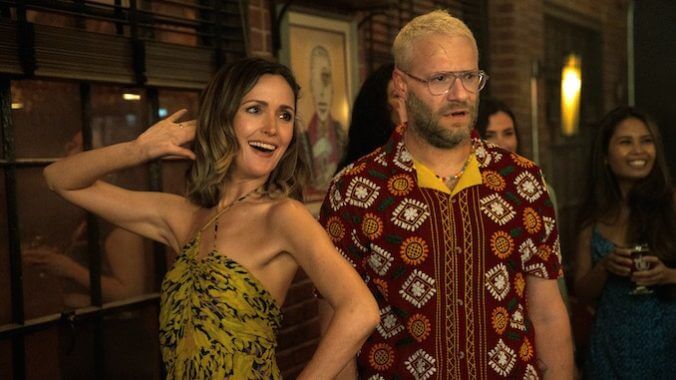 Editor's Note: Welcome to ICYMI! While the writers and actors fight for the fair contracts they deserve, we're highlighting some shows you may have missed in the deluge of content from throughout the year. Join the Paste writers as we celebrate our underrated faves, the blink-and-you-missed-it series, and the perfect binges to fill the void left by delays and corporate greed:

Of all the new-look streaming services, Apple TV+ is arguably the hardest to pin down. It's basically doing the old school HBO prestige thing, led by projects like the cultural phenomenon Ted Lasso, buzzy sci-fi hit Severance, and A-list celeb-fest The Morning Show.
But look beyond that first layer of hits, and Apple TV has slowly built a portfolio of really great shows you may have easily missed if you don't know what you're looking for. One notable little show from just the past few months that flew somewhat under the radar? Platonic, which stars Seth Rogen and Rose Byrne as longtime (you guessed it) platonic best friends who reconnect in their late-30s, and get into all kinds of shenanigans as they try their best to navigate the frustrations and disappointments adulthood can often bring as we realize we're no longer kids and not at all ready to be a full-time adult.
The series reunites Rogen and Byrne, who first starred alongside one another in 2014's Neighbors, and Neighbors director Nicholas Stoller co-created Platonic, so that's at least a tangible connection for the vibe to expect. The series launched in May and ran for 10 episodes, with the full series now available to stream as of July 12th. Platonic proved a solid hit among critics upon release, but was easily forgotten after the release buzz faded if you weren't actively looking for it (especially with the weekly episode drop schedule). 
But with the full 10-episode run now available to binge, the series is well worth getting chummy with, especially for fans of adult comedies not afraid to get a little (okay, a lot) weird at times. Plus the cast is dynamite, with Rogen and Byrne joined by a sneaky good ensemble of Luke MacFarlane, Carla Gallo, Tre Hale, and Andrew Lopez.
Platonic threads the sweet-spot needle of a comedy not afraid to veer from hilarious to heartbreaking on a dime, mining the queasy lack of direction we can all feel at times as we grope our way through adulthood and careers to realize we've lost touch with who we used to be—and the people we used to love (platonically)—along the way.
The framing of the story is a clever one, finding Byrne's stay-at-home mom Sylvia and Rogen's microbrewery co-founder Will both unfulfilled in the lives they've built as they try to recapture some of the excitement of their college-aged friendship by reconnecting well into adulthood. Sylvia is bored as a mother outside the workforce, but anxious about returning to work and putting her law degree to use after so many years at home. Whereas Will has built a successful bar and microbrewery, to the point the company is now being pursued to partner with a major restaurant chain. But Will just wants to make good beer, and is largely miserable in the business side of his success, and the lack of control it would mean to grow the company. So he's constantly butting heads with his business partners over the future of the brewery.
Sylvia and Will are two sides of the same coin, frustrated and yearning for a break from their lives—a testament to the fact that hip success and perceived mundanity can all breed unhappiness in their own ways that require a big change. But not in the form of an affair, mind you, but instead simply restarting their messy, hilarious friendship. They're absolutely terrible influences on one another, but it makes for some truly great misadventures—and they support one another and try their best to help, even when the "help" only makes things disastrously worse.
From Sylvia's attempted return to the workforce, to Will dipping his toe back into the online dating scene, they mine a surprising amount of story out of these 10 episodes. The structure and execution never fails to surprise, as they set-up seemingly obvious sitcom tropes then side-step the expectation of how those arcs and events play out. It's never more clear how far their lifestyles have diverged, but the series finds so much humor and whimsy in smashing those worlds together to show just how disparate these two friends' lives have become—yet somehow they still work together, anyway. Will attending a Dodgers game with Sylvia's husband is comedy gold, along with a late night mission to repair a damaged painting (we won't say more for fear of spoilers), and a lively debate over whether aliens are real.
Platonic walks the line of a comedy, with all the silliness that entails, while still taking its subject matter and characters serious enough to genuinely tackle the weirdness of how a platonic friendship like this might cause some awkwardness in a marriage, and the real hurt and pain that can come out of adult friendships when trust is broken. It's a weird mix at times, but always compelling.
It's the type of show you might find on FX or AMC at scattered times over the years, but still genuinely rare enough that they don't make it to screen all too often—especially with big-screen talent like Rogen and Byrne at the center. But Apple is looking to build its brand on projects like this you can't really find anywhere else, and though it's clearly not captured the zeitgeist like Ted Lasso or the Emmy-nominated Shrinking, Platonic is more than worthy to sit on Apple's virtual shelf alongside them.
It's also just as funny, albeit in its own weird way.
---
Trent Moore is a recovering print journalist, and freelance editor and writer with bylines at lots of places. He likes to find the sweet spot where pop culture crosses over with everything else. Follow him at @trentlmoore on Twitter.
For all the latest TV news, reviews, lists and features, follow @Paste_TV.