John Cena's On-Screen Proposal Does a Disservice to Nikki Bella
Photo Courtesy of WWE.com
Wrestling
Features
WWE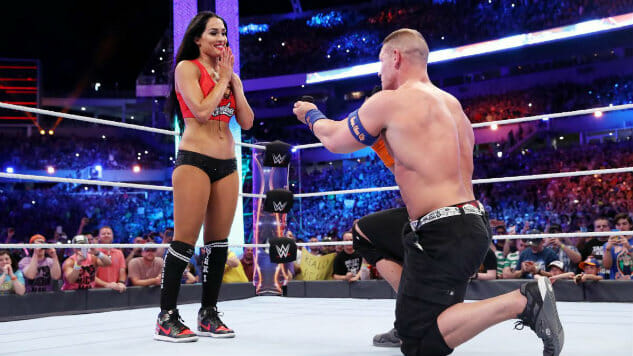 John Cena's in-ring marriage proposal to his long-time partner Nikki Bella after their mixed tag team match with The Miz and Maryse at WrestleMania 33 on Sunday was the culmination of six seasons worth of Total Divas/Bellas storylines, and the bulk of Nikki's plotline on SmackDown since returning from injury in August last year. But the troubling narrative surrounding Nikki's love life, on WWE television in particular, reeks of a retrograde attitude that tells women they haven't succeeded in life until they're married.
As Mira Waters wrote at FightBooth, Nikki defied the odds and returned to the ring after a career-threatening neck injury, but for some reason, WWE creative—no doubt in concert with E! for the inevitable engagement and wedding ratings—decided that her relationship with John Cena, with ample shots at her cosmetically-enhanced bustline to up the ick-factor, was more interesting. Since her return at SummerSlam, Nikki has feuded with no less than three women—Carmella, Natalya and Maryse—with Bella's romantic life at the crux. Not only does it reduce Nikki's accomplishments—the return from injury, her record-breaking Divas Championship run, a producing credit on Total Divas, her lingerie line—but it makes the other women look petty for concerning themselves with someone else's love life. To paraphrase Regina George: Why are you so obsessed with Nikki and John?
Nikki's unmarried life with John was, in some ways, a model relationship. She perpetually told her meddling family that she was accepting of John's wishes, and that if being with him meant never being a wife or mother, it was a sacrifice she was willing to make. And the fact that Nikki signed a contract to live in John's house, and that they share a pet, means they're effectively common-law married anyway (though Florida, where John and Nikki live, doesn't recognize such relationships.) "Making it official" really only deems their relationship socially acceptable to people on the outside, not the two people involved.
And not to buy into the very retrograde gender politics WWE is peddling with this public proposal, but why was it all about John? Nikki didn't have a microphone in her hand in the course of the proposal to vocalize her feelings or—god forbid!—decline, and the storyline leading up to the big moment was centered on John's motivations. The Miz and Maryse's "Total Bellas Bullshit" skits expertly parodied the perception that John and Nikki's relationship is for show, and that his brand is dependent on his bachelorhood. Nikki didn't even get to talk about the #WomensEvolution she helped build in the go-home promo on SmackDown, as Maryse pointed out on the Hall of Fame red carpet. And during their appearance on the Today Show, which is normally set aside for the reigning champions, John did the bulk of the talking. While the focus should be on Nikki finally getting something she's wanted for years, she was effectively made a prize for his sacrifice.
Now, with neither of the couple on last night's SmackDown and Nikki confirmed to be taking an extended leave from WWE, their engagement buys into the outdated notion that, like many woman wrestlers who've left to get married and have kids, marriage and work don't mix for women. I hope she spends her time away doing something more productive than wedding planning.
Don't get me wrong: on a personal level, having watched the couple on reality TV, I am legitimately happy for Nikki and John. But despite all her successes in and out of the ring, the magnitude of the proposal perpetuates the damaging concept that a woman is never truly complete without having a ring on her finger.
---
Scarlett Harris is an Australian writer. You can read her previously published work at her website The Scarlett Woman, and follow her on Twitter at @ScarlettEHarris.