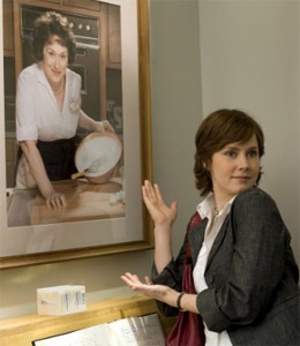 Release Date: Aug. 7

Director: Nora Ephron
Writers: Nora Ephron (screenplay), Julia Child and Alex Prud'homme (book, My Life in France), Julie Powell (book, Julie & Julia)
Cinematographer: Stephen Goldblatt
Starring: Meryl Streep, Amy Adams, Stanley Tucci, Chris Messina
Studio/Run Time: Columbia Pictures, 123 mins.
Satisfying tale of love, ambition, and great food
Julie & Julia is a delectable cinematic concoction about two food-loving women. There's Julie Powell (Adams), a New Yorker experiencing almost-thirty angst, married, living in an apartment over a pizzeria in Queens, and commuting to downtown Manhattan for an unglamorous career, who decides to cook and blog her way out of misery. And then there's Julia Child (Streep), who found herself at loose ends as an American in Paris and wound up revolutionizing the way we think about dinner.
It's also about refreshing, mostly happy married couples: Julia and Paul (Tucci), and Julie and Eric, all cheerily living, loving, eating and popping Tums by the movie's end. An homage to both Julia Child's long-reaching impact and to home cooking, the film tantalizes with loving culinary detail. (Don't go hungry—or better yet, do, but have something spectacular when you leave.)
Nora Ephron, herself a (now) happily married foodie in New York, entwined Julie and Julia's stories to emphasize the similarities in the women's lives. There aren't a lot—after all, Julia's kitchen is now in the Smithsonian, and Julie's is still in that Queens apartment —but the device somehow mostly works, especially with Streep's complete inhabitation of the person of Julia Child.
It's not perfect—Julie's story pales next to Julia's, and everyone pales next to Streep. But Julie & Julia isn't an exquisite, full-out tasting menu; it's more like a satisfying meal of French comfort food, smothered in butter, prepared at home. Just how Julia would like it.
Watch the Julie & Julia trailer:


Others Tagged With