G. Willow Wilson: The Butterfly Mosque: A Young American Woman's Journey to Love and Islam
[Atlantic Monthly Press]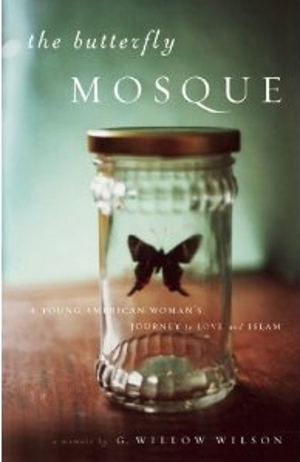 Expatriate journalist describes the softer side of Islam
Over the past decade or so, it seems that every modern poetic account of Islam—every Kite Runner or Persepolis—has been overpowered by post-9/11 political hyperbole. Released just one month after Faisal Shahzad planted a car bomb outside the Viacom offices in Times Square (a thwarted attack allegedly fueled by South Park threatening to caricature the prophet Muhammad), writer G. Willow Wilson's charming The Butterfly Mosque—part unlikely love letter to Islam, part first-person breakdown of a Westerner's immersive education in the Middle East—may well be resigned to the same fate. But like all the others, it shouldn't be.
Weaving together equal parts philosophy, politics and roadtrip humor, Wilson—a pierced, flaming bottle redhead from Colorado who's contributed to the The New York Times and Atlantic Monthly but is perhaps better known for penning the comics Air and Vixen—recounts her experience moving to Cairo after college to teach English. There, she meets and falls in love with both a Sufi Muslim man (to whom she becomes engaged) and his faith (to which she converts). In travelogue form, tracing her journey from Egypt to Iran and even back to Denver, Wilson explores the vast expanse—physically, emotionally, intellectually—between her American heritage and the fears, stereotypes and half-truths that plague the world's second-largest religion. Her accounts tackle everything from Islamic gender relations to violence to xenophobia with humor and insight that complements the finest expatriate literature.
Wilson, who now splits her time between the U.S. and Cairo, is quick to praise her adopted culture—she loves everything from Islam's focus on absolute truth to the massive, communal family structure she's welcomed into—but she's also brutally aware of its troubles.
She makes no excuses for the "violence and ignorance and misanthropy" perpetuated in many Islamic and Arab nations, but as her identity is bisected between her previous life as a spiritually ambiguous American and her new Muslim assimilation, she soon comes to understand the roots of anti-western malice. Military conflicts are a superficial exterior for what Islamic extremists really abhor; they are philosophically outraged, she says, by the "sheer accessibility of western culture: the fact that everything a person could want, from consumer goods to emotional highs to sex to spirituality. [… T]his clashes irreconcilably with Islam, where the things that are most precious, most perfect, and most holy are always hidden."
Wilson skillfully conveys the terms of complex sociological dischord, but parsing out her personal conflicts is trickier. Why would an American adopt such a controversy-riddled faith among all the less-demanding alternatives available? The answer is elusive, even to Wilson, and is one of the most alluring aspects of her conversion, and this book. She breaks down her choice in disarmingly simple terms, explaining her attraction to Islam's "antiauthoritarian sex-positive monotheism," and proving, at the very least, that Islam is no different from any other religion in that its tenants can be—and are—read more as a Rorschach test than a step-by-step instruction manual. But the exact terms of her conversion aren't the point; rather, it's the rare, gentle humanity she trains on Islam that moves the book forward.
Though she's brought a number of 2-D creations alive on the page before, Wilson may be her own best character. She's witty and congenial, sliding into the role of transcontinental pen pal as she relays her days in Cairo. Her accounts are rife with personal detail. She recounts with equal skill and charm a walk through the Turan slums (a hotbed for Islamic extremists, where she squares off against maggots, spiders and roaches that pop out like the ghouls of a '70s B-movie), the birth of kittens and a trip to a fairy-tale oasis. Even when her ex-pat life is at its darkest, her wide-open curiosity and left-field humor lend the prose some much-needed bounce.
Ultimately, Wilson's overarching defense of Islam is obvious to tolerant readers—those who've long separated the faith from its attendant terrorist factions and stereotypes. But her careful examination and forthright wit make her an ideal ambassador to those who haven't. Wilson has the objective sensitivity to understand the attitudes and arguments facing her; she's multicultural, eloquent and humbly persuasive. And even better, she knows how to tell a great story.
Others Tagged With