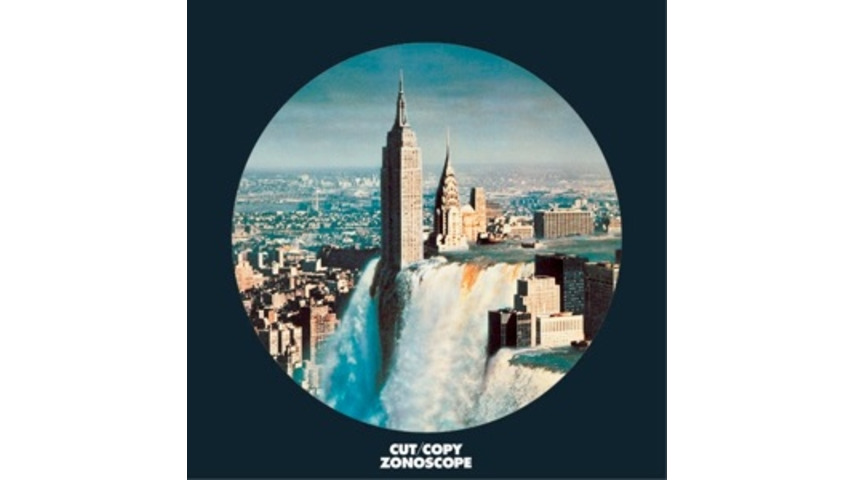 Cut Copy have never been able to figure out whether they're indie rock experimentalists or '80s dance purists. So they've become both. Zonoscope, the Australian quartet's third full-length studio album, is their most impressive balancing act yet, walking a fragile tightrope to either a world where pop radio is a hell of a lot weirder or one where the freaks are DJing the school dances. With Cut Copy, you never know for sure what's going to happen, but you do know with a fair degree of certainty that it'll be beautiful.
On first listen, it's easy to get lost in swirls of melody and miss out on the little surprises tucked in the corners of these spacious tracks. Zonoscope cruises by on such a smooth, unflinching aura of craftsmanship, it takes a couple listens before the weird layers and headphone-worthy details start to sink in. Working with Ben Allen (Animal Collective, Deerhunter, Gnarls Barkley) behind the mixing board may have been the catalyst, but for whatever reason, there's a clear Animal Collective-influenced density on display when Cut Copy decide to stretch things out—"Where I'm Going" bears the signature Collective stamp (circa Merriweather Post Pavilion), sparkling with dubby bass and reverb-soaked chanting. "Strange Nostalgia" is a psychedelic, backward-masked, piano-laced instrumental that wouldn't have felt out of place on Feels.
But Cut Copy are deceptively complex, even at their hookiest. "Take Me Over" is a parade-worthy career highlight, boasting an irresistible synth groove and a Hail Mary chorus; it will likely end up one of 2011's best "pop" songs, but that almost seems like a dirty word to describe a track this loaded—dig the ferocious funk guitars, those even-catchier-than-the-main-hook backing vocals, the never-ending layers of auxiliary percussion. It's like four decadent dance parties happening at once. "Corner of the Sky" has a simple, two-note hook and a steady, four-to-the-floor electronic pulse, but Cut Copy take an incredibly expansive detour to that destination, crafting a tricky, tribal, kitchen sink mess of an intro, layering a potpourri of percussion and synth buzzes into a disorienting head-rush.
And just when you've settled into a groove, they throw out a laughably ambitious head-scratcher that somehow might be the most Cut Copy-esque thing they've ever attempted. The otherwise relatively concise Zonoscope goes out with a bang in the form of closer "Sun God," a 14-minute behemoth that, after a traditional dance-pop entrance, bursts midway through with a glossed-out avalanche of sequenced synths that would make Alan Parsons blush.
During the spaced-out coda of blissful rocker "This is All We've Got," a mysterious female voice appears and, as if looking through her bedroom window for the first time after a year-long coma, exhales, "Beautiful. Amazing. The sky." I couldn't agree more.