The Beach Boys: The SMiLE Sessions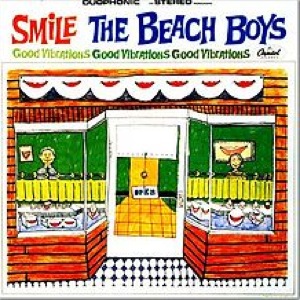 Genius. It's a word that's been attributed to Brian Wilson, his Beach Boys and his beloved, incomplete masterpiece, SMiLE, for years. As the follow-up to the not-immediately loved, but now-cherished Pet Sounds, Wilson had a bit of leeway after the success of the single "Good Vibrations," which would eventually become SMiLE's closing track.
"Good Vibrations" was layered with incredible harmonies and a signature theremin part, and it pushed the boundaries of studio recording at the time. But most importantly, it was a huge hit because of its hummable, instantly catchy melodies. And so it gave Wilson the freedom to create his "masterpiece," which led to tension within the band and Wilson's eventual retreat away from a public life.
Maybe the best way to look at it is through parody: In the John C. Reilly-starring Walk Hard: The Dewey Cox Story, the protagonist goes through a phase where he mimics Wilson. Dewey Cox is stuck on a project that has him making ridiculous demands that include having "an army of didgeridoos" perform on his masterpiece about cutting his own brother in half before the guy ultimately has a mental breakdown. And although it's meant to be humorous, legends of the sessions make it seem like it's not far from the truth. The tales about Wilson's SMiLE sessions include the songwriter's fear of a song because of its negative energy ("Mrs. O'Leary's Cow"), or big arguments between collaborator Van Dyke Parks and wannabe-Beach Boys-leader Mike Love. But as the session reels will show, the importance of SMiLE doesn't come from the drama or the legends that surround it: It's in the recorded music alone.
Although it was shrouded in mystery, Wilson's self-described "teenage symphony to God" eeked its way out in different forms over the years: First in its compromised, rerecorded version, Smiley Smile and later in the forms of bootlegs that fans passed around. It wasn't until almost four decades later in 2004 when the songwriter finished his highly anticipated masterpiece, which was well received among critics and fans alike.
And, yeah, Wilson finished the album eventually, but there's always going to be that curiosity. What would SMiLE have sounded like had it been completed in the '60s, a time most people considered Wilson's prime?
The SMiLE Sessions are going to be the best answer to that question. Although the first disc compiles takes and in turn nearly creates the full vision Wilson put forward on his 2004 recreation of the album, it's the studio outtakes that the listeners are looking for, and they deliver.
It's almost funny to listen to Wilson direct the whole production. In his autobiography Wouldn't It Be Nice: My Own Story, Wilson talks about how important it was for him to command or lead a session, but as The SMiLE Sessions prove, it wasn't exactly a totally calculated process. And let it be noted that there were no shouting matches about didgeridoos.
Instead, the outtakes show that Wilson had the sounds he wanted in his head, and he patiently led the sessions from these visions. Sometimes Wilson's direction was specific; like where after multiple unsatisfactory takes, he realizes that long-time Beach Boys session bassist Carol Kaye was playing her part with too much attack. And sometimes Wilson's direction is wildly vague, stopping sessions to say things like "It just isn't happening. Let's make it happen."
And, spanning over the course of four discs, with most of them clocking in at an hour apiece, there are more than enough insights to Wilson's creative process for even the most hardcore Beach Boys fan. By far the most interesting takes are on the second disc, which is mostly devoted to the breathtaking choral opening cut "Our Prayer" and "Heroes and Villains."
You hear the guys harmonizing around a single microphone in a time where tracks on recording consoles were limited and takes demanded perfection—it's all part of the reason that "Beach Boys" and "harmonies" are nearly synonymous in rock criticism.
But the sheer amount of material can be daunting for any fan, and it becomes obvious around the second disc after countless "Heroes and Villains" takes that The SMiLE Sessions is either for the hardcore fans or meant to be listened to in doses.
But at the end of the day, it's refreshing to listen to a near-completed version of SMiLE from the '60s, and hearing Wilson work on one of the most infamous albums of the last century is an important part of rock history. The Sessions are a great listen when you have time to sift through it all, and the package gives hardcore fans more than enough material to immerse themselves in.
Others Tagged With