Oneida: A List of the Burning Mountains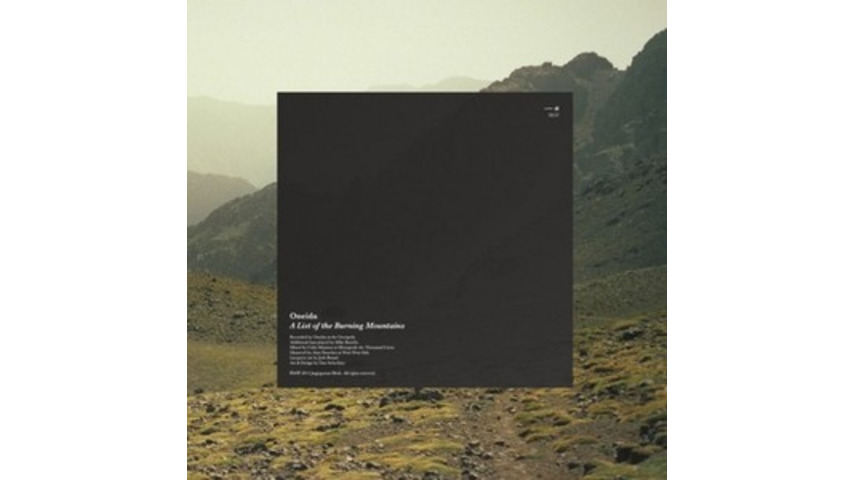 Armed with one of the more respected back catalogs in the realm of ambient art-rock, Oneida has begun to transcend the tenets of the repetitive, psychedelic noise mishmash they helped usher into New York's underground in the late '90s. Their 12th studio album, A List of the Burning Mountains, is as utterly discordant as any other of their enormously lengthy recent releases. As such, it's ripe for both hyperbole and head-scratching. The quintet's obscure symbioses butt against convention in pretty much every way possible, and only continue that long, strange trip here.
The 40-minute, two-track LP—one track on side 1; the other on the flipside—digs deep into the folds of the band's improvisational milieu, carving out subconscious meditations that sound like the bleary-eyed nightmares of a catatonic astronaut. The instrumentation on Burning Mountains is utilized as accoutrement to the bigger, darker introspection of a leap into beautiful lunacy, replete with drone-y keys, liquid guitar lines and splashy, psychotic drums.
Where Burning Mountains contrasts from sparsely populated, jarring hell-rides like Absolute II's vaguely "Iron Man"-like "Gray Area," or more straight-forward kraut-rock rockers like Rated O's "I Will Haunt You," is in its total about-face from structure. Instead, choppy, indecisive shifts in mood permeate side 1 with guttural, low-gear idling and ominous bursts of electric fuzz. Flurries of alien audio seep through squalls of fiendish noise during the first two minutes of "Side 1," but soon part ways for shrieking analog wails that persist through to the second side. These long-form, improvised meditations are further postured by roughly maniacal drums and terrifying swells of pissy guitars.
This is certainly not the accessible, breakthrough type of album you might think a band 15 years into the game might attempt. But then, Oneida has never seemed the type to bow to anyone else's expectations. In keeping with that defiance, Burning Mountains plays like a kind of indignant opus, composed within proximity to the epicenter of a psychotropic maelstrom. But in that swirling cacophony there is also triumph in tension, and in their journey through sonic wormholes you hear fantastic bursts of sassy feedback, tribal drum-as-you-go backbones and a hazy eye focused on the spaces between dissonance and splendor.
See also: Total mindfuck.
Others Tagged With