Before Midnight Sundance 2013 Review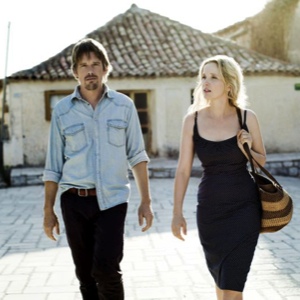 Director/Screenwriter: Richard Linklater
Stars: Julie Delpy, Ethan Hawke
Before Midnight concludes one of cinema's great trilogies—assuming it stays a trilogy. Nine years from now, director Richard Linklater and stars Julie Delpy and Ethan Hawke could well revisit their characters from 1995's Before Sunrise. But as it stands, they have built a beautiful study of life and love, each chapter of which stands on its own while adding emotional resonance to the other two.
2004's Before Sunset saw Jesse and Celine re-connect in Paris for the first time since their magical night in Vienna, searching again for that rare, deep connection between two humans. Before Midnight spends another day with the characters, this time in Greece, but things are a little different. While they are still extremely connected to one another, additional people also command their attention and somewhat limit their personal time together.
Which doesn't mean the two leads don't converse. The series' trademark intense, thoughtful and personal conversations remain. An early scene holds on one perfectly acted two-shot in a car for 13 minutes. The discussions are often as hilarious as they are engaging. Hangups, regrets and doubts have have become a greater part of Jesse and Celine's lives, and the film reflects that. But it also reminds us what made the couple such a lovable pair that they could hold our interest for 20 years.
Others Tagged With