The Lone Bellow: The Lone Bellow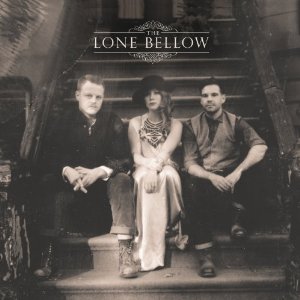 It's hard to believe music rooted in tragedy can sweep listeners along with such potent exuberance, but Brooklyn's The Lone Bellow creates a sweeping country rock that uses the three-part power harmonies of lead singer/writer Zach Williams, guitarist Brian Elmquist and mandolin player Kanene Pipkin to set Williams' songs ablaze in emotion, passion and the moments where life is its most extreme. More country than that glandular cocktail estrogen-pop and steroidally bloated rock that can be found on "country radio," banjos plink and the beat strolls with a laconic gait across "You Don't Love Me Like You Used To," three voices merging together and rising, Pipkin sounding especially sultry, raising the level of desire denied as the song melts into a dizzying repetition of "I can't go on this way" over and over.

From the opening charge of "Green Eyes & A Heart of Gold," the voices bolt through a frantic tale of losing everything for love, the drums galloping, the guitars sketching form to the melody and Williams' voice embracing the treasure of survival. It is the love that mattered, not all that has been surrendered for it. If it sounds frought, these songs emerged from a near-paralyzing accident Williams' wife suffered, but they are informed by the celebration of what life can be.
"Two Sides of Lonely" is as stark and haunted as a word-sketch stretched over melody can be, while even the quiet moments ripple with a pronounced sense of life. 
With a quiet string pad and the occasional droplet of piano, "Looking for You" shudders with Williams' voice consumed by the creaky search for someone who's gone, the chill of knowing what's gone.
Contemplative piano chords rise and give way to an almost prayer-like invocation of the chorus of "You Never Need Nobody." That fading love's lament walks with a striding dignity that's as powerful as the raw realization that you're never going to be enough.
Working with producer Charlie Peacock, The Lone Bellow figured out a way to harness the acoustic-rock template being mined by Mumford & Sons, The Lumineers and The Civil Wars and add a sense of powerful vocal incandescence. If Fleetwood Mac shimmered more, rocked less and were organic without being raw, that might suggest the level of evocative language and romance The Lone Bellow exudes.
Others Tagged With