Stephen Malkmus and Friends: Can's Ege Bamyasi Played by Stephen Malkmus and Friends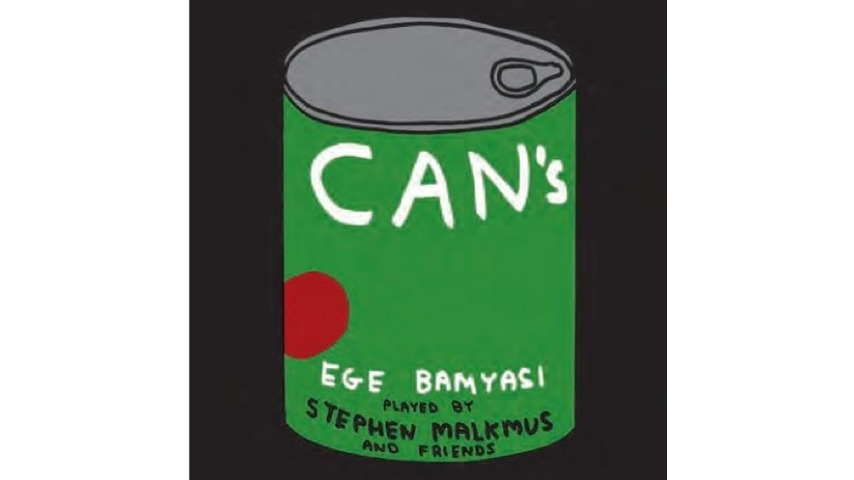 Record Store Day is traditionally more populated with reissues and singles than whole albums of previously unreleased material, but Stephen Malkmus has never been one to follow the status quo. Malkmus' gift to music buyers in 2013 is a recording of his recent live performance event, in which he and "friends" performed Can's landmark album Ege Bamyasi in honor of its 40th birthday.
Recorded on Dec. 1 of last year, the set features the former Pavement frontman backed by quartet Von Spar of Germany, with details of the subtext lingering around the occasion like fireflies—most notably that the concerts took place in Can's hometown of Cologne and that Can's Jaki Liebezeit, Irmin Schmidt and the daughters of the late Michael Karoli were all in attendance.
But, that makes it all seem like a heavy or self-important undertaking when weight is something that Stephen Malkmus only ever approaches from the employee entrance, where no one can really see him come and go, but the work is always completed.
Rather, the performance is loose and natural. Malkmus doesn't try to imitate Can as much as he plays the songs as they would sound if he had written them. In Malkmus' world, the ramshackle "I'm So Green" is the lead track, the most Pavement-esque cut on the original collection and a perfect entry point.
The proggier Can tracks are still filled with plenty of purposefully sloppy noodling, but guitar supplants the keys as an area of focus on tracks like "One More Night" or "Spoon," with bass paving in the cracks and synthesizers used as colored chalk decorations.
And though it's hard not to smirk at Malkmus' sincere but goofy "danke" before "Sing Swan Song," there is nothing goofy about the 10-minute extended highlight that song becomes, besting anything from the last several years of Malkmus' career, since he covered Dylan with equal grace for I'm Not There. He has noted that track as an inspiration for one of his best originals, "Stop Breathin'," and he puts that truth into his music on this rendition. The album's best known "Vitamin C" is an afterthought in comparison, an obligatory encore of sorts. It's also quite good, but nothing comes near the early recording peak that is "Sing Swan Song."
Of course, this is a live covers collection, and isn't changing the music world or affecting Malkmus' legacy or Can's. But, in the spirit of Record Store Day, and really the spirit of what these artists do, it's a perfect little gift, encapsulating the hope for many to go out and find something that will be loved by them as dearly as Malkmus clearly loves Ege Bamyasi.
Others Tagged With