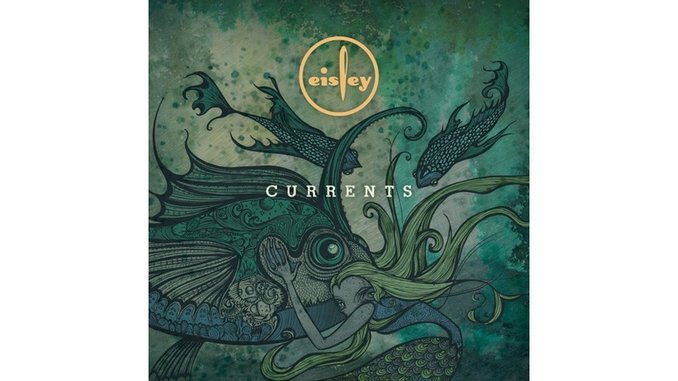 Eisley have always been a consistently satisfying band when it comes to writing loosely folk-based pop-rock songs—that is, until their last few releases, where they've made a conscious effort to write music that is generally more thematic and "experimental" in nature, with songs and sounds meant to create an atmosphere around their conceptual lyrics.
Although the band's music has been getting progressively moodier and more ambitious over the course of three full-lengths and a handful of additional releases, on Currents, their most recent album, they do an excellent job of crafting a record around a specific theme, so that it moves along with the dreamy ebb and flow of the atmospheric and metaphorical currents they sing about.
Of course, a lot of Eisley's music could be considered "dreamy" by people who use that adjective, as they have always had a penchant for utilizing sort of lofty background instruments, with lots of strings and keyboards that add an airy quality to many of their songs. There's certainly no shortage of that on Currents, which sees Eisley using vocal harmonies and instrumental effects to drive home the album's overarching theme(s) about the constant and treacherous current-like flow of time and the need to have an anchor to remain grounded.
The opening title track sets the general tone of the album right from the beginning, with scattered percussion sounds featuring a noticeable echo effect that produces a vague feeling of listening to the music underwater, as Stacy King's delicate and haunting vocals begin singing, "I would part the waters if you said so/I would shift the currents if you had to row."
Most of the songs on this album have a building effect that sees pounding drum beats, rolling bass lines and slightly (or sometimes heavily) affected vocals, as well as a collection of additional instruments, shift back-and-forth from slow and melodic to intense and almost orchestral, before cascading back into something a bit more ambient and fluid-sounding. The song "Currents"—built around one of Sherri DuPree-Bemis' simple, catchy guitar lines, but fleshed out by the band's rhythm section and accentuated by King's singing—is no exception.
Throughout the course of the album, the songs twist and turn through various states of rapidly growing tension, only to break into slower, softer moments that have the aesthetic effect of leaving the listener feeling immersed or submerged in the rhythms and sounds. This is best exemplified in the layered vocal harmonies on "Blue Fish," or the echoing piano in the bridge of "Save My Soul," or the combination of acoustic guitar and sweeping strings in "The Night Comes" (possibly the album's best track). The harmonies and lush instrumentation also make Currents a great album to be listened to through a pair of headphones.
But all of this experimental aesthetic wouldn't be as meaningful if it wasn't used to enrich the album's lyrical content, which is heavy on nautical/maritime imagery that depicts the constant movement of the currents, which are sometimes turbulent and other times calm, but always moving nonetheless. This idea is most explicitly explored on the fifth track, "Millstone," a gently plucked acoustic song that references life "sifting through like the sands in the hourglass" and noting that there's "not a moment to relieve my time" or "undo anything."
At the beginning of "Millstone," she sings about finding "the secret to survive," but elsewhere on the record, the band seems to take the position that it is the relationships and people in their lives that keep them anchored and help them weather life's ebb and flow. Much of Currents, particularly songs like "Real World" and "Shelter," reinforce this idea, which isn't terribly surprising considering fourth-fifths of the band have recently become new parents.
Currents is probably Eisley's most calculated and complete full-length album to date, and one that takes the band's obvious desire to experiment and expand on their sound (which was already quite evident in their 2011 album The Valley) to the next level, using that artistic ambition to create a cohesive and refined record that accentuates many of Eisley's best qualities (such as the strong vocal capabilities of the three DuPree sisters and the interplay between them) and opens them up to a whole new world of songwriting possibilities.
Others Tagged With