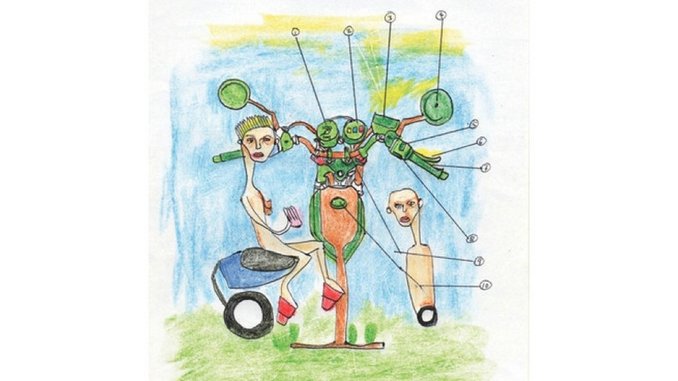 Back in April, a Facebook post from the band Yuck announced that frontman Daniel Blumberg had left the British '90s-rock-revivalist foursome "to focus on other things." Those "things" were defined little more than a week later with the unveiling of Blumberg's new project, Hebronix, and a new song, titled "Unreal." The drum part on the single plodded so loosely that it felt like the rhythm was about to fall off. The swarms of guitar that fell in between sounded like they were scribbled out by a guitarist finishing his set with his back flat against the stage. The whole thing felt like one sustained ending, a seven-and-a-half-minute unwind.
Unreal is an album of endings, slow ones that map each step of a song's unraveling. On opener "Unliving," Blumberg's "hope is an island," while everything around him "has gone rotten" and he reminds that he's "not in control." The 10-minute opus begins with an acoustic guitar and somber voice, a sign that Blumberg's moved his 1990s inspiration from Pavement to Red House Painters. But then an electric kicks in, mixing with keyboards and drums that build to a crash at nearly the halfway point. The elements collide and then float in midair as Blumberg's voice returns before diving back into a guitar squall that leads to a fade.
The spacey suspension continues with "Viral," where closer headphone listening reveals many moving parts beneath the dreamy surface, like clopping wood blocks, scratchy buzzing and whooshing synthesizers. The languorous guitar lines keep things feeling freeform, but there's a more definitive, singable melody at the chorus that gives it shape. "Wild Whim" pushes even further into that structured song zone as Blumberg recounts a "wild day of sin" with the tambourine-playing girl of his dreams. It's tender and playful and marks one of the LP's best moments.
"Unreal" signals a return to the beginning-of-the-end construction, and the duo of "Garden" and "The Plan" bring the album to a watery close. Blumberg sounds uncommitted on these final two, too busy bobbing around in repetition to build to any satisfying finale. But his lyrics make a slightly stronger gesture at cutting ties. "I can't just sit around and hold your little hand… I've got some things to do," he says on the last track. Blumberg's departure from Yuck only went public a couple of months ago, but he has said in interviews that the album with producer Neil Hagerty, ex-frontman of Royal Trux, was in the works since October. Perhaps Blumberg didn't know at the start that the Hebronix release would lead to a split from his band, but most of the six songs on Unreal catch him in the mood to say goodbye.
Others Tagged With