Bill Murray and Adam Driver Are Filming a Zombie Movie with Jim Jarmusch
Photo by Evan Agostini/Getty
Movies
News
Jim Jarmusch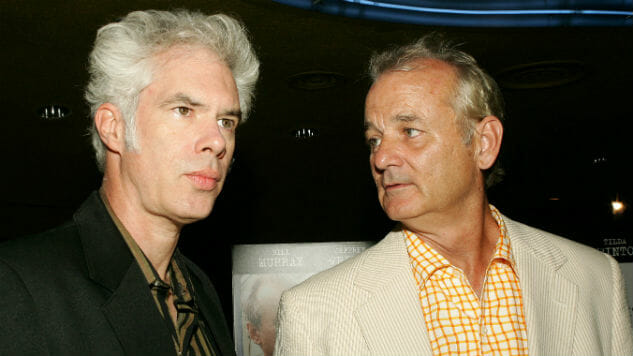 Indie auteur Jim Jarmusch has seemingly tried it all, his dreamy, contemplative plots involving everything from vampirism to Tesla coils, but he still hasn't experimented with a zombie film—until now. Thanks to some paparazzi pics uncovered by the Daily Mail and an overlooked March Bill Murray interview with Philly.com, it's been revealed that Jarmusch's next movie is a zombie flick called The Dead Don't Die, and its cast is out of this world.
The Dead Don't Die brings together actors from all kinds of backgrounds, including previous Jarmusch collaborators Bill Murray (Broken Flowers), Adam Driver (Paterson) and Chloë Sevigny (Broken Flowers). But newcomers Selena Gomez and Austin Butler give things a wry, tweeny bend that ups the intrigue, especially since Gomez and Butler were spotted filming with Jarmusch in upstate New York, covered in blood. According to Murray's Philly.com conversation, the film will also feature Rosie Perez and Daniel Craig. Murray will reportedly not be playing a zombie (sorry, Zombieland fans).
This weird and wonderful artistic vision could only come from a man like Jarmusch, and we're very interested to see where it goes. Let's be real: Even if The Dead Don't Die ends up another dreamy, existentialist exploration of eternal life, this cast, like Tom Hiddleston and Tilda Swinton in Only Lovers Left Alive, is bound to still make it a lot of fun. You had us at "zombies."
Update: As this post went up, Focus Features officially announced The Dead Don't Die via press release, calling it a "zombie comedy" and confirming the castings mentioned above. Focus will distribute the film, which they've announced also stars Tilda Swinton and Steve Buscemi.