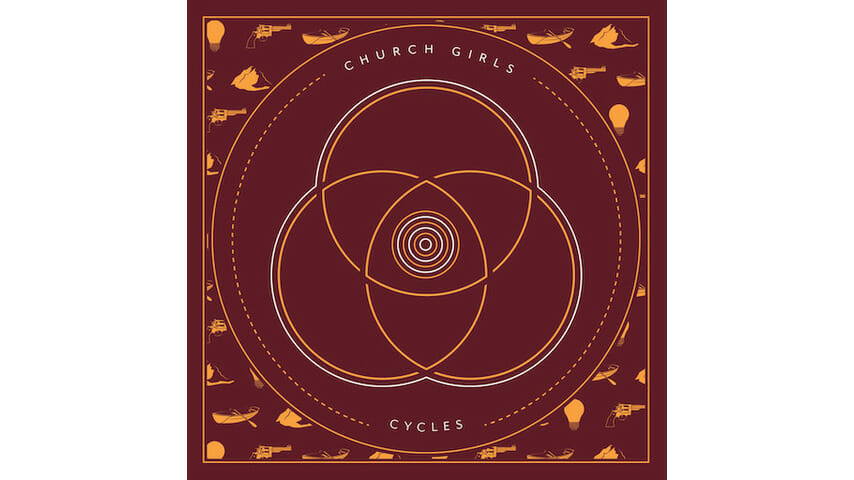 The re-emergence of girl-driven garage rock is one of the best trends of the last few years. It isn't easy to balance the discordant and the beautiful. Post-punk requires a bare soul and poetry wrapped in barbed wire. With Cycles' fuzzy guitars and hard-driving drum beats, Church Girls manage to keep the garage rock sound alive without irony.
Mariel Beaumont, lead singer and guitarist, has a voice that tells you everything. She is angry, she is in pain, she is hopeful, she is broken. But she also commands a lineup that is like high-end denim—raw where it needs to be, tight in right places. Her guitar work is edgy but never bitter, sharing duties with Joseph Wright, while drummer Michael Liszka keeps his drums highwire taut.
Broken relationships are all over the album. "Maybe the worst part is knowing my part in it all," she sings in "Dry Out." She describes a failing love affair as "distant peaks." And she confronts a family member's addiction on the title track, recognizing the need for boundaries but admitting she'll cross them just as easily. "I will show up when you call/you're still my blood after all," she sings in "Cycles." She's not the first person to write about confronting a loved one's addiction, but at no time does it come off as clichéd. It takes a lot of heart to sing about something so personal, and there's heart and blood and guts all over Cycles.
"Patience" is the standout track, with "Dry Out" in a close second. But with only five songs on the EP, there's no room for filler, and each one of these songs is clean, listenable and easy to engage with, to feel at your core.
The flipside to an EP is that there isn't as much time to sit with the band and explore more of their sound. The songs on Cycles stay largely within the same sound template, making it occasionally difficult to differentiate in the initial listens. But album patience is a virtue, and they're worth devoting the time to hear and, better still, to share.