Daily Dose is your daily source for the song you absolutely, positively need to hear every day. Curated by the Paste Music Team.
Birmingham, U.K., trio JAWS have shared the details of their new album The Ceiling, out on April 5, 2019. Alongside the album announcement, they also shared its lead single "Driving At Night," with an accompanying video directed by Morgan Tedd. This new record from the dream-pop three-piece marks their third full-length and their first since 2016's Simplicity.
"Driving at Night" is a soaring jangle-pop tune a la Beach Fossils or Wild Nothing, and its rumbling ardor perfectly mirrors the untouchable high of cruising at nightfall, anthems blaring on the car stereo and the wind gently kissing your skin. The song captures the fleeting nature of euphoric memories you wish you could bask in forever. Though it's not a glaring reinvention of the band's sound, they're able to consistently boil down feelings of young adult bliss and inadequacy into compelling indie-pop vignettes.
Frontman and guitarist Connor Schofield says of the new single, "'Driving at Night' follows the general theme of the record. I wrote it while thinking a lot about my hometown of Birmingham and I think it sets the tone perfectly for the rest of the record."
He added on the album's overall themes:
Lyrically The Ceiling is generally about feeling a bit lost, I think as you grow up everything feels like its moving along a lot quicker; friends, relationships, life can all seem to move at 100 mph. Sometimes we forget that its OK to stand still for a bit sometimes and actually breathe. A lot of these songs are about dealing with that. Musically I think we've surprised even ourselves with it, we've gone down paths we haven't taken before and ended up with something we're really very excited about.
Drummer Eddy Geach also shared what people can expect from their new record: "Basically that there's some things on there that people might not expect. Some that even took us by surprise, but also, classic JAWS vibes."
Watch the video for "Driving At Night" and listen to JAWS' 2012 Daytrotter Session below, and find their new album's artwork and tracklist further down. You can preorder The Ceiling here.
The Ceiling Album Artwork: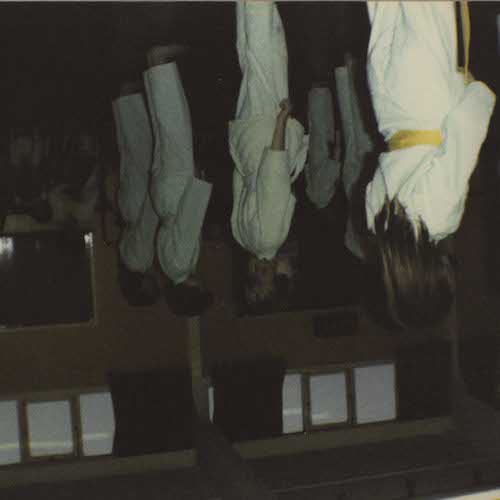 The Ceiling Tracklist:
01. Driving At Night
02. Feel
03. Do You Remember?
04. Fear
05. End Of The World
06. Patience
07. Looking / Passing
08. The Ceiling
09. Please Be Kind
10. January