Eat Drink Delta: A Hungry Traveler's Journey through the Soul of the South by Susan Puckett
The Delta dawns
Books
Reviews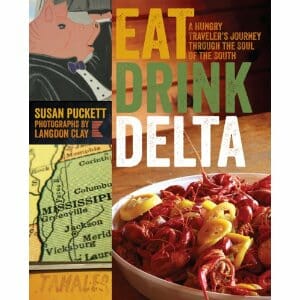 Susan Puckett may be the only American writer today who uses the Mississippi hot tamale as her North Star and stops to admire a lemon ice box pie as if it were a natural wonder soaring toward a sky of meringue.
In Eat Drink Delta: A Hungry Traveler's Journey through the Soul of the South, this nationally regarded food journalist takes the ultimate road trip across the Mississippi Delta. From the pork 'cue and cole slaw of Memphis to the catfish of Humphreys County to the white columns and tomato sandwiches of Vicksburg, Puckett applies her charming and serendipitous touch to a region's food culture.
Viewed as a sort of recipe of a place, Eat Drink Delta calls for a dash of politics and history, a heavy pinch of agriculture and anthropology, a fat dollop of music and literature. (Mississippi is the homeland of Eudora Welty, William Faulkner and Shelby Foote, after all.) But mostly what Puckett gives us is a wonderfully observed guidebook to the restaurants of the Delta, high and low, and a sampling of recipes from its diverse kitchens.
Like Jane and Michael Stern (Roadfood), Anthony Bourdain (A Cook's Tour) and Southern-food guru John T. Edge (Southern Belly: The Ultimate Food Lover's Companion to the South), Puckett picks over this agrarian region with a knife and fork. Meaning: She eats her way around. She's neither a fusty food historian sifting through an alluvia of material (though she obviously did her research) nor a professionally trained chef seeking to impress with rarefied ingredients and techniques (though she does appreciate a good catfish crostini or a fancy chicken salad gussied up with peach mayo and spiced pecans).
She's a Mississippi home girl (raised in Jackson, educated at Ole Miss) revisiting her native soil with a reporter's eye for details, contradictions, poetry and humor. As a young woman, the author tells us, she hadn't a clue to the mysteries and manners of the "strange and haunting landscape of the Mississippi Delta." To her, it was moon cheese.
Until she went off to college and dated a Greenwood native:
One summer weekend, we spent a scorching Saturday skiing on the caramel-colored waters that ran right beneath the Tallahatchie Bridge, the span that figured in the enigmatic 1967 Bobbie Gentry hit "Ode to Billie Joe."
Afterward, we cleaned up and went to dinner at local institution called Lusco's—possibly the most surreal restaurant experience I'd ever known. It operated out of a dumpy old grocery store in a run-down part of town, but the people inside were well dressed. Some were sitting on sofas watching television, as if they were in someone's living room.
A tuxedoed gentleman led us down a hall to a curtained booth. We perused the menus at our private table, then pressed a buzzer on the wall to summon our waiter. Fat, hubcap-sized steaks were the specialty, but I ordered the broiled pompano, Lusco's other signature dish, because I had never heard of it. … We all left stuffed and happy. But the booth, the curtain, the buzzer and the pompano still mystified me.
Now I would pretty much bet you that Puckett became a food writer that night at Lusco's.
Over the years—first as a pup reporter for the Jackson Clarion-Ledger, later as food editor of The Atlanta Journal-Constitution (where I worked with her)—Puckett became a Southern-food preservationist and a curator of culinary tidbits.
The weirder the better.
With Elvis and B.B. King playing to the soundtrack of her mind, here she roams the Delta, jotting down the legends and lore of Memphis barbecue pizza, Delta hot tamale tales, Kool-Aid pickles, spaghetti with gravy, the Calvary Waffle Shop Lenten Fish Pudding, Craig Claiborne's mama's hotcakes, and the Mohamed family's kibbee.
(Though built on a foundation of white and black food traditions, Delta cuisine is peppered with Lebanese, Jewish, Chinese, Mexican, Russian and Italian influences.)
Taking a cue from writer David L. Cohn, who said the Delta "begins in the lobby of the Peabody Hotel in Memphis and ends on Catfish row in Vicksburg," Puckett begins in Tennessee and travels south. With 33 reviews of restaurants in Memphis alone, she appears to have never met a meat-and-three, tea room, gift-shop café or brew pub that she didn't like. Sometimes, it feels like we'll never get out of Memphis. But by the time we get past the Paula Deen Buffet at Harrah's in Tunica and head on in to Clarksdale, we are smitten.
Some of the choicest moments occur when the author finds herself a character in what feels like a Delta noir. At Po' Monkey's outside Merigold, "one of the last rural juke joints, immortalized by Annie Leibovitz and a slew of journalists and blues documentarians," she sheepishly joins a sofa full of strangers, sips a beer and proceeds to watch the place's namesake work the dance floor:
Moments later, he was distracted by a long-legged brunette with unnaturally full lips and extra-short shorts who cozied up beside him. She dragged him out of his chair for a dance, pulling him so close that their legs became entangled and they fell to the floor. They rolled around while their audience whooped and hollered.
Comedy gold.
In Clarksdale, she and her husband check into the Riverside Hotel, "behind a broken Schlitz sign," near the spot where Bessie Smith died in a car crash in 1937. The proprietor is a man named Rat "with salt-and-pepper hair and an unlit cigarette dangling between his fingers," who tells them that guests stash personal items in dresser drawers for future visits. "I peeked in a drawer, and sure enough, there was a hat, some ladies' toiletries, and a pair of clunky-heeled shoes from another era, still in a shoebox."
The horror.
By the end of the trip, I'm not convinced that the fullest, richest portrait of an agriculture-based cuisine can be assembled via restaurant menus, thought I must say that Eat Drink Delta is a fastidiously researched capsule of this moment in Mississippi time. This genre of food and travel writing tends to gets cold quicker than a biscuit and needs constant updates if it is to remain fresh. (Case in point: The Sterns' Roadfood, first published in 1977, is now in its eighth edition.) And yet, these recipes—for Betty Bullard's Sweet-Milk Biscuits, Longreen Fox Hunt Curried Fruit, Hopson Commissary Pulled Pork BBQ Sandwiches, and yes, Elvis' Peanut Butter and Banana Sandwich—are treasures, be they classic or odd.
For anyone making a trip to a region that's been called the most Southern place on earth, Eat Drink Delta is indispensible. It belongs in every Mississippi-bound automobile, right next to the GPS. Just be sure to grab plenty of paper napkins, too. You'll need them to catch all that tamale juice dripping down your face.
The writing of Wendell Brock, a long-time editor and writer for The Atlanta Journal-Constitution, has appeared in virtually every American newspaper, including The New York Times and The Los Angeles Times. His articles on okra, peanuts and Edna Lewis have appeared in Saveur. He has been interviewed by American Public Media's "The Splendid Table" and anthologized in Corn Bread Nation 4: The Best of Southern Food Writing.