Witness Jim Carrey's Transformation Into Andy Kaufman in Trailer for Jim & Andy: The Great Beyond
Image via Netflix/YouTube
Movies
Video
jim carrey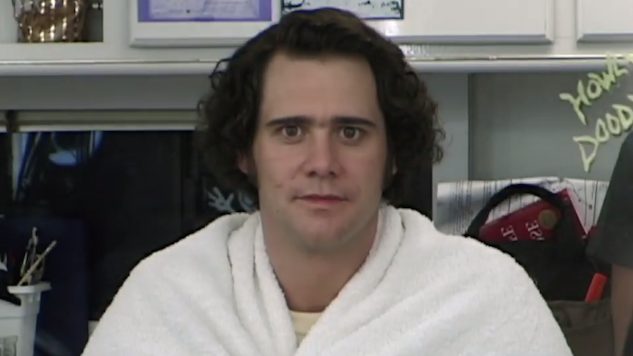 The 1999 biopic of Andy Kaufman, Man on the Moon, wasn't a massive hit; still, the film garnered praise for Jim Carrey's transformative performance, which earned him a Golden Globe Award. For nearly two decades, the studio withheld all behind-the-scenes footage of Carrey and his method acting, for fear that the actor would look like "an asshole." In Netflix documentary Jim & Andy: The Great Beyond, directed by Chris Smith and produced by Spike Jonze, we finally get a look at this footage, and the journey that Carrey undertook to embody his idol.
Kaufman was a divisive and controversial performer, with his showmanship appearing to have no boundaries or limits. Carrey questioned through the Man on the Moon production how far he himself should take it—what would Andy do? As some of the footage shows, Carrey (then known for the silly and juvenile Ace Ventura) embraces the over-the-topness of Kaufman off-camera, with some extreme method acting and abrasive behavior on the set. Present-day interviews and commentary from Carrey appear to be interspersed throughout the documentary.
Any admirers of Kaufman, Carrey or even just performance and acting in general will want to check this out. Jim & Andy: The Great Beyond will stream on Netflix starting Nov. 17.