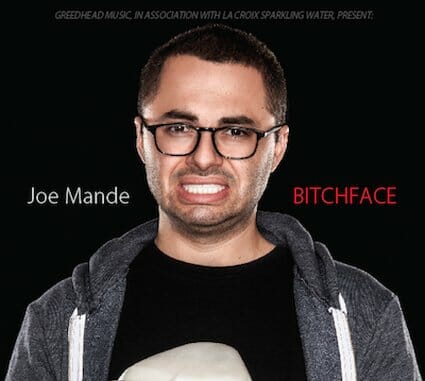 The idea of a comedy mixtape so novel that it's a wonder no one has tired one before. The closest I think we've come is the work Prince Paul did turning Chris Rock's 1999 special Bigger & Blacker into a near-hip-hop classic with appearances by Ol' Dirty Bastard and Ice Cube.
Here the juxtaposition between the mixtape hallmarks (street beats, call outs, and skits) and the self-deprecating comedy of Joe Mande is a perfectly absurd one, and has a great deal to do with the success of Bitchface. Mande's standup on its own is fine, but often doesn't stir up the kind of laughter that catches you off guard and potentially wakes up your sleeping spouse.
It's absolutely great material, especially his great drawn out set pieces like a potential explanation for how Minnesota ended up with the biggest population of Somalis in the country or the painfully funny experience of getting mugged while high and trying to order a pizza. But again, there's something about his dry delivery that doesn't lend itself to gales of laughter. At least, that's the case with this listener, the folks in the audience where the stand-up material was recorded don't fail to let loose.
Again, the standup set is absolutely elevated by the hilarious conceit that this is part of a tradition of generally free, digital hip-hop releases. Heavily processed voices pop up to shout phrases like, "La Croix Boyz, baby" (a reference to Mande's longtime obsession, promulgated on Twitter, for the sparkling water drink) and "Check us out on Twitter @joemandesdick." There's some great voicemail messages left by Pacers center Roy Hibbert, rappers RZA and Fabolous and Parks & Recreation star Amy Poehler (Mande is a writer for the show). And at the end, Mande does an extended shout out to a murderer's row of dimwit celebrities and politicians ("Shout out to Dr. Oz, Dr. Phil, Dr. Sanjay Gupta, Dr. Jenny McCarthy").
One of the aspects of Bitchface that is going to keep me returning to it on a regular basis is that it feels weird to just pick and choose segments like I do with most other comedy albums. Adding the mixtape flow to it makes it almost necessary to listen to from beginning to end, without interruption. That's a potential mark of greatness. My opinion of Bitchface isn't there yet, but it continues to grow on me with each successive listen.
Robert Ham is a Portland-based freelance writer and regular contributor to Paste. You can follow him on Twitter at @bob_ham.