Phoebe Waller-Bridge Believes James Bond Is Still Relevant, Even as the Franchise Needs "to Evolve"
Photos by Jeff Spicer/Getty
Movies
News
Bond 25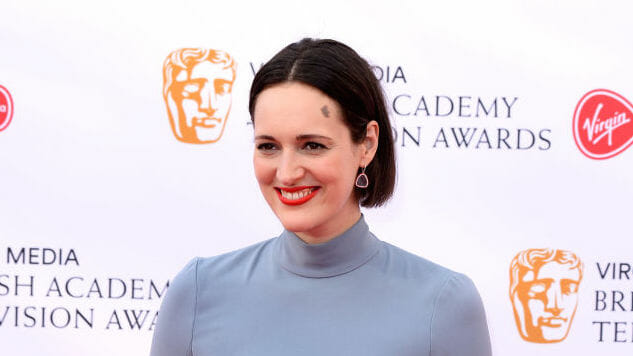 The iconic super-spy, James Bond, is well-known as a womanizing lush. But does such a character still belong in our progressive times? Has the vodka martini aficionado become … outdated?
Writer-actor Phoebe Waller-Bridge doesn't think so. Waller-Bridge is putting the finishing touches on Neil Purvis, Robert Wade and Scott Z. Burns' script for Bond 25, the next film in the Bond series. The film—working title Shatterhand, according to recent reports—is directed by Cary Joji Fukanaga (True Detective) and due for release in 2020, despite a recent injury-related delay.
Waller-Bridge, the creator of recent television hits Fleabag and Killing Eve, spoke to Deadline about the challenges of bringing writer Ian Fleming's character to the screen in 2020:
There's been a lot of talk about whether or not [the Bond franchise] is relevant now because of who he is and the way he treats women. I think that's bollocks. I think he's absolutely relevant now. It has just got to grow. It has just got to evolve, and the important thing is that the film treats the women properly. He doesn't have to. He needs to be true to this character.
Following Johanna Hardwood's involvement with 1962's Dr. No and 1963's From Russia With Love, Waller-Bridge is only the second woman to contribute to the franchise's screenwriting. She understands her responsibilities not only to the film, for now known only as Bond 25, but also to the women acting in it. Lashana Lynch (Captain Marvel), Léa Seydoux (The Lobster) and Ana de Armas (Blade Runner 2049) all have key roles.
Waller-Bridge elaborates:
I just want to make sure that when they get those pages through, that Lashana, Léa and Ana open them and go, "I can't wait to do that." As an actress, I very rarely had that feeling early in my career. That brings me much pleasure, knowing that I'm giving that to an actress.
Daniel Craig, who is reported to have enlisted Waller-Bridge personally, is once again stepping into the titular agent's Q-made weaponized shoes, a role he's had since 2006's Casino Royale. Waller-Bridge describes a particular affinity for his portrayal.
"When I saw his Bond for the first time, there was a wryness to his performance that I really loved," she said. "So, I was really excited about writing dialogue for him."
Bond 25 opens April 8, 2020, in the U.S.