King Nun Drop First Song Off Debut EP, "Chinese Medicine"
Images courtesy of Dirty Hit
Music
News
King Nun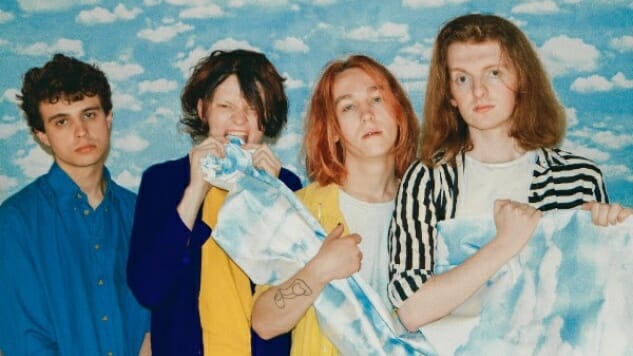 If you look at the "Complete King Nun" playlist on Spotify, you'll see that the up-and-coming Londoners have just five tracks released. "Chinese Medicine" made six on Friday, and is the first song King Nun has put out in 2018. The young band, however, are gearing up to release their debut EP and "Chinese Medicine" marks the start of this new era.
On previous releases like "Speakerface" and "Hung Around," King Nun's punk influence shone through Theo Polyzoides' rough vocals and a riotous choppiness that permeated the tracks, but it's on "Chinese Medicine" they bring the speed back (see also: "Tulip"). Where "Hung Around" trudges forward, almost taunting its listeners with anticipation, "Chinese Medicine" plows ahead at full tilt to its end, banging to a close before hitting the three-minute mark. "Keep my head on. Keep us beautiful, happy and alive," Polyzoides sings in the punchy chorus.
"Chinese Medicine" is an exciting teaser of what's to come on the EP, possibly named I Have Love, as their Twitter seems to suggest. A release date has yet to be announced, but for listeners who spotted "1/5" in their Twitter post, the premiere date luckily doesn't seem to be as far away as January or May (depending on whether you're using U.K. or U.S. date formatting). Instead, "Chinese Medicine" seems to be the first of five (1/5) tracks on the forthcoming EP.
The youthful rockers will be embarking on their first headlining tour this fall in the U.K. after playing at Reading & Leeds Festival. Listen to "Chinese Medicine" below and find King Nun's tour dates further down.
King Nun Tour Dates:
August
24 – Reading, U.K. @ Reading Festival
25 – Leeds, U.K. @ Leeds Festival
November
13 – Manchester, U.K. @ Jimmy's
14 – Liverpool, U.K. @ Sound Basement
15 – Sheffield, U.K. @ Cafe Totem
16 – Glasgow, U.K. @ The Garage,
18 – Leeds, U.K. @ Hyde Park Book Club
19 – Nottingham, U.K. @ The Bodega Social Club
20 – Norwich, U.K. @ The Waterfront
21 – London, U.K. @ Camden Assembly
22 -Bristol, U.K. @ The Louisiana