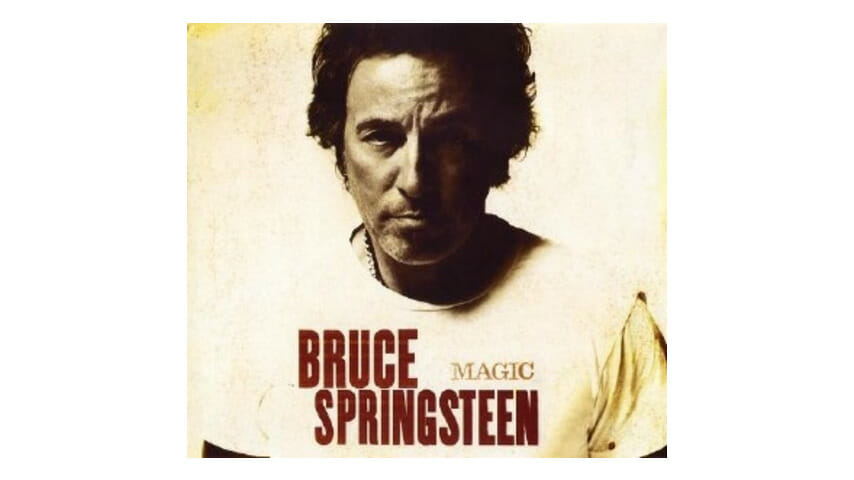 Springsteen's America
The Boss re-teams with E Street Band for collection of explosive rock songs
The American record industry has never been particularly receptive to the notion of gentle artistic growth, and, right now, expectations for aging icons are depressingly low: Mostly, we're placated when an artist's late-career output is anything other than hideously embarrassing. Accordingly, Americans are disturbingly well-primed to shrug off Magic, Bruce Springsteen's latest release with longtime cohorts the E-Street Band, but Magic is arguably Springsteen's ?nest work since 1984's classic Born in the U.S.A., an infectious, relevant collection of rock songs that say more about America circa 2007 than almost any other record released this year.
For Springsteen, listening to pop radio must be disconcerting: At least a decade of vocalists, from Eddie Vedder to Craig Finn, have been aping and re-appropriating his signature rumble (which, in all fairness, Springsteen ?lched from Dylan, who probably lifted it from Ramblin' Jack Elliott, who stole it from Woody Guthrie), and now the rock 'n' roll market is so saturated with gruff, pseudo-blue-collar rallying that it's hard not to hear the righteous rasping of four hundred other singers each time Springsteen opens his mouth. Still, on Magic, Springsteen's voice sounds as rich, vibrant and new as ever: Here, he bellows from the gooiest recesses of his gut, pulling from every inch of his body, pulling from his toes, pulling ?re up from the center of the Earth.
Lyrically, Springsteen is still dreaming up suburban American anthems about folks named Bobby and Theresa; he still growls impassioned screeds about barber shops and veteran's halls, about pumping gas and getting stoned. This is Springsteen's natural oeuvre: streetlights, bikes, bars, girls in their summer clothes, blaring radios, dead bodies, night skies, bank clocks, small towns, highways and nights that end with slurping coffee at Frankie's diner, "an old friend on the edge of town." But Springsteen's writing is hardly provincial or small-minded—he's been rallying against the war in Iraq for over half a decade, and his disappointment with America's foreign policy pops up in almost every track here. Even "Livin' in the Future," a boisterous, impossibly addictive love song, includes a handful of choice anti-Bush barbs ("Woke up on Election Day / Skies gunpowder and shades of grey … My faith's been torn asunder / Tell me, is that rollin' thunder / Or just the sinking sound / Of something righteous going under," Springsteen muses over full-band bluster).
As with much of Springsteen's discography, Magic contains songs about faith—in country, in God, in women, in barstools—and also his failed attempts to navigate a political and emotional landscape that isn't nearly as familiar (or friendly) as it once was. On the piano-driven "I'll Work for Your Love," the band slows and quiets, giving Springsteen ample space to belt: "Now our city of peace has crumbled / Our book of faith's been tossed / And I'm just out here searchin' for my own piece of the cross." The moment—in both its execution and implications—is near transcendent.
At current count, there are eight members of the E-Street Band (not including Bruce), and they can still make an impressive amount of noise; anyone who regularly watches Max Weinberg (clad in a grey suit and tie) tenderly titter away on Late Night with Conan O'Brien may have forgotten how convincingly Weinberg can destroy a drum kit. It's a clichéd suggestion, but Magic is—like plenty of Springsteen's earlier albums—absurdly well-suited for epic highway drives, with propulsive, rolling rhythms and rich singalong choruses: "Radio Nowhere," "Gypsy Biker," "You'll Be Comin' Down" and the Beach Boys-inspired "Girls in Their Summer Clothes" are classic Springsteen throwdowns, complete with sax solos and crowd-around-the-microphone harmonies.
Springsteen's previous three studio LPs have been relatively quiet cerebral affairs. 2005's Devils & Dust was heady and acoustic, packed with grim anti-war laments; 2006's The Seeger Sessions—which saw Bruce and company revamp a collection of Pete Seeger's ?nest folksongs—featured plenty of rowdy, banjo-soaked stomps, but faltered under the weight of its cumbersome, idol-on-idol conceit. 2002's The Rising, Springsteen's last album with the E-Street Band, was a commercial juggernaut, shifting well over two million copies (and snagging a Grammy for Best Rock Album), but it hardly felt definitive or even especially inspired. Magic doesn't break any new sonic ground for Springsteen, but no one was calling for a reinvention. Magic offers what Bruce Springsteen does best: a handful of honest, hard-working tracks about life and how we live it.