Picasso Explains How He Came Up with One of His Most Famous Paintings in This Clip from Genius
Photo: National Geographic/Dusan Martincek
TV
News
Genius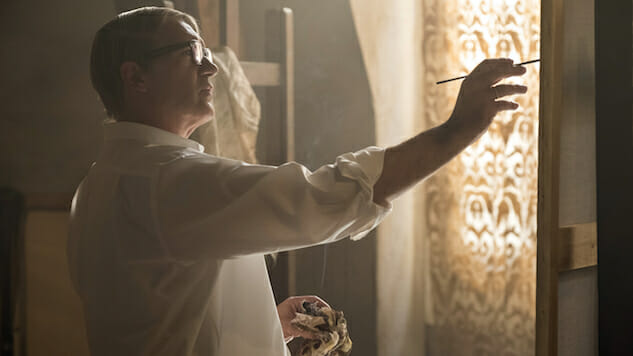 Pablo Picasso's 1907 oil on canvas Les Demoiselles d'Avignon—one of the most famous paintings in his catalogue, and a (sometimes controversial) landmark in the history of modern art—is the subject of the following exclusive clip from the next episode of Genius: Picasso.
In the scene, which toggles between young Picasso (Alex Rich) viewing African masks on display in a museum and older Picasso (Antonio Banderas) explaining to protégé/lover Françoise Gilot how the masks inspired the Demoiselles. "My brush was my weapon," he remembers realizing, as we see his younger self stir to action. "My shield. My protector. I knew what to do."
Here's the network's synopsis of the episode, "Chapter 5":
Picasso (Antonio Banderas) goes to great lengths to convince Françoise Gilot (Clémence Poésy) to move in with him. Meanwhile, Young Pablo (Alex Rich) struggles to match the genius of Matisse. He finds dark inspiration from his souring relationship with Fernande Olivier (Aisling Franciosi).
Genius: Picasso airs Tuesdays at 10 p.m. on National Geographic Channel. Read Paste's feature on Antonio Banderas' performance as Picasso here.