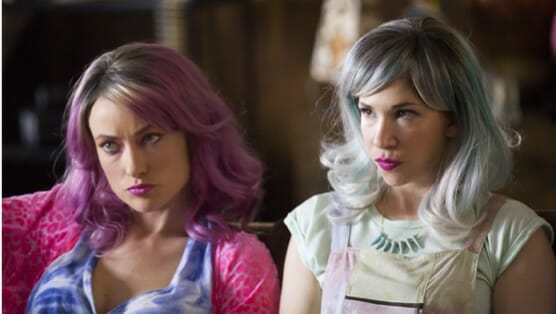 This week's Portlandia returns to familiar territory, revisiting subjects covered in past episodes—protests, art trends and the environment—with a laundry list of guest stars (Olivia Wilde, Jeff Goldblum, Shepard Fairey, Natasha Lyonne, Kyle MacLachlan) in tow. While all those elements usually add up to a less-than-stellar episode, Portlandia bucks the trend with "Sea World," giving the audience a number of sardonic storylines that were humorous and just plain fun.
We're not always fond of the show's opening sketch, but this one hit on all cylinders by simultaneously taking jabs at local, homespun car/furniture/mattress commercials and art schools. Dressed for success in early '90s garb (without a hint of irony), Fred Armisen and Carrie Brownstein star in a commercial for their store, Shocking Art Supplies. "You want to be radical?" they ask. "We've got everything you need for your art school needs." Their supplies include pre-smashed TVs, baby doll parts and upside-down flags. When their employee "Shepard F." (Fairey) displays a doll with its butt twisted around to the front, he asks a question favored by professors everywhere, "What does that say about our society?"
Portlandia gets quasi-political as Benji (Armisen) and Dakota (Brownstein) take on SeaWorld in the episode's main plotline. Also joining their cause are Brit (played by Olivia Wilde, who appeared in last year's similarly themed "Ecoterrorists") and an obligatory non-speaking member of the crew, Brandon (Brandon Huddleston). While Benji first suggests they attack Japanese whaling boats in Antarctica, the team can't quite agree on their cause and destination. The women complain that it's too cold in Antarctica and would rather protest in Hawaii; but since Hawaii's out of their budget, the foursome decide to rage against the mistreatment of whales at SeaWorld. Dakota explains the reasons for choosing this perfect location: "Not only is there protesting, but there's the fish tacos, the walkable spaces… the Gaslamp District…."
With those distractions at hand, they put off the protesting for just a little while to enjoy the sites of San Diego. Brit even falls for Jeff (Goldblum) at the resort. When he invites them over for a "party" at his place, he shows them around the condo, points out its amenities and touts the fact that "you're steps away from a Whole Foods." The sketch's brilliance comes with this kicker: He's a timeshare salesman. The gang is ready to buy into the dream of six weeks in San Diego for just $3,000, when Benji reads the fine print. The resort—and, in fact, the whole town—is owned by SeaWorld.
With the fires in their bellies stoked once again, the conservationists head to free Willy. They encounter a chipper ticket seller (Natasha Lyonne, in a nice performance, playing against type), who tries to upsell different SeaWorld packages. She offers them the "Orcasmic" tour, which she describes with a straight face: "You get wet checking out the world's largest and most majestic sea mammals."
Portlandia showcases several other moments that are equally amusing, even in the sketch that serves as an ironic counterpart to the wildlife conservationists' storyline. Bryce Shivers and Lisa Eversman—who used to put birds on things—are now into the business of Dead Pets. They offer specimens for taxidermy lovers of all ages. Owning Bella the Bat, for example, means that you're "definitely counterculture, definitely interesting and a little on the dark side," Bryce explains. And while T.J. the stuffed beaver looks cute in his hat, Lisa can't take credit for the craftiness. "No, he died wearing that hat."
Our favorite sketch opens on a legal document clerk who talks to a couple (off-camera) about setting up wills. She makes small talk and mentions that death might not be the easiest or most fun issue to address. The camera then cuts to the other side of the desk to Armisen and Brownstein—as a Goth couple. He says, "I think it is fun to think about death," while she adds, "I was more looking forward to this than I was my birthday this year."
Portlandia's best scenes—like Goths prepping their wills—often feature the surprising juxtaposition of unrelated items, combined with snappy dialogue and the improv talents of the show's co-stars. Their formula isn't foolproof (a covert-ops rendezvous airport scene falls flat because it's completely predictable). But Portlandia, at least four episodes into this fifth season, seems to have gotten a second wind, keeping the humor feeling fresh and the satire right on point.
---
Christine N. Ziemba is a Los Angeles-based freelance pop culture writer and regular contributor to Paste. You can follow her on Twitter.