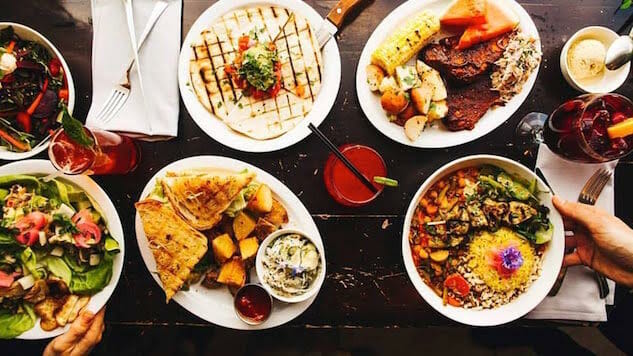 In the early 2000s, Brooklyn native Isa Chandra Moskowitz didn't see any cooking shows for vegans on the Food Network. To fill the void, she hosted Post Punk Kitchen on Manhattan and Brooklyn community access networks from 2003 to 2005. The show later inspired a series of popular vegan cookbooks including Veganomicon, Vegan with a Vengeance and Vegan Cupcakes Take Over the World.
Ever since, Moskowitz has been a prominent figure in the world's vegan community. However, she's not exclusively preaching to the choir.
In August 2014, Moskowitz opened a restaurant in Omaha, Nebraska called Modern Love. Admittedly, her target audience wasn't vegans, but instead, meat-loving Midwesterners. However, this is all intentional activism: to introduce plant-based comfort food to those who wouldn't otherwise seek out veganism.
She fills the meatless gap in Omaha, too. Modern Love is the state's only vegan restaurant, next to Fauxmaha Hot Dogs — which she was involved with in the early, developmental stages.
In mid-September, she's opening a new location of Modern Love with a slightly different twist: it's located closer to her home in Williamsburg. We took a moment to talk with Moskowitz about opening a second location of Modern Love and what she has planned next:
Paste: Will the new location have similar hours to the Omaha location?
Isa Chandra Moskowitz: We're going to roll out slowly until we have our full hours, but our soft opening will be six days a week, 5 to 10 p.m. Nights only for the start. Not brunch right away, but as fast as we can.
Paste: Why did you choose Williamsburg?
I: It chose me. I'm from Brooklyn originally. I've always wanted to open a place there since the cooking began.
Paste: What does the menu look like?
ICM: It's a little more East-Coast-centric and bigger than the Omaha location, so we're going to have things like latkes and pierogies, and other Eastern European favorites. Really, it's Brooklyn food, for the most part. We're also going to do surf n' turf New England-inspired with oyster mushrooms and popcorn cauliflower and clam chowder. We're going a little Southern as well with a spin on our signature mac and 'shews. We're opening in a gray period between summer and fall, we have a lot of options. We're doing fried green tomatoes and making different chilis. We're going to have fun with a bigger kitchen and playing around with every ingredient we can. It's the best time of year for produce. Apples and zucchinis are blossoming at the same time.
Paste: How many people will the new location seat compared to the Omaha location?
ICM: [Williamsburg] fits 74. Officially, [Omaha] fits about 33, but since there's window bar, it might be closer to 35.
Paste: Other than the space and menu, what's different about the new location?
ICM: Yeah, it's really based on where we are. In Nebraska, we try to do chili and cinnamon rolls, because that's a Nebraska thing. We do Runzas and a lot of corn. [At the new location], we're focusing on the regional dishes from here, that's the biggest difference. Say we're going to have matzah ball soup. I don't know if that would fly in Omaha. The same way with chilli and cinnamon rolls. I don't know how it would go over here, because it's not something people are used to. The whole concept of Modern Love is a vegan translation of traditional food with whole ingredients and make it even better. I think, where the locations are, they influence us.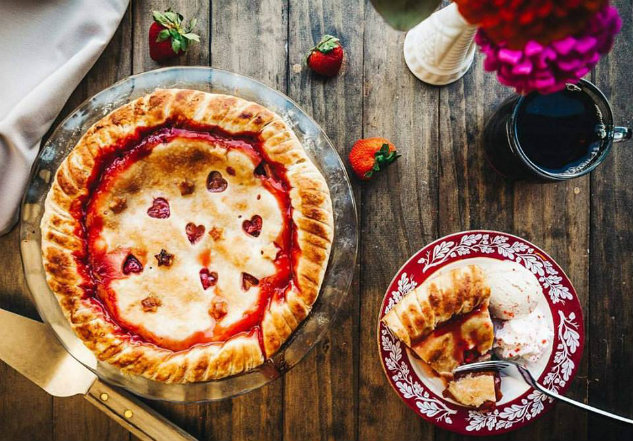 Paste: I was relieved Modern Love offered an interpretation of Runza. When I first moved to Nebraska, everyone told me to try a Runza sandwich, but I soon realized it was full of meat and cheese. After trying the Bunzy, I finally experienced it.
ICM: Thanks! We're also going to have fried rice and things New Yorkers love. And then you can get them vegan here with my little Brooklyn-Jewish spin on everything.
Paste: What are your hopes and expectations for the new location?
ICM: I hope it's packed all the time. I hope everyone's happy. I hope everyone always leaves full and always comes back. I hope neighborhood people come and try it. Obviously, in Omaha, 95 percent of our customers aren't vegetarian or vegan. I know here there will be more vegans, but I'm hoping that people are the same way as in Omaha. People come because the food is delicious, the service is fun, the atmosphere is awesome, the music is great. That's what I want in a restaurant: to give people a good experience. I'm hoping it all happens.
Paste: Have you ever thought of opening restaurants outside of Omaha and Brooklyn?
ICM: I have. It has to make sense to me, though. Wherever I am, I have to have a connection to the place. That's the thing. If I were going to do that, I'd maybe do so near my family in Columbus. I love Los Angeles, too, so maybe there. It's just so much to open a restaurant in itself.
Paste: Are you working on any other projects at the moment?
ICM: I have my holiday cookbook coming out in November. It's on Amazon for pre-order. I'm working with Allrecipes on a project, too.