Disney's Star Wars Hotel Will Be a Two-Day Immersive Experience Patterned on Cruise Ships
Artist Concepts courtesy of Disney/Lucasfilm
Travel
News
disney world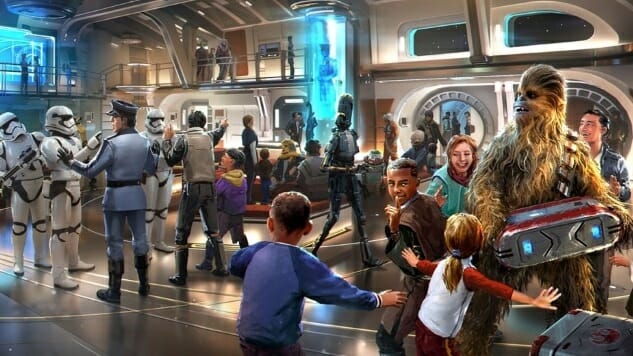 Disney's D23 Expo is wrapping up in Anaheim today, but not before they held what is usually seen as the expo's main event by theme park fans: the Disney Parks panel. (Or, as it's now officially known, the Disney Parks, Experiences and Products Panel.) Among the news at today's panel was more information on the Star Wars: Galactic Starcruiser resort coming to Disney World, including a few pieces of concept art. Let's blast right into it.
The concept behind Galactic Starcruiser is that you're basically going on a cruise ship. Instead of boating down to the Caribbean, though, you'll be rocketing through space on the Halcyon for two nights, and making a planetary excursion to Black Spire Outpost on the outer rim world of Batuu. If you didn't already know, that's the world Disney created for the Star Wars: Galaxy's Edge theme park area opening at Disney's Hollywood Studios in Florida next week.
Fittingly, getting to Star Wars: Galactic Starcruiser will kind of feel like going on a cruise ship. You'll check in at the Galactic Starcruiser Terminal at Disney World here on boring old Earth. After your paperwork's all set you'll hop into a Launch Pod that'll take you up to the Halcyon, complete with a window that will let you watch your launch into space and approach to the starcruiser. You'll exit the pod through an airlock and venture into the Halycon's atrium, where your two-day adventure begins.
According to the Galactic Starcruiser article on the Disney Parks blog, Disney's promising a "a multi-day story that interweaves with members of the crew, other passengers, familiar Star Wars characters, and an excursion to Star Wars: Galaxy's Edge at Disney's Hollywood Studios." When you're on board the Halcyon—basically, when you're inside your hotel—you should presumably feel like you're actually living in a ship in the Star Wars universe. As such there'll be leisure activities "on board" that reference the movies, including a lightsaber training room where you have to deflect blasts from a training remote, like Luke does in the original Star Wars. You'll be able to tour the bridge and learn how to fly the starship, and relax with a drink and perhaps a game of sabacc (if the concept art can be believed) in the Silver C Lounge. There's also a hidden Engineering Room that you can sneak into, if you want to see what the guts of a massive starcruiser look like.
The entire resort will sell the illusion of spaceflight by not having a single normal window anywhere. Every window in the joint, including the ones in your staterooms, will provide a look into outer space. And the concept art indicates you might see some familiar faces walking around the Halycon, including stormtroopers, droids and wookiees.
Eventually you'll have your "planetary excursion," where you and your party blasts down to Batuu. In real life terms, that means you'll head over to Disney's Hollywood Studios, where Galaxy's Edge opens next week. Will you be able to leave Galaxy's Edge during your excursion and check out the non-Star Wars parts of the theme park, or will there be some kind of policy or mechanism that prevents guests from making that kind of immersion-destroying decision? Riding a roller coaster about Aerosmith doesn't make any kind of Star Wars sense, but it'd also be really weird if you couldn't check out the rest of a theme park that you've paid to visit. Maybe, like a real cruise ship, the excursion will have a tight timeline, and it'll be just long enough to enjoy what Galaxy's Edge has to offer before hopping back on a launch pod to the Halcyon? As you can see, there are still a lot of questions to be answered about Star Wars: Galactic Supercruiser.
That parks blog article also says that "choices you make during your adventure will help determine how your Star Wars story progresses." That sounds a lot like what Disney said before the opening of Disneyland's version of Galaxy's Edge back in May. The notion of a personal reputation that follows you around Black Spire Outpost, and of your experiences in the theme park being impacted by your own actions and decisions, was one of the more fascinating ideas behind Galaxy's Edge. It's one that hasn't really been implemented in the park yet, though. It'd probably be easier to simulate something like that in Star Wars: Galactic Starcruiser, where the guest is entirely ensconced within a carefully managed Disney environment for an extended period of time, instead of just dropping in on a section of a theme park for a few hours. It's still an ambitious goal, though, so it'll be interesting to see if Disney can make it work in the new resort.
You're probably here to check out that artwork, though. Here are a few pieces of concept art that Disney released today, and which can also be found (along with more info) at the Disney Parks blog and the official site for Star Wars: Galactic Starcruiser. Disney hasn't announced an opening date, and despite rumors flying throughout the internet today, there's also been no official word on pricing. (Our guess: get ready to drop something in the vicinity of low-to-mid four figures for this thing.) Expect that info and more news as the Galactic Starcruiser project chugs along to its inevitable maiden voyage sometime in the future.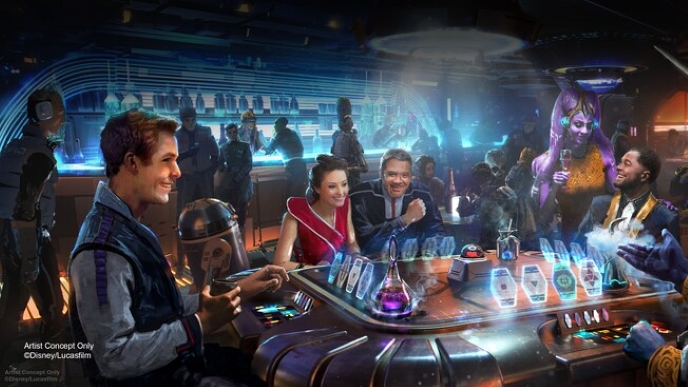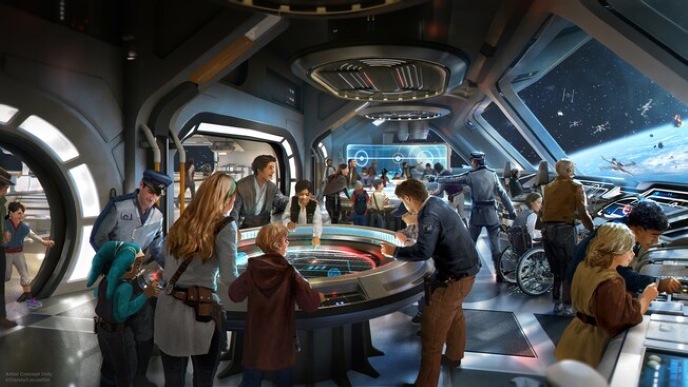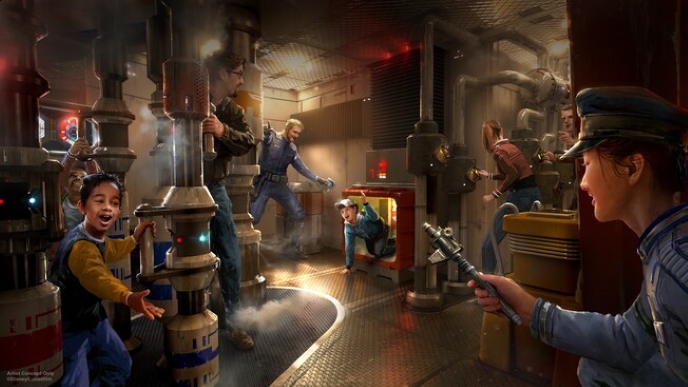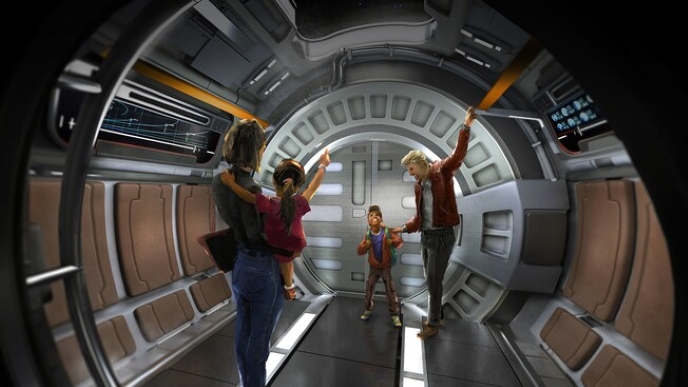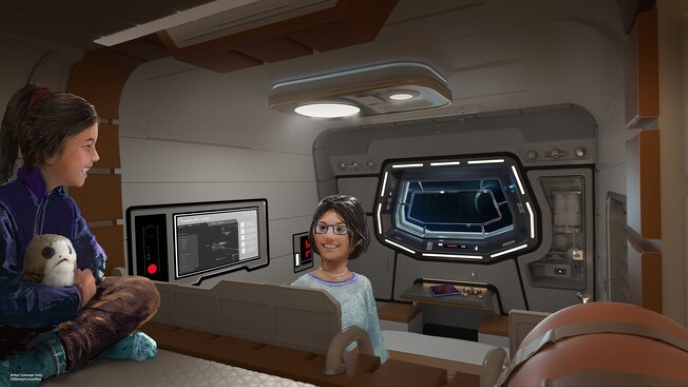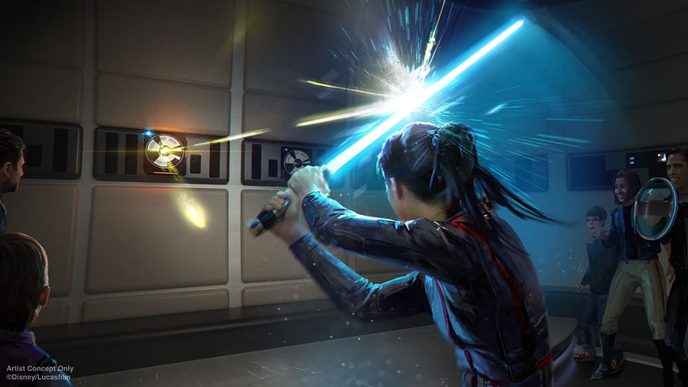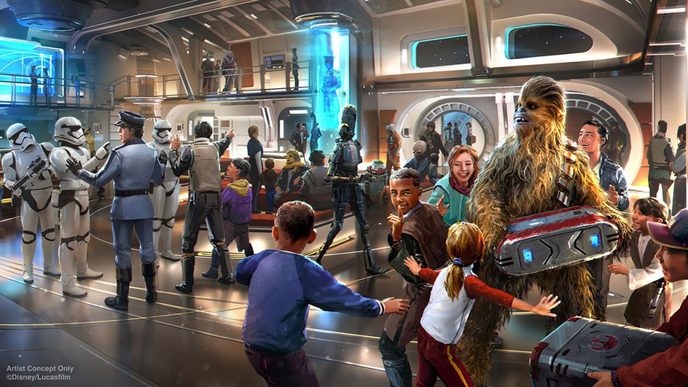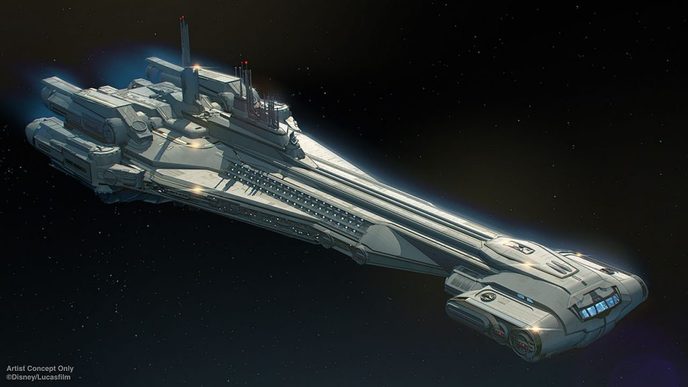 ---
Senior editor Garrett Martin writes about videogames, comedy, travel, theme parks, wrestling, and anything else that gets in his way. He shares stories and photos from his Disney journeys on Instagram at @garrett_goes_to_disney. He's also on Twitter @grmartin.