The First Trailer for Robert Eggers' The Lighthouse Is a Lovecraftian Nightmare
Image via A24/YouTube
Movies
News
The Lighthouse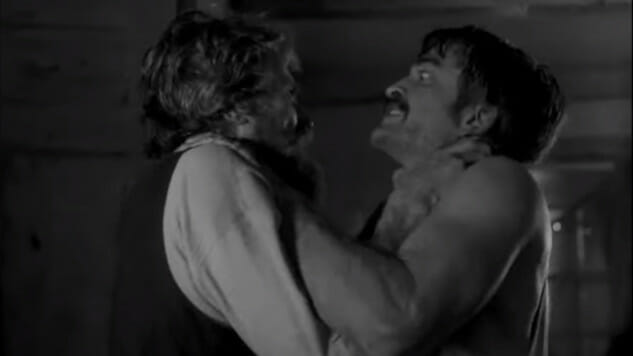 Ahoy! A24 took to the sea Tuesday and shared the first trailer for The Lighthouse, Robert Eggers' "nautical psychodrama" follow-up to 2016's The Witch.
Shot entirely in black-and-white and in the supremely old-timey 1.91:1 aspect ratio, the film stars Willem Defoe and Robert Pattinson as two binge-drinking men driven to madness during their work in an isolated lighthouse. While there's certainly some Lovecraftian undercurrents here—unsettling white men, temporal confusion, tentacles—the claustrophobic direction recalls the aesthetics of early German expressionist horror filmmaking like Nosferatu or The Cabinet of Dr. Caligari.
The Lighthouse's grueling shoot reportedly made Pattinson want to punch Eggers following a series of takes that involved a fire hose and tons of water. Whether that toll was worth it remains to be seen, but we'll find out on Oct. 18 when the film hits theaters. See the film's first trailer and poster below.