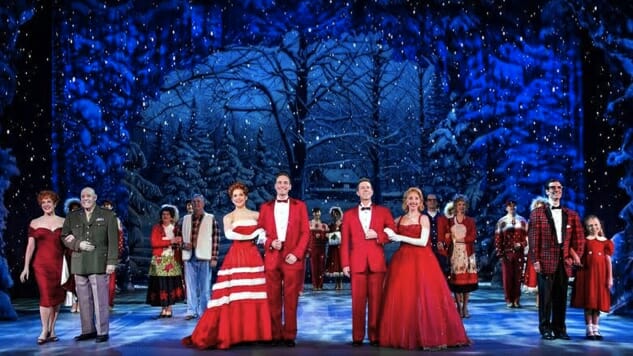 Irving Berlin's White Christmas the Musical stops at Atlanta's Fox Theatre for those who prefer tap-dancing WWII vets to balletic toy soldiers for getting into the holiday spirit.
Adapted from the 1954 film starring Bing Crosby, Rosemary Clooney, Danny Kaye and Vera-Ellen, the 2004 stage adaptation features most of the same song-and-dance numbers, as well as the paper-thin plot surrounding it. After limited engagements on Broadway in 2008 and the West End in 2014, the production has managed to return to life every couple of winters.
First the good: the show is a beautiful spectacle, and the story—a pair of Broadway stars put on a big show to help revive the flagging fortunes of their beloved formal general—provides ample opportunity for some beautiful choreography and impressive Christmas scenery. Even if you haven't seen the film, you'll recognize Berlin standards like "Blue Skies," "Sisters" and, of course, the title song that bookends the show. The four principles performing on stage—Sean Montgomery, Kerry Conte, Jeremy Benton and Kelly Sheehan—are all stage pros with giant voices and dazzling moves, particularly the latter pair in a couple of lengthy dance routines. And Karen Ziemba stands out as the innkeeper with a secret past.
So much of the story, though, is hard to relate to in 2018. Pity for an aging general who can't get a job but can get the attention of the president with a simple letter. Romantic entanglements that spring up out of nowhere, nearly fall apart with simple misunderstandings and then resolve with unearned ease. The film already captures the zeitgeist of a more innocent and naive perception of America; the theatrical production could have used a major update to the storytelling (and maybe more than one or two non-white cast members). As it stands, White Christmas is an enjoyable, old-school musical that feels like it should be a whole lot more.
The production runs through Dec. 2 in Atlanta before moving on to Denver (Dec. 5-15), Orlando (Dec. 18-23) and Miami (Dec. 25-30).