If you're a private investigator, chances are there's a case that haunts you. And if you're Pete Fernandez, that case is an unsolved murder.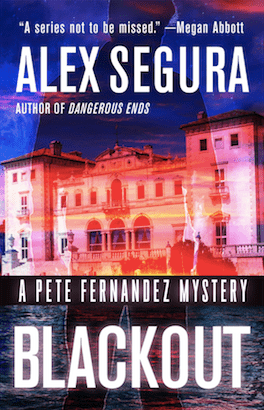 Blackout, the fourth book in the Pete Fernandez Mystery series, finds the PI back in Miami on a murderer's trail. And as fans have come to expect from Alex Segura's crime novels, this book is another thrilling addition to the Pete Fernandez canon.
Intrigued? Then check out Blackout's premise:
Startling new evidence in a cold case drags the exiled PI back to his hometown of Miami. But as Pete and his partner Kathy Bentley delve deeper into the unsolved murder, they become entangled in Miami's obsession with a charismatic and dangerous cult leader and his even more menacing followers. At the same time, the detectives find themselves at odds with a Florida politician's fixation on wealth, fame and power. It all converges in the heart of the Magic City, and Pete is left scrambling to pick up the pieces—or die trying.
To celebrate Blackout's release this month, we've partnered with Polis Books for a giveaway! Five winners will each receive a hardcover copy of the book. To enter the giveaway, follow @PasteBooks on Twitter and retweet this tweet by 5 p.m. EST on Tuesday, May 22nd. You must have a U.S. address to enter.
We'll announce the winners on Monday evening; good luck!