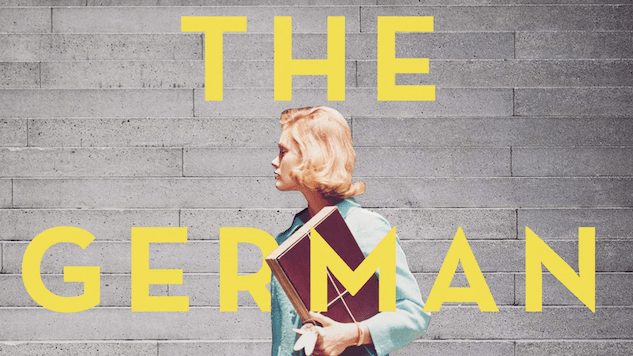 December is generally a slow month in the world of publishing, but there still are plenty of standout releases in the audiobook realm this month. So in addition to publishing a list of the best audiobooks of 2019 this week, we also wanted to put captivating December listens on your radar. The holidays are the perfect time to dive into the audiobooks you've wanted to experience all year, and the titles below deserve a spot on your audio queue.
Editor's note: The audiobooks below are organized by release date and then run time.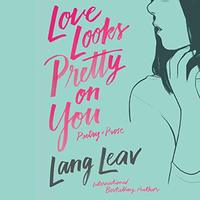 Love Looks Pretty on You by Lang Leav
Narrated by: Lang Leav
Run time: 1 hour and 3 minutes
Release date: December 3rd
Audible | Libro.fm | Overdrive | SoundCloud
Lang Leav has two new audiobook releases this month: the poetry collection we're recommending here (her sixth) and a Young Adult novel titled Poemsia. Anyone paying attention to Audible or Libro.fm's New Releases page, though, will have noticed that two of Leav's older poetry collections, The Universe of Us and Sea of Strangers, were also released in audiobook form for the first time. Any one of these is worth a listen, but we especially love that Love Looks Pretty on You is narrated by Leav herself. Leav, who was born in a Thai refugee camp as her family fled the Khmer Rouge, raised in Australia and now lives in New Zealand, layers in rhythms and breaks in her narration that imbue lines about the nature of love with real feeling.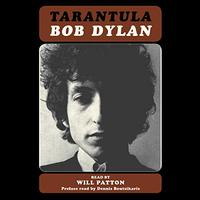 Tarantula by Bob Dylan
Narrated by: Will Patton, Dennis Boutsikaris
Run time: 3 hours and 10 minutes
Release date: December 3rd
Audible | Libro.fm | Overdrive | SoundCloud
Will Patton's singular narratorial voice makes it challenging to separate the content of whatever he's reading from the simple experience of hearing him read it. But with this first-ever audio recording of Tarantula, Bob Dylan's only work of fiction, the Patton's unique voice perfectly resonates with Dylan's equally overwhelming one. A combination of stream-of-consciousness prose, lyrics and poetry, Tarantula is a wild, disorienting ride. It takes only seconds of listening to Patton's loopy, gravelly performance to understand where the story might lead, delivering a ride best experienced via audio—preferably streamed directly into the listener's brain through high-end stereo headphones.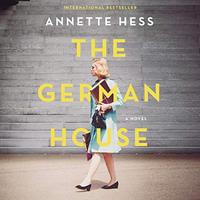 The German House by Annette Hess
Narrated by: Nina Franoszek
Run time: 10 hours and 54 minutes
Release date: December 3rd
Audible | Libro.fm | Overdrive | SoundCloud
Stories that follow brave nobodies speaking truth to power are always welcome on Paste lists. And the ever-fracturing political moment we're living right now makes Annette Hess' Auschwitz Trials-set international bestseller, The German House, a must-listen. The audio version is narrated with soothing, lightly German-accented surety by Nina Franoszek, who—embodying the young war crimes trial translator at the heart of the story—punctuates that surety with occasional bursts of energetic fervor. The result is a saga that spins vibrant immediacy into one of modern history's more heavily loaded moments.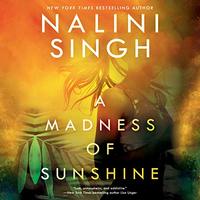 A Madness of Sunshine by Nalini Singh
Narrated by: Saskia Maarleveld
Run time: 10 hours and 59 minutes
Release date: December 3rd
Audible | Libro.fm | Overdrive | SoundCloud
Saskia Maarleveld puts her native New Zealand accent to use this month, lending her gravelliest Kiwi narration to Nalini Singh's newest murder mystery thriller, A Madness of Sunshine. The book follows a Maori woman to her tiny hometown on New Zealand's rugged West Coast just in time for a shocking disappearance (and possible serial killer) to unearth the town's darkest secrets. Fans of Singh's various paranormal series might come to the more reality-based A Madness of Sunshine with some trepidation. But once Singh's heroine meets up with the gruffly attractive new cop in town just minutes into the first chapter, any concerns about a dearth of the supernatural will wash away like so much Golden Cove surf. If someone else's life-and-death tension is how you want to end your year, this is a great place to start.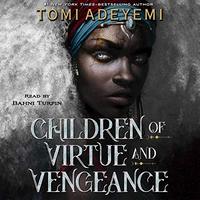 Children of Virtue and Vengeance (Legacy of Orïsha, Book 2) by Tomi Adeyemi
Narrated by: Bahni Turpin
Run time: 13 hours and 27 minutes
Release date: December 3rd
Audible | Libro.fm | Overdrive | SoundCloud
Tomi Adeyemi's 2018 debut, Children of Blood and Bone, was a runaway favorite of YA and fantasy readers alike. As anyone who picked up the Bahni Turpin-narrated audio version knows, when it comes to the world of Zélie, Amari and the land of Orïsha, Turpin's effervescent narration is the way to let the experience wash over you. Happily, Turpin is back for Children of Virtue and Vengeance, and her accents are as sharp as ever in book two, lending both power to the characters fighting for survival as Orïsha inches closer than ever to a breaking point. Children of Blood and Bone won 2019's Audie Award for the Audiobook of the Year, so look out for them to bring home even more awards in the future.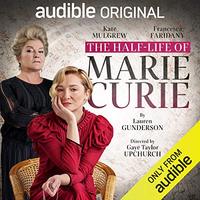 The Half Life of Marie Curie by Lauren Gunderson
Narrated by: Kate Mulgrew, Francesca Faridany
Run time: 1 hour and 19 minutes
Release date: December 5th
Audible (Audible Original) | SoundCloud
Audible Originals tend to creatively expand the parameters of what an "audiobook" can be. This month boasts a specially adapted version of Lauren Gunderson's two-woman play, The Half Life of Marie Curie, which drops stage actors Kate Mulgrew and Francesca Faridany into the roles of Marie Curie and Hertha Ayrton, who was an accomplished mathematician, inventor and suffragette in her own right. Described as "an ode to two remarkable women who, despite tremendous personal and professional obstacles, continued to devote their lives to scientific innovation and social change," The Half Life of Marie Curie splits the difference between audiobook and radio play in a cozy, compelling way. It's the perfect choice for an evening spent relaxing and sipping something on the rocks alongside the characters, and it just be the ticket to ring in the new year.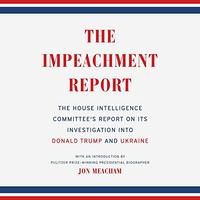 The Impeachment Report by The House Intelligence Committee & Jon Meacham
Narrated by: Jon Meacham, P.J. Ochlan, Brittany Pressley, Cassandra Campbell, Rob Shapiro
Run time: 11 hours and 34 minutes
Release date: December 10th
Audible | Libro.fm | Overdrive | SoundCloud
Finding time to devote meaningful attention to the impeachment proceedings currently underway in Congress is challenging, especially in the middle of the holiday season. Thankfully, the audiobook industry is as on top of this moment as it has been for the whistleblower report and Mueller report. Penguin Random House has assembled narratorial stalwarts P.J. Ochlan, Brittany Pressley, Cassandra Campbell and Rob Shapiro for a multicast audiobook recording of the official impeachment report from the House Intelligence Committee, and it also features an exclusive introduction by Pulitzer Prize-winning author and biographer Jon Meacham. At 11 and a half hours, it's still a major time investment. But during a season in which having vetted details on hand to use in family discussions is more crucial than normal, it's time worth investing.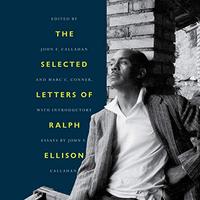 The Selected Letters of Ralph Ellison by Ralph Ellison, edited by John F. Callahan and Marc C. Conner
Narrated by: Dominic Hoffman, John F. Callahan
Run time: 49 hours and 5 minutes
Release date: December 17th
Audible | Libro.fm | Overdrive | SoundCloud
We don't take it lightly that we're including an audiobook with a run time longer than the time many of you will spend with family observing any of the holidays this month. Forty-nine hours is a lot! But Ralph Ellison is a writer whose correspondences ring when read aloud, and this collection of letters, while monstrously long, is by its very nature primed to be savored in tiny chunks over the course of many days—or weeks or months or even years. Add audiobook superstar and Paste favorite Dominic Hoffman to the mix as primary narrator, and this makes for a compelling literary gift for the end of the year.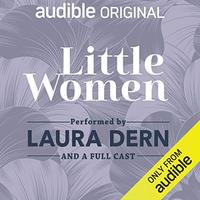 Little Women by Louisa May Alcott
Narrated by: Laura Dern, Emily Bauer, Lauren Fortgang, Allison Hiroto, Carly Robins, Suzanne Toren
Run time: unknown
Release date: December 23rd
If your goal is to listen to more classic novels, intrepid audiobook publishers are constantly releasing beloved titles for you to enjoy. Audible has frequently led the charge in this category, but especially with their star-studded Originals of canon classics in 2019. A standout is this month's full cast recording of Little Women led by Laura Dern, which is timed to coincide with the release of Greta Gerwig's new film adaptation also co-starring Dern. We know you don't need us to tell you to read (or re-read) this novel in any format. But just in case you didn't know that Audible had this version in the works, consider this a gentle nudge. (And to any listeners constitutionally averse to full cast recordings, please note that there is a lovely Christina Ricci-narrated version from 2012 available wherever audiobooks are borrowed or sold.)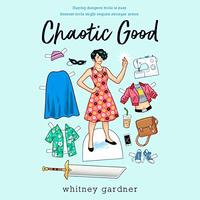 Chaotic Good by Whitney Gardner
Narrated by: Patricia Santomasso
Run time: 7 hours and 7 minutes
Release date: December 31st
Audible | Libro.fm | Overdrive | SoundCloud
There's something beautifully chaotic about the fact that Whitney Gardner's contemporary YA novel Chaotic Good hits the shelves as late as it can to still be considered a 2019 release. With an alliterative logline that promises to send "cosplay, comic shops and college applications" colliding, it should be obvious that the major selling points of Chaotic Good is all about fun and entertainment. For an end-of-2019 listen, that's exactly what we want. That narrator Patricia Santomasso is on hand to bring Cameron's feminist killjoy cosplay world to life with a warm-but-tart performance is icing on the cake.
---
Alexis Gunderson is a TV critic and audiobibliophile. She can be found @AlexisKG.