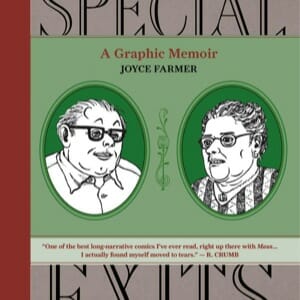 Every other Monday, Paste looks at some of the most intriguing comic books, graphic novels, graphic memoirs and other illustrated books.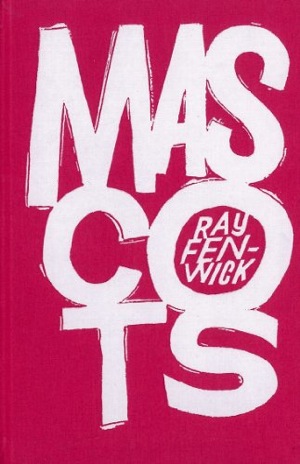 Mascots by Ray Fenwick
(Fantagraphics, 2011)
Rating: 7.8
Surrealism is dangerous. Mostly, when you leave the rails, the result is less glorious freedom and more quick kablooie. It's an easy method for the lazy writer, but somehow when Ray Fenwick does it, it works. Mascots, his second book, is short on—but not absent—narrative. Its pages are made up of paintings on book covers that are largely text-based and say things like "My speech in tongues is going to be like a blazing guitar solo." Somehow, they hang together enough to produce a fuzzy but charming impression. One of Fenwick's recurring themes is Cthulhu, H.P. Lovecraft's god/monster/embodiment of chaos, which is appropriate, as Cthulhu mythology tends to be similarly ungraspable but strangely compelling. I don't recommend that you furrow your brow trying to comprehend the bigger picture, just as looking directly at Cthulhu produces madness, but there's something freeing about reading a book whose each page could live in isolation. (HB)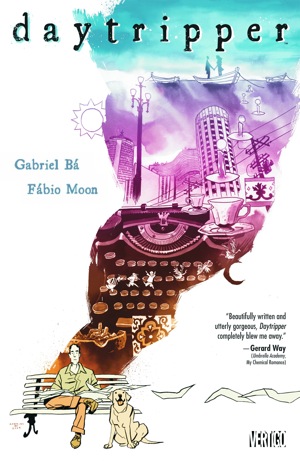 Daytripper by Fabio Moon and Gabriel Ba
(Vertigo, 2011)
Rating: 8.5
Daytripper was originally published in 2010 as a 10-issue miniseries, and it feels like it. Each issue focuses on a different pivotal moment in the life of aspiring writer Bras de Oliva Domingos, and almost all of them end with his untimely death. Obituary notices pop up every 22 pages. Reading Daytripper in its original state was like putting together a puzzle for about 15 minutes every few weeks over 10 straight months. Brazilian creators (and identical twins) Fabio Moon and Gabriel Ba share a deep understanding of the pacing and storytelling of the traditional monthly comic format, but this collection proves that Daytripper is more powerful when read straight through in a single afternoon. Some vignettes are humorous, others harrowing, but they all shed light on a man wise enough to know what matters but wiser still for realizing he'll never quite understand the world. The father-son dynamic at the story's core might resemble almost every other work of fiction ever, but Moon and Ba remain thoughtful and insightful throughout. They also know how to make a grown man cry through the power of art. God help us all if they ever use that skill for evil. (GM)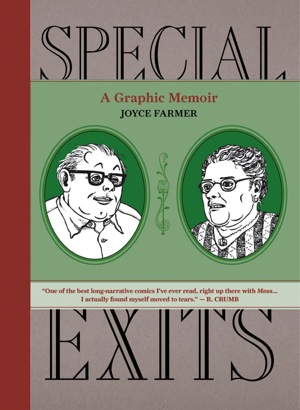 Special Exits, by Joyce Farmer
(Fantagraphics, 2010)
Rating: 8.5
The plot description of Joyce Farmer's graphic memoir (adult woman takes care of her aging parents, who experience the many humiliations of senescence) makes it sound like a terrible downer, the kind of thing only people in need of group therapy due to similar experience would buy. But the impressive thing about the book is that, despite depressing subject matter, it's extremely readable and fairly funny. Yes, you'll think about the horrors of getting old and failing to maintain your independence, not to mention the even scarier prospect of taking care of your own parents. But if Farmer's book is meant to soothe your fears, it kind of works. It seems to function through immersion therapy, moving from the things you worry about the least (clutter, errands) to the ones you can't even think about (diapers, blindness, death) at a speed that lets you get acclimated to each step before it takes the next one. (HB)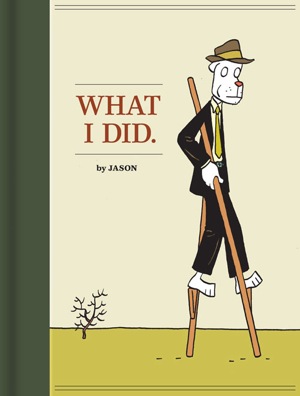 What I Did by Jason
(Fantagraphics, 2010)
Rating: 7.0
Tread carefully with Jason's What I Did; you might already own what's inside. This thick little hardcover collects three of the Norwegian cartoonist's early graphic novels, Hey, Wait…, Sshhh!, and The Iron Wagon. Jason was already a seasoned pro with a fully-formed voice when Fantagraphics first released these books in America near the beginning of the last decade. The black-and-white Hey, Wait… and Sshhh! are low-key ruminations on grief, loss and aging that bear Jason's trademark anthropomorphic animals, clean lines and Scandinavian black humor. The Iron Wagon adapts a 1909 Stein Riverton mystery novel and expands the color palette with bloody patches of dark vivid red. Jason's narrative prowess can't be denied, but 100 years of similar twists have softened whatever wallop this detective story once packed. Jason's beautiful craftsmanship overcomes The Iron Wagon's familiar material and, along with the rest of What I Did, foreshadows the excellent work to come later in the decade. (GM)
---
Garrett Martin is a Boston-based freelancer whose work has appeared in the Boston Herald, Joystiq.com, the Boston Phoenix, and other publications.
Hillary Brown didn't grow up reading comics and tends to be more interested in words than art. If you put hot dogs in your comic, she's probably going to like it.