It's a new year, which means a deluge of new fantasy books is heading our way. (Sorry if you did not use your holiday break to cut down on your TBR pile because it's about to get a lot bigger over the next few months. This isn't a bad thing, per se, because it means a truly intimidating amount of great new releases are about to arrive in a bookseller near you. But it also means…a truly intimidating amount of great new releases are about to arrive in a bookseller near you.
From new releases from familiar bestselling authors to highly anticipated sequels and buzzy debuts, this month is giving us a little bit of everything to kick off the new year. Here are our picks for the best fantasy books coming this January.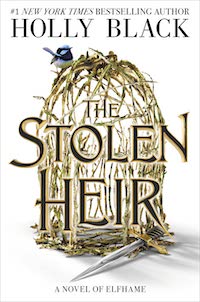 The Stolen Heir by Holly Black
Release Date: January 3 from Little Brown Books for Young Readers
Why You'll Love It: Look, we all know everyone's basically dying to go back to Holly Black's and dangerous world of Faerie. This sequel takes place nine years after the original Folk of the Air trilogy and follows the story of Jude's brother Prince Oak and Suren, the young changeling queen from the Court of Teeth we met for like a minute in The Queen of Nothing. The two set off on a journey together through the darkest corners of the realm, where nothing as it seems and no one knows who they can trust and it's a great ride from beginning to end.
Publisher's Description: Eight years have passed since the Battle of the Serpent. But in the icy north, Lady Nore of the Court of Teeth has reclaimed the Ice Needle Citadel. There, she is using an ancient relic to create monsters of stick and snow who will do her bidding and exact her revenge.
Suren, child queen of the Court of Teeth, and the one person with power over her mother, fled to the human world. There, she lives feral in the woods. Lonely, and still haunted by the merciless torments she endured in the Court of Teeth, she bides her time by releasing mortals from foolish bargains. She believes herself forgotten until the storm hag, Bogdana chases her through the night streets. Suren is saved by none other than Prince Oak, heir to Elfhame, to whom she was once promised in marriage and who she has resented for years.
Now seventeen, Oak is charming, beautiful, and manipulative. He's on a mission that will lead him into the north, and he wants Suren's help. But if she agrees, it will mean guarding her heart against the boy she once knew and a prince she cannot trust, as well as confronting all the horrors she thought she left behind.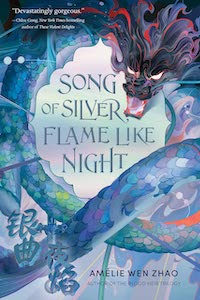 Song of Silver, Flame Like Night by Amelie Wen Zhao
Release Date: January 3, 2023 from Delacorte Press
Why You'll Love It: A rich, immersive new fantasy series from the author of the (criminally underrated) Blood Heir trilogy, Song of Silver Flame Like Night incorporates elements of Chinese mythology, philosophy, and xianxia writing to tell a lush, magical tale of a conquered kingdom and the oppressed peoples attempting to liberate their homeland. Clocking in at somewhere around 500 pages in length the story still manages to make every detail feel important, and its protagonists—a young girl whose mother was murdered by a conquering army and a boy with a dark secret who practices forbidden magic—are layered and winning.
Publisher's Description:Once, Lan had a different name. Now she goes by the one the Elantian colonizers gave her when they invaded her kingdom, killed her mother, and outlawed her people's magic. She spends her nights as a songgirl in Haak'gong, a city transformed by the conquerors, and her days scavenging for what she can find of the past. Anything to understand the strange mark burned into her arm by her mother in her last act before she died.
The mark is mysterious—an untranslatable Hin character—and no one but Lan can see it. Until the night a boy appears at her teahouse and saves her life. Zen is a practitioner—one of the fabled magicians of the Last Kingdom. Their magic was rumored to have been drawn from the demons they communed with. Magic believed to be long lost. Now it must be hidden from the Elantians at all costs.
When Zen comes across Lan, he recognizes what she is: a practitioner with a powerful ability hidden in the mark on her arm. He's never seen anything like it—but he knows that if there are answers, they lie deep in the pine forests and misty mountains of the Last Kingdom, with an order of practitioning masters planning to overthrow the Elantian regime.
Both Lan and Zen have secrets buried deep within—secrets they must hide from others, and secrets that they themselves have yet to discover. Fate has connected them, but their destiny remains unwritten. Both hold the power to liberate their land. And both hold the power to destroy the world.
Now the battle for the Last Kingdom begins.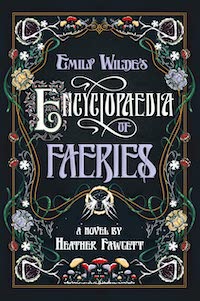 Emily Wilde's Encyclopaedia of Faeries by Heather Fawcett
Release Date: Janauary 10 from Del Ray Books
Why You'll Love It: While the primary trend in fantasy publishing these days has definitely skewed toward "dark academia" with its love of moody, mysterious themes and characters, Emily Wilde's Encyclopaedia of Faeries goes in the complete opposite direction, telling a charming story of friendship, love, and coziness. Not sure there's a more perfect book for the winter hitting shelves this month, and certainly a great example of why we need more "light academia" stories out there.
Publisher's Description: Cambridge professor Emily Wilde is good at many things: She is the foremost expert on the study of faeries. She is a genius scholar and a meticulous researcher who is writing the world's first encyclopaedia of faerie lore. But Emily Wilde is not good at people. She could never make small talk at a party—or even get invited to one. And she prefers the company of her books, her dog, Shadow, and the Fair Folk to other people.
So when she arrives in the hardscrabble village of Hrafnsvik, Emily has no intention of befriending the gruff townsfolk. Nor does she care to spend time with another new arrival: her dashing and insufferably handsome academic rival Wendell Bambleby, who manages to charm the townsfolk, get in the middle of Emily's research, and utterly confound and frustrate her.
But as Emily gets closer and closer to uncovering the secrets of the Hidden Ones—the most elusive of all faeries—lurking in the shadowy forest outside the town, she also finds herself on the trail of another mystery: Who is Wendell Bambleby, and what does he really want? To find the answer, she'll have to unlock the greatest mystery of all—her own heart.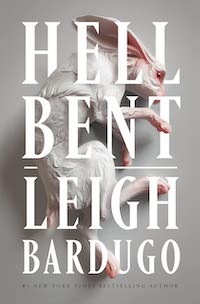 Hell Bent by Leigh Bardudo
Release Date: January 10 from Flatiron Books
Why You'll Love It: The highly anticipated second installment in Leigh Bardugo's debut adult paranormal fantasy series, Hell Bent continues the adventures of Alex Stern, a Yale scholarship student who can see and control ghosts, as she becomes the Virgil of mysterious Lethe House and must figure out how to lead the society's rituals, even as she attempts to find a way to open a portal to Hell in order to bring back her former mentor. (An act that may or may not require multiple murders to achieve.) The return of Alex's past as a low-level drug dealer adds an additional and compelling layer of stress to proceedings, but it's Bardugo's proven ability to write compelling characters no matter how large their role on the page might be that make this series so hard to put down.
Publisher's Description: Find a gateway to the underworld. Steal a soul out of hell. A simple plan, except people who make this particular journey rarely come back. But Galaxy "Alex" Stern is determined to break Darlington out of purgatory?even if it costs her a future at Lethe and at Yale.
Forbidden from attempting a rescue, Alex and Dawes can't call on the Ninth House for help, so they assemble a team of dubious allies to save the gentleman of Lethe. Together, they will have to navigate a maze of arcane texts and bizarre artifacts to uncover the societies' most closely guarded secrets, and break every rule doing it. But when faculty members begin to die off, Alex knows these aren't just accidents. Something deadly is at work in New Haven, and if she is going to survive, she'll have to reckon with the monsters of her past and a darkness built into the university's very walls.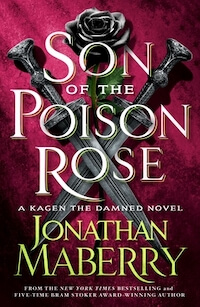 Son of the Poison Rose by Jonathan Maberry
Release Date: January 10 from St. Martin's Griffin
Why You'll Love It: The second installment of Jonathan Maberry's Kagen the Damned series amps up the tension as new threats arise (zombie plague? Sort of?) and dark family drama (Herepath is the Witch-King!) continues. While this is very much a middle-of-a-series book, it certainly will leave you desperately wanting to get to the next installment.
Publisher's Description: The Silver Empire is in ruins. War is in the wind. Kagen and his allies are on the run from the Witch-king. Wild magic is running rampant everywhere. Spies and secret cabals plot from the shadows of golden thrones.
Kagen Vale is the most wanted man in the world, with a death sentence on his head and a reward for him—dead or alive—that would tempt a saint.
The Witch-king has new allies who bring a terrible weapon—a cursed disease that drives people into a murderous rage. If the disease is allowed to spread, the whole of the West will tear itself apart.
In order to build an army of resistance fighters and unearth magical weapons of his own, Kagen and his friends have to survive attacks and storms at sea, brave the haunted wastelands of the snowy north, fight their way across the deadly Cathedral Mountains, and rediscover a lost city filled with cannibal warriors, old ghosts, and monsters from other worlds. Along with his reckless adventurer brothers, Kagen races against time to save more than the old empire… if he fails the world will be drenched in a tsunami of bloodshed and horror.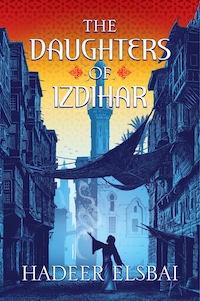 The Daughters of Izdihar by Hadeer Elsbai
Release Date: January 10 from Harper Voyager
Why You'll Love It: An elaborately designed fantasy world inspired by ancient Egypt and stridently feminist storytelling in which women decisively fight for their own freedom help Hadeer Elsbai's debut stand out.
Publisher's Description: As a waterweaver, Nehal can move and shape any water to her will, but she's limited by her lack of formal education. She desires nothing more than to attend the newly opened Weaving Academy, take complete control of her powers, and pursue a glorious future on the battlefield with the first all-female military regiment. But her family cannot afford to let her go—crushed under her father's gambling debt, Nehal is forcibly married into a wealthy merchant family. Her new spouse, Nico, is indifferent and distant and in love with another woman, a bookseller named Giorgina.
Giorgina has her own secret, however: she is an earthweaver with dangerously uncontrollable powers. She has no money and no prospects. Her only solace comes from her activities with the Daughters of Izdihar, a radical women's rights group at the forefront of a movement with a simple goal: to attain recognition for women to have a say in their own lives. They live very different lives and come from very different means, yet Nehal and Giorgina have more in common than they think. The cause—and Nico—brings them into each other's orbit, drawn in by the group's enigmatic leader, Malak Mamdouh, and the urge to do what is right.
But their problems may seem small in the broader context of their world, as tensions are rising with a neighboring nation that desires an end to weaving and weavers. As Nehal and Giorgina fight for their rights, the threat of war looms in the background, and the two women find themselves struggling to earn—and keep—a lasting freedom.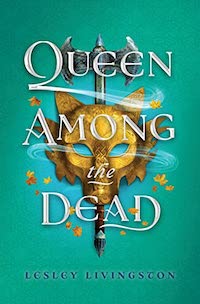 Queen Among the Dead by Lesley Livingston
Release Date: January 17 by Zando Young Readers
Why You'll Love It: Basically this book had me at "Celtic-inspired YA fantasy that's based on the legend of the first true queen of Ireland," but in case you need more convincing, this lyrical tale includes everything from sorcery and treason to a surprisingly deft exploration of the tension and social injustices between the original peoples of the kingdom of Eire adn the king which has outlawed all their magic.
Publisher's Description: In the kingdom of Eire, banshees chill the air, and water-wights lurk in the rivers. But magic is outlawed by the king, and jealously hoarded by his Druid priests.
Neve is the youngest daughter of the king, and Ronan is a Druid's apprentice-turned-thief, making a living by selling stolen spells. They should be enemies, but their shared hatred of the Druids-and a dark magic that has marked them both-makes them unlikely, if uneasy, allies.
When Eire is threatened by a power struggle, Neve must seize the chance to take her rightful place on her family's throne, with the help of Ronan and the realm's most dangerous outcasts. Their journey takes them to the outskirts of Eire where magic still runs free . . . and where an outlaw and a warrior princess might carve out a future with spells and swords.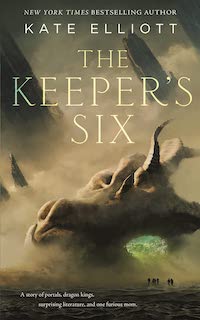 The Keeper's Six by Kate Elliott
Release Date: January 17 from Tordotcom
Why You'll Love It: Kate Elliott is having herself a year in 2023 between the January release of The Keeper's Six and the arrival of her highly anticipated Unconquerable Sun sequel Furious Heaven in April, but regardless, you'll probably be thinking about this densely plotted tale of a furious mom trying to rescue her kidnapped son from a dragon lord well into the summer.
Publisher's Description: It's been a year since Esther set foot in the Beyond, the alien landscape stretching between worlds, crossing boundaries of space and time. She and her magical travelling party, her Hex, haven't spoken since the Concilium banned them from the Beyond. But when she wakes in the middle of the night to her son's cry for help, the members of her Hex are the only ones she can trust to help her bring him back from wherever he has been taken.
Esther will have to risk everything to find him. Undercover and hidden from the Concilium, she and her Hex will be tested by dragon lords, a darkness so dense it can suffocate, and the bones of an old crime come back to haunt her.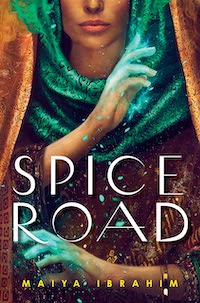 Spice Road by Maiya Ibrahim
Release Date: January 24 from Delacorte Press
Why You'll Love It: With a deliciously realized world full of compelling characters, a unique magical system, and authentic Arabian influences, Maiya Ibrahim's debut is a winner. A sparkling start to a new series we'll all want to keep an eye on.
Publisher's Description: In the hidden desert city of Qalia, there is secret spice magic that awakens the affinities of those who drink the misra tea. Sixteen-year-old Imani has the affinity for iron and is able to wield a dagger like no other warrior. She has garnered the reputation as being the next great Shield for battling djinn, ghouls, and other monsters spreading across the sands.
Her reputation has been overshadowed, however, by her brother, who tarnished the family name after it was revealed that he was stealing his nation's coveted spice—a telltale sign of magical obsession. Soon after that, he disappeared, believed to have died beyond the Forbidden Wastes. Despite her brother's betrayal, there isn't a day that goes by when Imani doesn't grieve him.
But when Imani discovers signs that her brother may be alive and spreading the nation's magic to outsiders, she makes a deal with the Council that she will find him and bring him back to Qalia, where he will face punishment. Accompanied by other Shields, including Taha, a powerful beastseer who can control the minds of falcons, she sets out on her mission.
Imani will soon find that many secrets lie beyond the Forbidden Wastes—and in her own heart—but will she find her brother?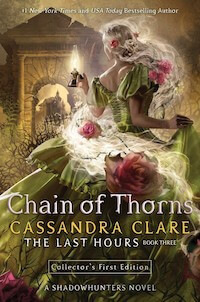 Chain of Thorns by Cassandra Clare
Release Date: January 31 from Margaret K. McElderry Books
Why You'll Love It: Cassandra Clare's Victorian-set Shadowhunters prequel books are basically Shadowhunters books for people who haven't been able to get into the main series before. Yes, her Last Hours trilogy follows the children of the characters from her Infernal Devices series, but one of the best parts about these particular books is that you can easily jump in without having read any of the former. Chain of Thorns sees Cordelia Carstairs, James Herondale, and Matthew Fairchild face off with the Prince of Hell, but it's their complex relationship dynamics that will keep readers turning pages.
Publisher's Description: Cordelia Carstairs has lost everything that matters to her. In only a few short weeks, she has seen her father murdered, her plans to become parabatai with her best friend, Lucie, destroyed, and her marriage to James Herondale crumble before her eyes. Even worse, she is now bound to an ancient demon, Lilith, stripping her of her power as a Shadowhunter.
After fleeing to Paris with Matthew Fairchild, Cordelia hopes to forget her sorrows in the city's glittering nightlife. But reality intrudes when shocking news comes from home: Tatiana Blackthorn has escaped the Adamant Citadel, and London is under new threat by the Prince of Hell, Belial.
Cordelia returns to a London riven by chaos and dissent. The long-kept secret that Belial is James and Lucie's grandfather has been revealed by an unexpected enemy, and the Herondales find themselves under suspicion of dealings with demons. Cordelia longs to protect James but is torn between a love for James she has long believed hopeless, and the possibility of a new life with Matthew. Nor can her friends help—ripped apart by their own secrets, they seem destined to face what is coming alone.
For time is short, and Belial's plan is about to crash into the Shadowhunters of London like a deadly wave, one that will separate Cordelia, Lucie, and the Merry Thieves from help of any kind. Left alone in a shadowy London, they must face Belial's deadly army. If Cordelia and her friends are going to save their city—and their families—they will have to muster their courage, swallow their pride, and trust one another again. For if they fail, they may lose everything—even their souls.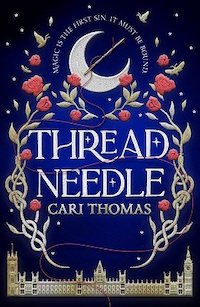 Threadneedle by Cari Thomas
Release Date: January 31 from Harper Collins
Why You'll Love It: The fact that this book was initially pitched as perfect for fans of S.A. Chakraborty and Claire Legrand and described as being a "YA fantasy with a big dash of CW TV drama" means that it sits perfectly in the center of a Venn diagram of my interests. (And probably a lot of other people's too.) Plus, I'm always a sucker for a story about a girl whose been told some key aspect of herself was something to fear or stifle coming into her power—both literally and metaphorically in this case.
Publisher's Description: Within the boroughs of London, nestled among its streets, hides another city, filled with magic.
Magic is the first sin. It must be bound.
Ever since Anna can remember, her aunt has warned her of the dangers of magic. She has taught her to fear how it twists and knots and turns into something dark and deadly.
It was, after all, magic that killed her parents and left her in her aunt's care. It's why she has been protected from the magical world and, in one year's time, what little magic she has will be bound. She will join her aunt alongside the other Binders who believe magic is a sin not to be used, but denied. Only one more year and she will be free of the curse of magic, her aunt's teachings and the disappointment of the little she is capable of.
---
Lacy Baugher Milas is the Books Editor at Paste Magazine, but loves nerding out about all sorts of pop culture. You can find her on Twitter @LacyMB.