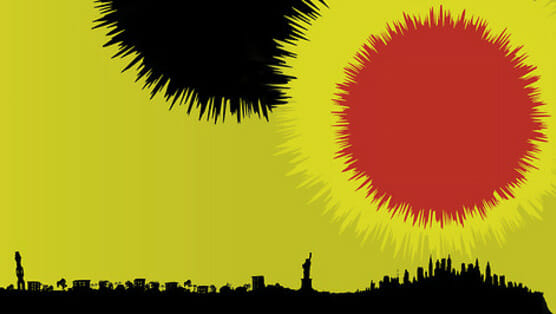 Getting my Green Card was a total slam-dunk.
Compared, I mean, to the struggles of Ikechukwu Uzondu ("Ike for short"), the unfortunate protagonist of Nigerian writer Okey Ndibe's brilliant new novel.
Let's start with my own rather tame story:
I finish graduate school. I go to work for a publishing company in New York that willingly sponsors me for permanent residency. I fill out some forms, collate the necessary documents and hand everything over to a clever lawyer (paid for by the firm), who gets me through the Green Card's administrative hurdles in no time.
After living the requisite four years and nine months on United States soil, I fill out another set of forms to apply for citizenship. No need for that clever lawyer this time: Just like that, I am in possession of the most coveted passport in the world.
For Ike (pronounced Ee-kay), things don't turn out to be so clear-cut. To the contrary: Everything is a struggle.
This makes his story so much more interesting than mine … and more interesting than those of scores of other Green Card holders who've gone on to enjoy success in America.
Ike arrives a bright man—a cum laude graduate from Amherst with a degree in economics. He writes poetry, speaks the Queen's English. But from Washington, D.C., to New York to Boston, no firm will hire him. The corporate doors stay shut to those on the wrong side of the color line. (I'm Indian, so I made it through.) They may not voice it, but it seems the businesses where Ike applies consider him one of the "Zulus"—a catchall moniker among certain Americans (black and white) who think Africa is a country. Ike has the "wrong kind of accent."
With nothing to go on, Ike does what many have done and many will continue to do to get a foothold in America: He becomes a New York City cab driver.
Desperate for a Green Card, Ike also marries an American citizen—a woman who turns out to be an insatiable sexual beast. She ravages even virile Ike to the point of exhaustion, drives him to drink and then dumps him, virtually penniless and desperate for any measure, even truly extreme, to reverse his fortunes.
It comes in the form of a devious plot to return to his hometown, Utonki, in Nigeria on borrowed cash and steal a statue of a god. Ike intends to sell it to Foreign Gods, Inc., the latest chi-chi, SoHo boutique to catch the fancy of the New York (and the world's) ultra-wealthy.
At Foreign Gods, Inc., people who have everything several times over will throw down hundreds of thousands of dollars on their latest fascination … deities from far-off lands. The gallery's owner, Mark Gruels, pays top dollar for such gods.
Ike's deity, Ngene, happens to be a god of immense power. Ngene once made Utonki's neighbors quake. The divine being that worshipers claim "belched thunder … and flashed lightening" helped win wars. Though Ngene inspires awe and terror, the god's power wanes due to the strength and popularity of another foreign god—a Christian god that's elbowing all others out of the way and capturing the minds and hearts of the people of Utonki.
Ike plunges into this War of the Gods—a war that pits his mother, now an evangelical Christian, against his paternal grandmother, Nne, and his paternal uncle, Osuwaku, Ngene's chief priest. The uncle's 24/7 vigil over Ngene promises to make it very tough for Ike to carry out his mission.
Hell-bent on doing the necessary, Ike nevertheless nearly forgets why he came to Utonki once he crosses paths with those he knew before he left for America. He finds a once-nubile ex-girlfriend, now a faded rag. He runs into a school friend who still hasn't mastered the English language yet has become a multimillionaire.
Like other great African writers, Ndibe lets us have Africa in all its madness. (His previous novel, Arrows of Rain, satirized military rule in the fictional country of Madia.) We see Nigeria as a crazy, lawless land, where corruption runs wild and Big Bucks come easy to those—and there are many—willing to peddle anything from drugs to God. Ndibe paints his native country as a place of corruption, commonplace violence, and unpredictability around every corner.
Yet the Nigeria where we live briefly in the pages of Foreign Gods, Inc. also brims with warmth, vibrancy and color. Its people are as credible as they are not, and Ndibe writes this story—their story—with such élan that the reader, like Ike, comes close to forgetting the real reason for Ike's trip to Utonki.
But he isn't an author to let a reader go. As Ndibe heats up the will he/won't he suspense, we hang sweating on the same tenterhooks as Ike, petrified by the act of robbery, equally terrified by the prospect of joblessness in the U.S.
With Ngene tucked into his suitcase, does Ike carry enough cash to grease every outstretched palm at Lagos airport to guarantee safe escape from the country? Even with a U.S. passport, will he run into immigration issues on his return to JFK airport, and lose his only chance to strike it rich?
We sweat it out with Ike until a final and frightening moment of truth. (Spoiler alert here, Paste reader. It's not too late to turn back …)
In New York, African gods, it seems, are no longer du jour.
"If you want a great payday," Gruels, the gallery owner says, "then go get me an Asian god. They're big, Asian gods are."
Ultimately, the vagaries of the global jet set won't be Ike's concern. Years in the U.S. may have made him cynical, but not to the point of doubting the power of an ancestral god. In the end, the primal force of Ngene becomes Ike's priority.
In most places in the world, and particularly in America, people measure success by money: What you own. The clothes you wear. The cars you drive, etc. With nothing to his name, Ike remains far from an American success story.
Still, I'd rather spend a few meaningful hours with a Zulu in the pages of Foreign Gods, Inc.—a novel I found just about perfect—than with a lot of other American "success stories" I've known in my 17 years in this country.
Savita Iyer-Ahrestani is a freelance writer based in State College, Pennsylvania. Her articles have appeared in Saveur, Vogue (Mumbai, India edition), CNN.com, Business Week and Dr. Oz's Youbeauty.com, among others. She co-authored "Brandstorm: Surviving and Thriving in the New Consumer-Led Marketplace" (Palgrave Macmillan 2012) and is currently working on a novel.