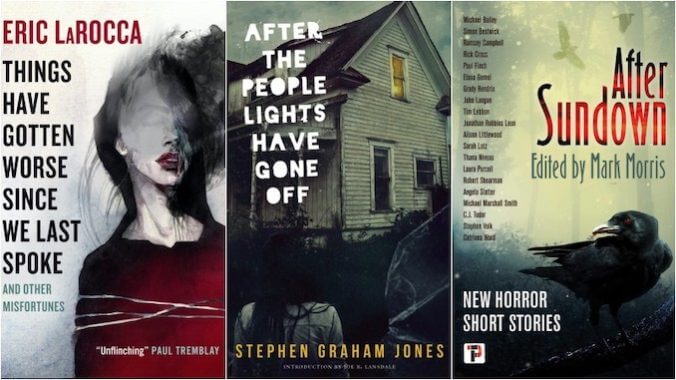 The delicate art of the short story is practiced in every literary genre, but it's perhaps never more effective than when it's deployed for horror. Yes, horror novels can be vast, 100,000-word explorations of character and pain and worldbuilding, but the right storyteller can sharpen a piece of short fiction down until it's a tiny, deadly point, then slip it right between your ribs.
Horror short stories are a wonderfully effective incubator for ideas that might not work on a novel-length level, and they're also perfectly suited to October nights spent reading in bed. You can finish quite a few of them in the half-hour or so before you fall asleep (if you fall sleep, that is), and if you don't have time to burn through a couple dozen novels in a month, you can dedicate the entire spooky season to nibbling on creepy short after creepy sort.
But which stories should you read, and where can you find them? We've got some ideas.
Here are 15 of the best pieces of horror short fiction by contemporary authors working in the genre right now, along with where you can find them. Consider it a pre-programmed reading list, or simply a gateway to many more terrors beyond.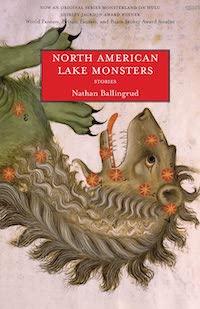 "Wild Acre" by Nathan Ballingrud Perhaps best known as the author behind Hulu releases like Monsterland and Wounds, Nathan Ballingrud is one of the most gifted short fiction artists working in horror right now on both a conceptual scale and the sentence-by-sentence prose level and on. He knows how to finesse an idea like no other, and while he might be best known for "The Visible Filth" (the story that inspired Wounds), you also can't go wrong with this tale of two families devastated by a werewolf attack and its startling aftereffects.
Where to find it: North American Lake Monsters (re-released as Monsterland) by Nathan Ballingrud; The Best Horror of the Year Vol. 10 (edited by Ellen Datlow), The Best of the Best Horror of the Year (edited by Ellen Datlow)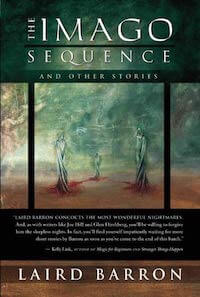 "The Imago Sequence" by Laird Barron We're cheating a little bit here because "The Imago Sequence" drifts a bit beyond short fiction into novella territory, but it's worth including because it ranks as one of the best distillations of Laird Barron's particular style of weird fiction.
And since Barron is one of the most accomplished genre authors working right now, that makes this story of a mysterious series of photographs and the collector who goes in search of their origins a particularly worthy tale to seek out.
Where to find it: The Imago Sequence and Other Stories by Laird Barron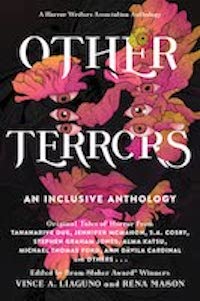 "Incident at Bear Creek Lodge" by Tananarive Due One of the foremost scholars of the horror genre at work today, Tananarive Due is also a wonderful voice in the realm of horror fiction, and though she's best known for her novels (like the African Immortals series), her short fiction is just as potent.
In this story, a young man heads to his celebrity grandmother's secluded home, and finds much more than an eccentric old woman lurking there. It's a great introduction for Due's particular gifts to the uninitiated, as well as a chilling piece of storytelling all its own.
Where to find it: Other Terrors: An Inclusive Anthology (edited by Vince A. Liaguno and Rena Mason)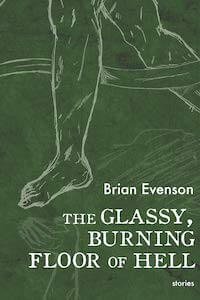 "His Haunting" by Brian Evenson Known for his stripped-down prose and haunting phrasing, Brian Evenson is the author of some of the strangest and most effectively straightforward horror tales you will ever read, a writer who can take the most mundane elements of life and strip them down to their terrifying bones.
In this tale, one of his sharpest and most immediately gripping, he explores the simple fact of a man who is confronted by a strange, inexplicable entity on several different occasions throughout his life. It's so direct, yet so spellbinding.
Where to find it: The Glassy, Burning Floor of Hell by Brian Evenson; Echoes (edited by Ellen Datlow)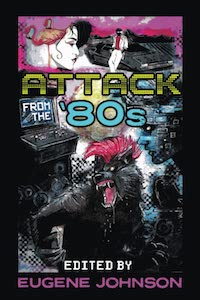 "Stranger Danger" by Grady Hendrix A horror writer who built his reputation as both as student of scary novels and a creator of them, Paperbacks from Hell co-creator and The Final Girl Support Group author Grady Hendrix can also bring his particular brand of terror to the shorter form.
For proof, just seek out this story, which builds upon the 1980s-era panic over razor blades hiding in Halloween treats to tell a truly chilling tale with an ending you won't see coming.
Where to find it: Attack from the '80s (edited by Eugene Johnson)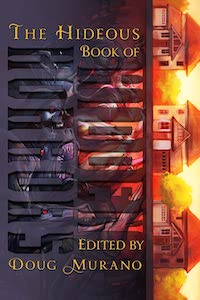 "Haunted Inside" by Gabino Iglesias Gabino Iglesias is enjoying some time in the spotlight thanks to the release of his celebrated novel The Devil Takes You Home earlier this year, which means you might be on the hunt for some of his other work.
If you're looking for a piece of great Iglesias short fiction, this tale of a family man who made a promise that haunts him, and what happens when a debt must be paid, is a horrifying place to start. In a good way.
Where to find it: The Hideous Book of Hidden Horrors (edited by Doug Murano)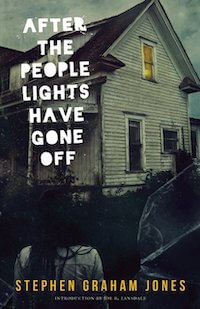 "Welcome to the Reptile House" by Stephen Graham Jones Arguably no other author working today has made a bigger impact on the last decade or so of horror fiction than Stephen Graham Jones. The author of The Only Good Indians and My Heart is a Chainsaw is a recognized titan of the genre, but it's not just because of his novels.
He's also one of the most prolific short fiction writers in the field, and you could devote an entire October to his stories alone. If you must pick just one, though, make it this creepy tale about a morgue, an aspiring tattoo artist, and a very unsettling visit.
Where to find it: After the People Lights Have Gone Off by Stephen Graham Jones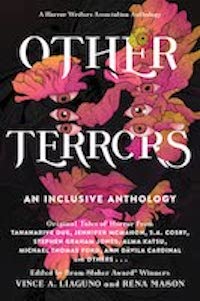 "Waste Not" by Alma Katsu Whether she's weaving horror into historical fiction or telling short tales crackling with vivid, brutal life, Alma Katsu is a devoted stylist and builder of tension.
In those terms, "Waste Not" might be the best piece of short fiction she's released so far, the tale of a dutiful daughter-in-law's descent into the cluttered home of her spouse's parents, where she finds much more than junk, in the house and in herself.
Where to find it: Other Terrors: An Inclusive Anthology (edited by Vince A. Liaguno and Rena Mason)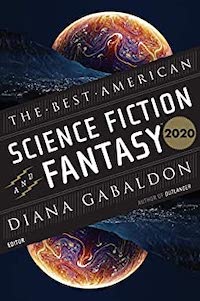 "The Eight People Who Murdered Me (Excerpt from Lucy Westenra's Diary)" by Gwendolyn Kiste Gwendolyn Kiste's horror short stories often take the form of lyrical, compelling deconstructions of familiar stories, and this Bram Stoker Award-winning tale might be the finest example of that gift.
As the title suggests, it's presented as a series of excerpts from one of Dracula's most memorable victims, breaking down all the ways in which the people in her life contributed to her demise.
Where to find it: Nightmare Magazine, The Best American Science Fiction and Fantasy 2020 (edited by Diana Gabaldon and John Joseph Adams)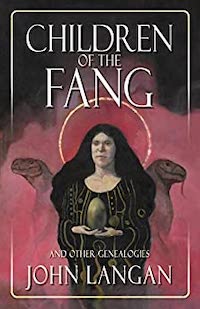 "Ymir" by John Langan John Langan is one of the most prolific and practiced writers of cosmic horror and weird fiction working right now, which means you have a great many stories to choose from if you're looking for an introduction to his work. We humbly recommend "Ymir," a blending of cosmic terror and mythology that tells the story of an abandoned diamond mine and the secrets which might be hiding within.
Where to find it: Children of the Fang and Other Genealogies by John Langan,The Children of Old Leech (edited by Ross E. Lockhart and Justin Steele)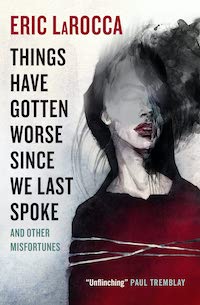 "You'll Find It's Like That All Over" by Eric LaRocca Eric LaRocca took the horror world by storm recently thanks to the success of his terrifying novella Things Have Gotten Worse Since We Last Spoke, and if you pick up his new collection which the novella now headlines, you'll find even more horrors await you.
In this story, LaRocca sets aside the conceptual framework of Things Have Gotten Worse and instead tells a straightforward tale of a weird discovery, an even weirder neighbor, and a nerve-shredding escalation of friendly wagers.
Where to find it: Things Have Gotten Worse Since We Last Spoke and Other Misfortunes by Eric LaRocca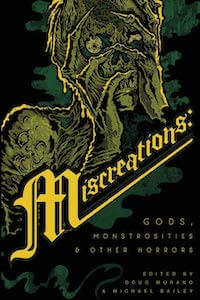 "One Last Transformation" by Josh Malerman The author of Bird Box, Goblin, and this year's Daphne, Josh Malerman has a very direct, and very scary, way of not just addressing his readers, but getting inside the heads of his characters, whether they're victims or monstrous.
In the Bram Stoker-nominated "One Last Transformation," he does a bit of both with the story of a werewolf who's debating whether or not to make the next full moon his last ride in a beastly body.
Where to find it: Miscreations: Gods, Monstrosities & Other Horrors (edited by Doug Murano and Michael Bailey)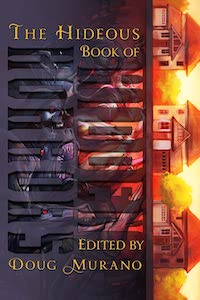 "When I Catch You" by Hailey Piper The celebrated author of Queen of Teeth and the just-released No Gods for Drowning, Hailey Piper's short stories are as unexpected and powerful as her novels, breaking through into a conceptual space that no other writer can seem to quite reach. With "When I Catch You," she distills a haunting down to a single image—an eye staring through a gap in a door —and then explores that image in terrifying, shocking, and mind-expanding ways.
Where to find it: The Hideous Book of Hidden Horrors (edited by Doug Murano)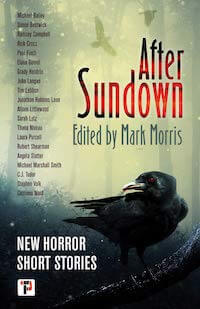 "A Hotel in Germany" by Catriona Ward Catriona Ward, author of the just-released Little Eve, has won well-deserved Shirley Jackson and August Derleth Awards for her contributions to the horror genre in the long form. If you want to start with something shorter, though, this recent chiller that ranks among the best horror shorts in recent years is a great beginning.
"A Hotel in Germany" is the story of a dark, deeply demanding relationship between a movie star and her assistant, but it's not what you think, and the deeper Ward gets into the world building, the more you understand why her novels are so fulfilling.
Where to find it: After Sundown (edited by Mark Morris), The Best Horror of the Year Vol. 13 (edited by Ellen Datlow)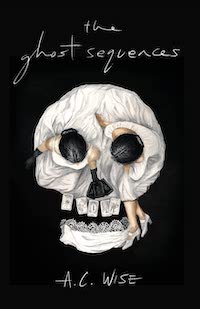 "Exhalation #10" by A.C. Wise A.C. Wise does ghosts like no one else. Though she might be best known for her novel-length Peter Pan retellings Wendy, Darling and Hooked, her collection The Ghost Sequences has made her a favorite among contemporary horror fans.
All the stories in the collection feature singular perspectives on tales of hauntings, but "Exhalation #10" and its tale of a mysterious recording and the man with super-sensitive hearing tasked with listening to it might be the most devastatingly effective.
Where to find it: The Ghost Sequences by A.C. Wise, The Best Horror of the Year Vol. 13 (edited by Ellen Datlow)
---
Matthew Jackson is a pop culture writer and nerd-for-hire who's been writing about entertainment for more than a decade. His writing about movies, TV, comics, and more regularly appears at SYFY WIRE, Looper, Mental Floss, Decider, BookPage, and other outlets. He lives in Austin, Texas, and when he's not writing he's usually counting the days until Christmas.