Junot Díaz "Distressed" by Sexual Misconduct Allegations Made Against Him
Photo by Andrew Toth/Getty
Books
News
Junot Diaz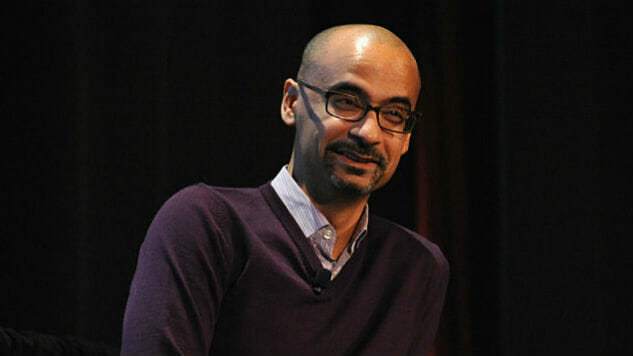 In his first interview since being accused of sexual misconduct and verbal bullying against women, Pulitzer Prize-winning author Junot Díaz (The Brief Wondrous Life of Oscar Wao, This Is How You Lose Her) says that he is shocked by the allegations, stating that the charges made against him don't "sound like anything that's in my life, anything that's me."
In May, during a Q&A panel at the Sydney Writers' Festival, author Zinzi Clemmons (What We Lose) publicly accused Díaz of kissing her without her consent when she was his 26-year-old graduate student. Díaz withdrew from the festival, and Clemmons tweeted about the incident.
As a grad student, I invited Junot Diaz to speak to a workshop on issues of representation in literature. I was an unknown wide-eyed 26 yo, and he used it as an opportunity to corner and forcibly kiss me. I'm far from the only one he's done this 2, I refuse to be silent anymore.

— zinziclemmons (@zinziclemmons) May 4, 2018
Fellow female authors Carmen Maria Machado (Her Body and Other Parties) and Monica Byrne (The Girl in the Road) stood behind Clemmons, each citing separate misogynistic experiences where Díaz verbally bullied them.
Before the allegations against him surfaced, Díaz published an essay in The New Yorker describing how he was raped as an eight-year-old child and has had subsequent troubled relationships with women ever since. While many praised his honesty, the essay was later critiqued by others as an effort to capture the public's sympathies before the accusations emerged.
In his initial response to Clemmons' charges, Díaz made a vague statement to The New York Times: "I take responsibility for my past," he said. "That is the reason I made the decision to tell the truth of my rape and its damaging aftermath. This conversation is important and must continue. I am listening to and learning from women's stories in this essential and overdue cultural movement. We must continue to teach all men about consent and boundaries."
Now, during his interview with The Globe, Díaz criticized that statement, calling it "the worst thing I've written, the worst thing I've put my name to. Boy, I wish I'd had the presence of mind to rewrite the damn thing."
This time around, Díaz made himself adamantly clear: "I did not kiss anyone. I did not forcibly kiss Zinzi Clemmons. I did not kiss Zinzi Clemmons," he said. "It didn't happen."
Díaz teaches writing at M.I.T. After an extensive investigation, the university cleared him of any wrongdoing in relation to the allegations made against him, allowing Díaz to continue teaching. The author stepped down from his role as chairman of the Pulitzer Prize board while the board conducts an independent review of his actions, but will maintain his position as fiction editor at the Boston Review.
Find the full interview below.
In his first interview since being accused of inappropriate behavior with women, celebrated novelist Junot Díaz is adamantly denying the allegations. https://t.co/ppExGvtShO

— The Boston Globe (@BostonGlobe) July 2, 2018